90s Tribute Act Videos Archive 2
You'll never find a 90s tribute act that works as hard as 'Britpop Reunion' proving through their videos and the entirety of their website what they are capable of. We take the time to professionally shoot a number of videos of our performances each year so you can see exactly what we're like if we don't currently have any public performances in the diary. Watch the videos below as we perform 'The Day We Caught The Train' (released 1994) by Ocean Colour Scene from the album 'Moseley Shoals'. Also 'Rocks' (released 1994) by Primal Scream from the album 'Give Out But Don't Give Up' and more.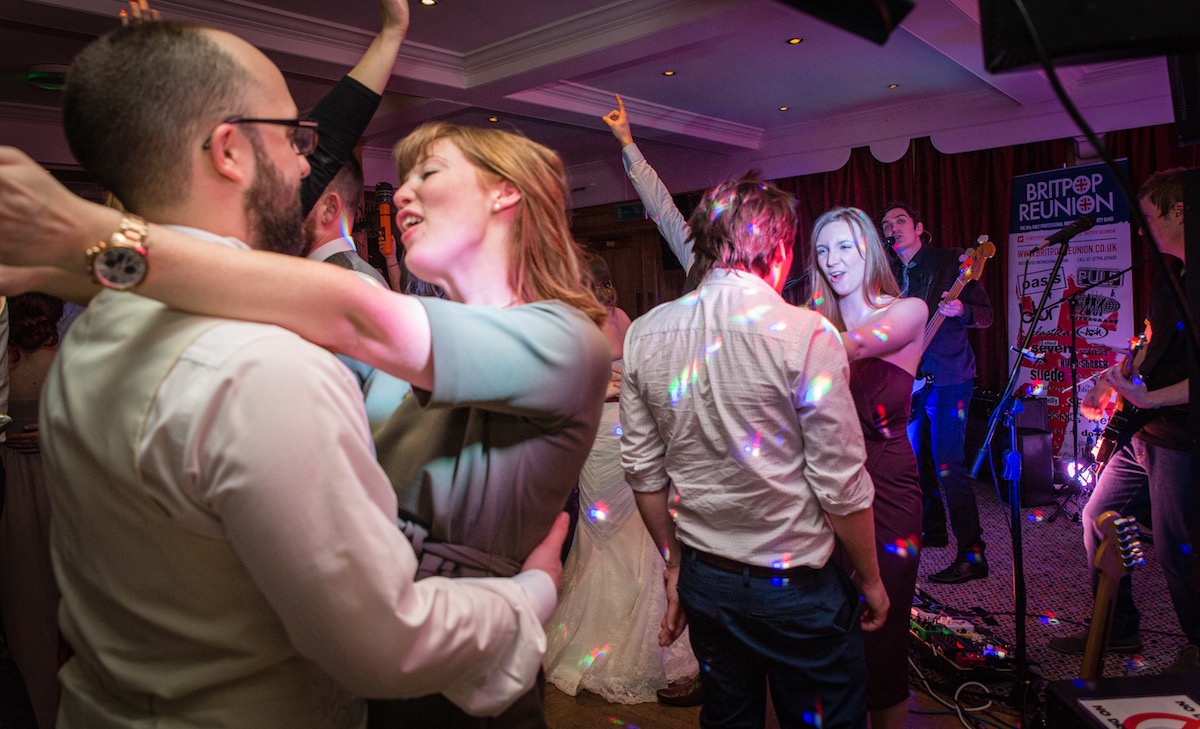 Book a 90s tribute act that can prove their experience with their quality media.
We're no counterfeit brits, we can prove we're the real deal Britpop tribute band with our plethora of live videos.
90s Tribute Act Britpop Reunion perform Place Your Hands – Norfolk – April 2016
Performing 'Place Your Hands' (released 1996) by Reef from from the album 'Glow' at a 90s tribute act in Norfolk to 750 ticketed guests. It doesn't bother us if everyones singing the wrong words "Put your hands up" as long as everyones having a great time.
Nineties Tribute Act Britpop Reunion perform Tubthumping – Norfolk – April 2016
Watch as guests come up with their own dance routine for the classic 90's drinking song 'Tubthumping' (released 1997) by Chumbawamba from the album 'Tubthumper'.
Wake Up Boo Cover Version – Others are just counterfeit brits, We are the real deal- Norfolk – April 2016
The Boo Radleys 90s's tune 'Wake Up Boo' performed live at a 1990's event to seven hundred and fifty paying guests (Sold out).
40th 90's Birthday Party Band – Gloucestershire – January 2016
'Parklife' (released 1994) by Blur from their albums 'Parklife' at a 90's birthday party. Check out those 1990's cover band costumes.
90s Tribute Act Summed up in 6 seconds – December 2015
If you don't have two minutes to check out most of our other videos then you can just watch this 6 second video we created instead. 90's tribute act performing 'I'll Be There For You (Theme from "Friends")' (released 1995) by The Rembrants from the album 'L.P.' Also 'Ready To Go' (released 1996) by Republica from the album 'Republica'.
Military Base Performance – Warminster – December 2015
Nineteen nighties cover band 'Britpop Reunion' performing for The Yorkshire Regiment, Warminster for their 90's event. Performing 'Common People' (released 1995) by Pulp from the album 'Different Class' and Performing 'Let Me Entertain You' (released 1998) by Robbie Williams from the album ' Life thru a Lens'.
Fake Festival Band – Staffordshire – August 2015
A huge festival performance to three thousand plus festival band punters. Performing 'Made Of Stone' (released 1990) by The Stone Roses from the album 'The Stone Roses'. Also 'Alright' (released 1995) by Supergrass from the album 'I Should Coco'
Other videos archives
We've got that many videos having been around since 2014 that we've had to split them over multiple pages.
Latest
Nineties Cover Band Videos Archive 5
Ninties Cover Band Videos Archive 4
Ninties Tribute Band Videos Archive 3
90s Tribute Act Videos Archive 2
Nineteen Nineties Cover Band Videos Archive 1
Oldest