1990s Cover Band Video & Audio
We've spent a lot of time replicating the sights and sounds of a proper 1990's band both in the studio and live on stage. As you watch the below videos and listen to the audio we're sure you'll find that 'Britpop Reunion' are the UKs most professional 1990s cover band around. Britpop Reunion put on one heck of a brilliant live show. Our cover band audio is crystal clear as we use the latest high end digital equipment. We also utilise in ear monitoring systems so you will never hear screaming feedback when you book our nineteen nineties cover band. We know that we will be absolutely perfect for your 90's wedding, 90's birthday party, 90's themed corporate event or 90's festival. Contact for a quote.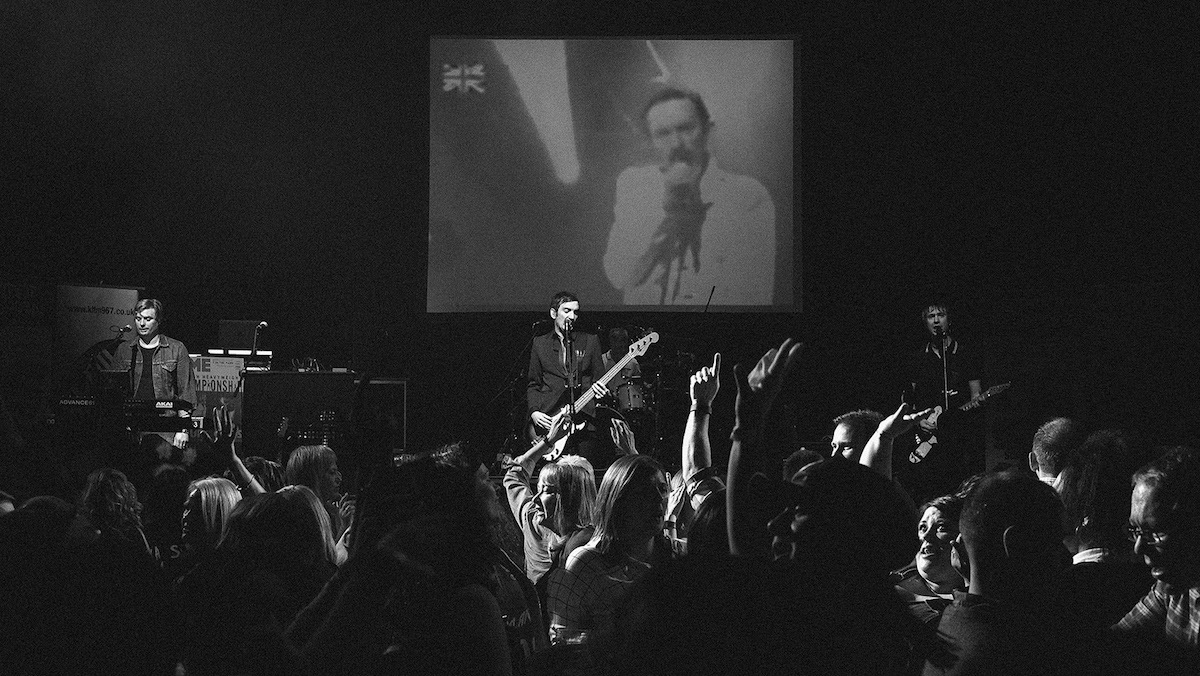 1990s Cover Band – Latest & Best Of Videos
Having formed way back in 2014 we have created a lot of videos over this time. So many videos in fact that we have had to split our 1990s cover band videos page over multiple pages. View some older videos by following the links at the bottom of this page. There is no other nineteen nineties cover band out there that has this number of high end professionally shot live videos.
Tims 40th Birthday Party – Marquee Leicestershire. (June 2022)
Super Britpop fan Tim (He saw Oasis MANY times back in the day) hired 'Britpop Reunion' for his 40th birthday celebrations in a marquee in Leicestershire. He and his wife knew from the very second that they found our website that we were the band for them. Everyone had a brilliant time and so did we.
Studio recorded video for classic Oasis album track 'Digsy's Dinner'.
Never slowing down, never taking a break Britpop Reunion have recorded the album only track Digsy's Dinner from the debut oasis album Definitely Maybe. Read more about our experiences recording the cover song and the video.
'Britpop Reunion' guests footage featured on Channel 5 on Christmas Day.
Guests doing the Whigfield Saturday Night Dance Routine that Andy shot while DJing a while back was featured on "Britain's Favourite Party Songs" on Channel 5 on Christmas Day. So thats BBC, ITV and now Channel 5 that 'Britpop Reunion' footage has been featured on in 2021….2022 Netflix here we come 'Tribute Bands – The Documentary'
More from a 40th Birthday Party
Always a fan favourite 'Place Your Hands' by Reef performed live at a 40th birthday party.
Celebrating 7 Years Together
Rewriting the lyrics to Tubthumping by Chumbawamba and making it all about birthdays Andy shot this quick little video to celebrate Britpop Reunion's 7th birthday. 'It's our birthday, we're gonna celebrate, we're gonna party like it '94. It's our birthday, we're gonna have a beer, and then later drink a little bit more"
40th Birthday party at Nambucca, London (December 2021)
Oliver booked Britpop Reunion for his 40th birthday party and wanted all of his favourite 90's hits from the Indie Disco days. He we are performing The Lemonheads 1992 smash hit Mrs Robinson for Oliver and all his guests.
Andy Starkey chats to Nick Banks from Pulp on BBC Radio 4
On Wednesday 8th December 2021 band leader Andy Starkey chatted with Pulp drummer Nick Banks and presenter of the Today Program on BBC Radio 4 with Nick Robinson about tribute bands. Also discussing how ABBA are currently suing ABBA Mania tribute band.
Best Of Silverstone Classic 2021.
Surely you have just under 3 minutes and 30 seconds to spare to watch why Britpop Reunion are the Ultimate 90's Band? Highlights of live footage and live audio from our festival performance at Silverstone Classic.
1990s Wedding Band – Coventry (October 2021).
Tracey & Phil love nineties music and so do all of their guests so they hired 90's specialist cover band Britpop Reunion for their wedding reception.
'Place Your Hands' by Reef – Performed live at a private party in Sheffield (September 2021).
In high demand in Sheffield, Britpop Reunion returned there for two day back to back private parties at the same home venue. Here we are performing Place Your Hands by Reef to a few hundred guests.
Common People by Pulp – Performed live at a private festival (Aug 2021).
The term "Epic" is banded around far too much these days, but what is EPIC exactly? Below you'll see Britpop Reunion perform Common People by Pulp flawlessly over 5 or so minutes at a Private Festival. Surely this is the kind of band you want at your festival, be it private or public?
There She Goes by The La's – Performed live at a private festival (Aug 2021).
Booking Britpop Reunion for a private festival seems to be all the rage currently. And here we are performing the best pop song ever written 'There She Goes' by The La's.
Live Performances at Silverstone Classic 2021
All 15 songs we performed at Silverstone Classic 2021 in one long playlist. Can any other 90's or Britpop tribute band muster this enthusiasm to produce and edit this much quality footage? The answer sadly is no.
Friends The Reunion – Smelly Cat – May 2021
In preparation for "Friends The Reunion" Andy Starkey put together this video on how to play "Smelly Cat" performed by Phoebe Buffay (Lisa Kudrow) in the show on acoustic guitar. Play along with him, it's a very simple song to master.
Daytime Britpop Wedding Performance – March 2021
A new live video from back when we were allowed to perform in public for Emma & Mark at The Malt Shovel in Barston.
Laid by James – Cover Version Video – January 2021
Being a massive James fan Andy took time out of his busy schedule to faithfully reproduce the 90's banger Laid by James.
Don't Look Back In Anger – January 2021
Delving further back into our past Andy from Britpop Reunion just discovered this performance from 2016 at a festival style wedding. It features our Don't Look Back In Anger Oasis cover version. All completely live as ever.
Looking Back (But not in anger) – December 2020
To celebrate our sixth anniversary since we first performed together back in December 2014 band leader Andy Starkey has put together this live video featuring highlights from classic Brit pop tracks. Sing along to Female Of The Species, Great Things, Hey Dude and Girl From Mars. Also you'll hear Wake Up Boo, Staying Out For The Summer, Inbetweener and Riverboat Song.
Married With Children (Oasis Cover) – Live Solo Acoustic September 2020
Britpop musician Andy Starkey performing the final track from Definitely Maybe by Oasis 'Married With Children' while on holiday.
Baby One More Time – University Ball May 2020
Our rocked up cover of the classic Britney Spears late 90's track 'Baby One More Time' Watch as hundreds of students lose their minds to our live performance.
1990s Wedding Band Photo Montage February 2020
Always thinking outside of the box we created this photo montage of a 90s wedding. The client had taken out our optional extra evening photography services and so the whole night was captured perfectly forever for them.
Festival 1990s Cover Band July 2019
Sometimes all it takes is one camera angle and one song to sum up an entire festival performance. Here we are performing Blur's biggest Britpop hit single 'Parklife' in Claygate, Surrey at the "Gig On The Rec" festival. "They all go hand in hand, hand in hand through their Parklife"
Wedding June 2019
Our 1990's cover band are the UK's only professional 90's wedding band and we absolutely excel in this field. Natalie & Jamie hired us for their big day and as you'll see from their and their guests reactions (And their testimonial below) they loved every minute of our performances. And we loved being their Britpop wedding band.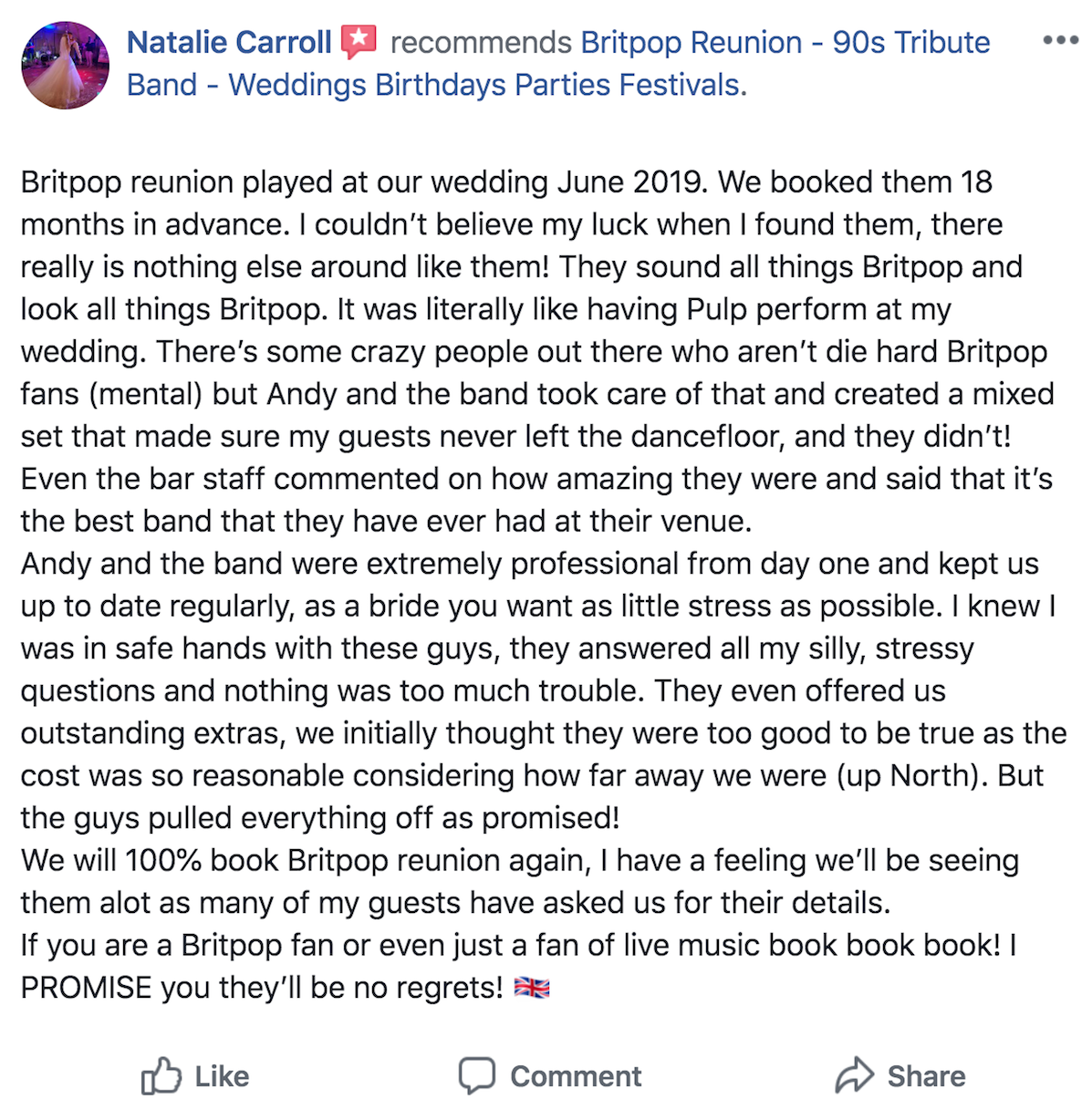 Performing live to 4000+ audience at Monmouth Festival
One of the highlights of our career was performing in front of four thousand festival goers in Wales. Here is 'Dont Look Back In Anger' by Oasis captured in all its festival chanty gloryness. "So, Sally can wait, she knows it too late…."
Vlog & Festival Performance to 3000+ crowd
'Britpop Reunion' aren't like any other 90's covers band out there. We go above and beyond to prove to you that we are the only 90s band you should definitely hire. We create Vlogs of our experiences as we travel around the country performing at 90's weddings, 90's festivals, 90's birthday parties and more.
40th Birthday Party Performance
Performing 'Sit Down' by James to Sam and all his friends and family as 90s birthday party band for his 40th birthday in London.
Festival Style Wedding Performance
Claire & James's decided to hold their very own festival for their wedding. Incidentally it didn't end up costing anymore than a normal wedding. They chose to hire a Britpop tribute band as they are both massive Britpop & 90s fans (They both LOVE Oasis, Liam Gallagher & Noel Gallagher too) to headline their festival. Here are our experiences throughout the day.
Radio Stations 90s Night
Performing live for 750 KLFM listeners in King's Lynn, Norfolk.
40th Birthday Party 1990s Cover Band Performance
Charlotte hired Britpop Reunion for her 40th birthday party in Salisbury.
Corporate Promotional Video during for 1990s Cover Band
Performing for the Hospitality Industry Trust at Hilton Hotel Glasgow. As ever all completely live.
"Bitter Sweet Symphony" (The Verve) to 1500 students
Quite possibly the most amazing gig of our entire time together.
Britpop & The 90's – Acoustic Solo with Andy Starkey 1990s Cover Band
Andy Starkey from Britpop Reunion also has a solo acoustic 90s show too.
Performing with the cast from the Harry Potter films at a convention.
You read that correctly, on stage with us are various members from the cast of the Harry Potter films. All of Britpop Reunion are massive Harry Potter fans so we learned this song from The Goblet Of Fire especially for the event.
40th Birthday Party Vlog
Our adventures on the road building up to our performance at a 40th birthday party in Northumberland.
Older videos archives
We've got that many videos having been around since 2014 that we've had to split them over multiple pages.
Latest
Latest And Greatest
Cover Band Videos Archive 5
Nineties Cover Band Videos Archive 4
Nineties Tribute Band Videos Archive 3
90s Tribute Act Videos Archive 2
Nineteen Nineties Cover Band Videos Archive 1
Oldest
---
1990's Cover Band Studio Recorded Audio
Here you can listen to our studio recordings of songs by Blur, Pulp, Supergrass, Oasis, Ash and more.