Britpop Tribute Act – Being Britpop
Britpop musician Andy Starkey from the UK's most highly recommended authentic Britpop tribute act 'Britpop Reunion' has amassed a great knowledge of Britpop & the nineteen nighties. And he loves to talk about it to anyone who will listen to him. Andy is always searching out original 90's clothing, music, videos, VHS tapes, guitars and promotional material steadily increasing his collection and knowledge of the best decade in music and fashion. When you hire a Brit pop tribute act like 'Britpop Reunion' with someone running the band with such a keen eye for detail as Andy, you know you're going to get the best looking and sounding amalgamation of Oasis, Blur, Pulp, and Supergrass tribute around. Some say Andy is The King Of Britpop.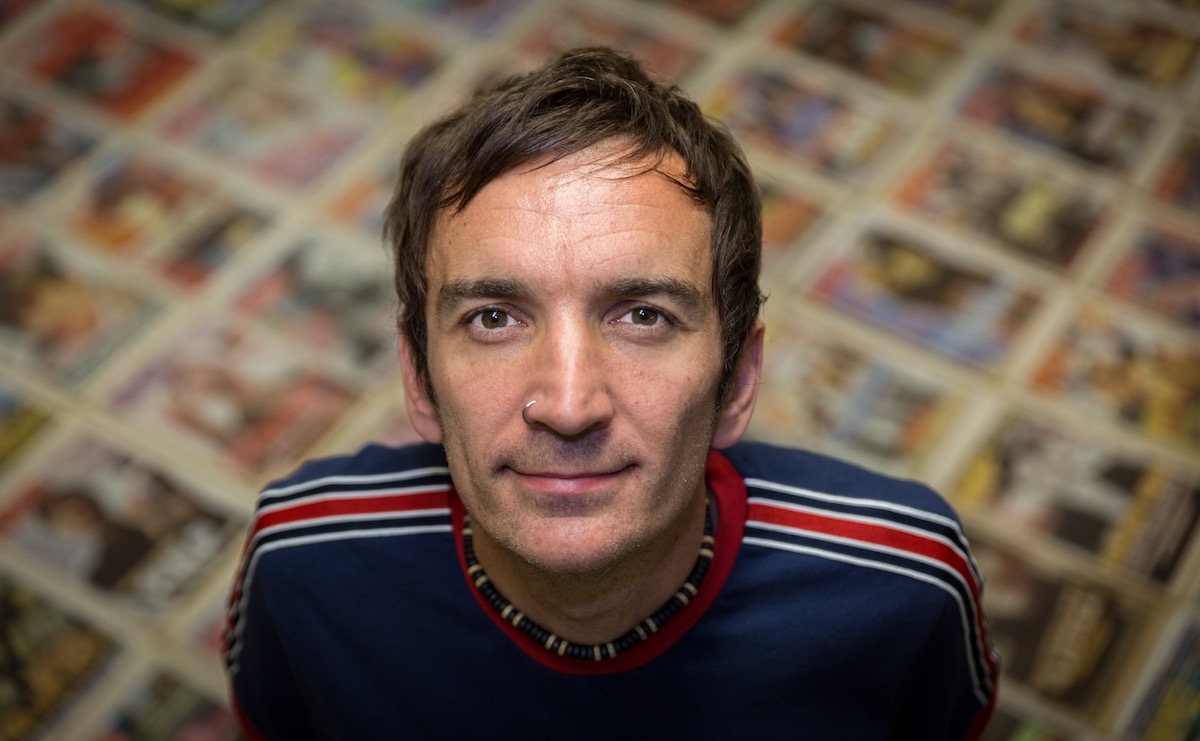 A Britpop Tribute Act should strive to give you the most authentic 90's experience.
Andy believes that there are too many lazy bands out there who think that a crummy camera phone photo is good enough to convince you to part with your hard earned cash to book their britpop tribute act. Britpop artist Andy Starkey is completely different and takes everything not just to the next level, but to the extreme. As you look across the Britpop Reunion website everything you see and hear is completely self produced by Andy and the band. Videos, audio, images, even this very website is all written and coded by Andy. He strives to provide you with the things that no other brit pop tribute act have the ability or can even be bothered to attempt to try.
Photoshoots, promo and interviews.
Andy Starkey & His 90's NME Collection
Andy has one of the largest collections of 1990s NME's in the country. He is very close to owning every single issue from January 1990 to December 1999. For Andy it was always about the NME, not the Melody Maker for and why not. What with amazing writers like Stuart Maconie, Steve Lamacq. Also Mary Anne Hobbs. Here stands (and sits) Andy proudly with a batch of his favourite copies. Did you keep any old 90's magazines or music papers?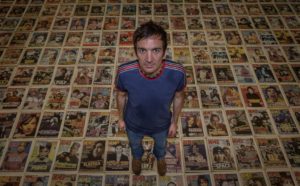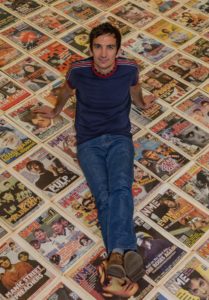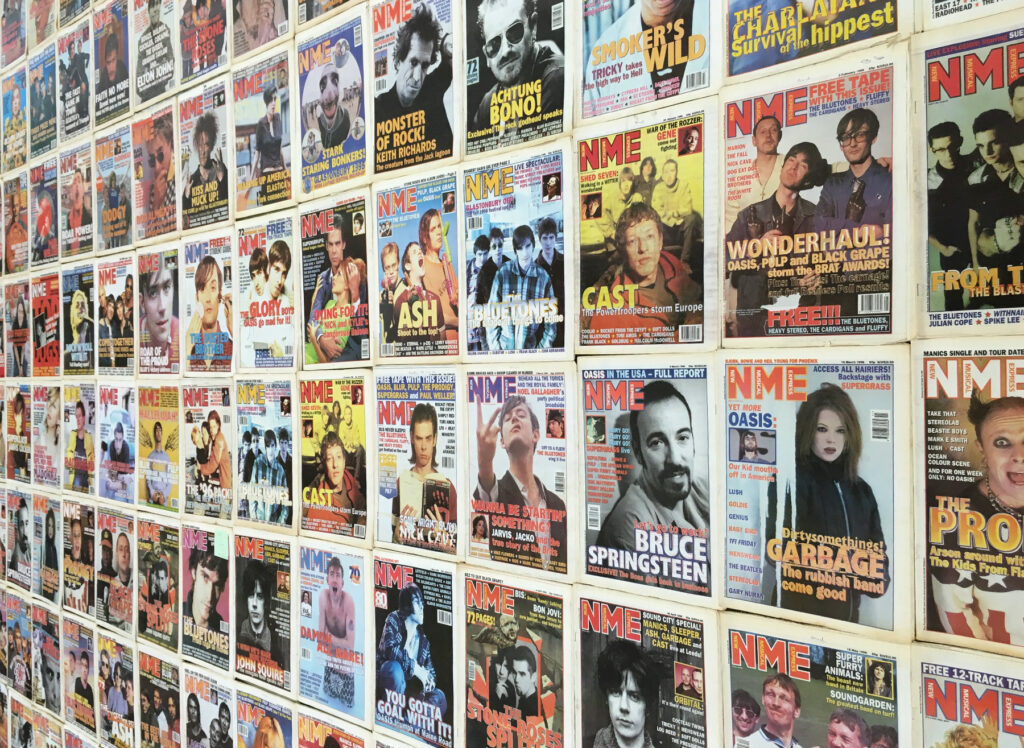 ---
Andy Starkey as 'Beetlebum' Damon Albarn
Andy recreates this classic 1998 Damon Albarn 'Beetlebum' image taken from the 1997 album by Blur. This look was also sported by Damon in the music video for Beetlebum. Therefore Andy assumes the photo shoot was on the same day. Replica grey sweater & blue baggy leg jeans and Nike trainers. Also beads and Damon Albarn esque fringe. (Andy is very close to obtaining Damons jumper from this image too).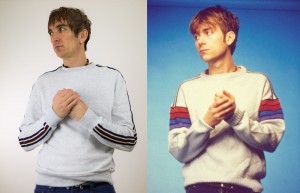 ---
Being a member of Elastica
Justine Frischmann and Elastica certainly had their own take on the Britpop sound and image based on 1970's New Wave. Occasionally they would take it possibly slightly too far though. Elastica's "Line Up" sounding like "I Am the Fly" by Wire. Also "Waking Up" is incredibly similar to "No More Heroes" by The Stranglers". "Connection" sounds remarkably like the Wire song "Three Girl Rhumba". The disputes were eventually settled out of court. Andy decided if it's OK for Elastica to rip off other bands then why couldn't he steal their image for a photo shoot too.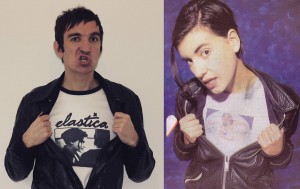 ---
As mid 90s Damon Albarn from Blur
Andy dresses up like frontman singer Damon Albarn from the Britpop indie band Blur once again. This time in the exact same jacket worn by Damon in the original image taken by photographer Derek Ridgers at Holborn Studio, Hoxton, London in 1997. This Damon Albarn image was also used during Blur's performance for the 1994 Mercury Music Prize Album Awards during Parklife and Girls & Boys. Parklife was nominated but lost out to 'Elegant Slumming' by M People. (Other Britpop nominees included Pulp with 'His n' Hers' and Paul Weller with 'Wild Wood'.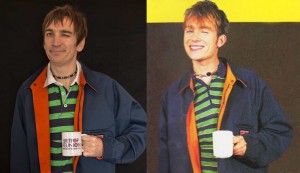 ---
As mid 90s Jarvis Cocker from Pulp
Andy's favourite Britpop band has always been Pulp. He first saw them support Blur (Parklife Tour) at Aston Villa Leisure Centre on 5th October 1994. Pulp were touring the "His 'n' Hers" album. Completely blown away by Pulp's performance with Jarvis rolling himself on stage sitting in a wheelchair, Andy went to Our Price records the next day. He then purchased the entire Pulp back catalogue some of which Andy himself will admit is still "Difficult" to listen to/appreciate even today.
Here, Andy recreates Jarvis Cocker circa Different Class era. Andy purchased this suit from a charity shop back in 1995 knowing how very close it was to Jarvis's. It still fits Andy to this very day and you will often seen him wearing the full 'Cocker Outfit' onstage. One day Andy hopes to find the Jarvis Cocker life size stand up cutout he's modelling below often seen in the background of 90s Channel 4 program "TFI Friday" set.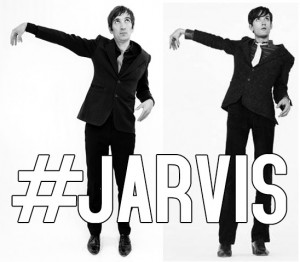 ---
Britpop Reunion – A Different Class Of 90s Britpop Tribute Act
Promotional material borrowing from the front cover of Pulp's "Different Class" album which featured the hit 90's singles Common People & also Disco 2000 performed by Britpop Reunion. The photo is of 'Britpop Reunion' performing at a festival style wedding.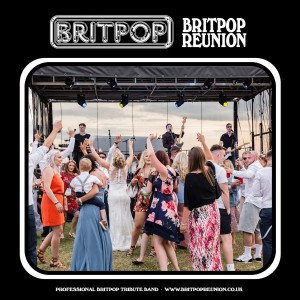 ---
Interviews
Andy regularly gives talks and interviews on Britpop & The 90's. He's been on the radio, TV and in many magazines over the years. Here is an interview with Andrew Starkey for a 90s festival band performance.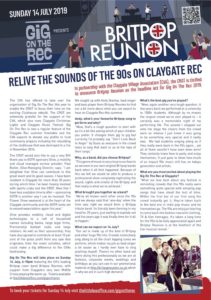 ---
Britpop Promotional Material.
Promo from Pulp double A-Side for Mis Shapes and also for Sorted for E's & Wizz from 1995 'Sewing Pattern'. Still in Andys collection of Pulp memorabilia to this very day.
---
Here's proof of how Andy has the Ultimate 90's Band
Read about everything Andy & 90s tribute 'Britpop Reunion' get up to in our unquestionably fantastic regular blog.