Nineties Tribute Band Vlogs
There's no other nineties tribute band out there who go to the extent that 'Britpop Reunion' do to prove to you what we get up to on a very regular basis. The below Vlogs show exactly what happens when you book us for your event. Join band leader Andy Starkey as he takes you behind the scenes of what goes on with the UK's most recommended 90's tribute band.
See what happens when we meet clients face to face for the first time and mingle with guests. Then watch us get stuck in, put on an amazing performance and get the job done. See clients and guests honest reactions to our live performances. Very importantly you should note that all the audio you hear is 100% live. We don't hide behind pre-recorded studio recordings, we certainly do sound this fantastic live on stage. Oh and did you notice, we do all this with smiles on our faces too? Exactly as you should expect from a professional nineties tribute band who lead the way and don't copy what others have done before. We're just happy guys playing the music we love that we know you love too. So book a nineties tribute band for an event right now by contacting us.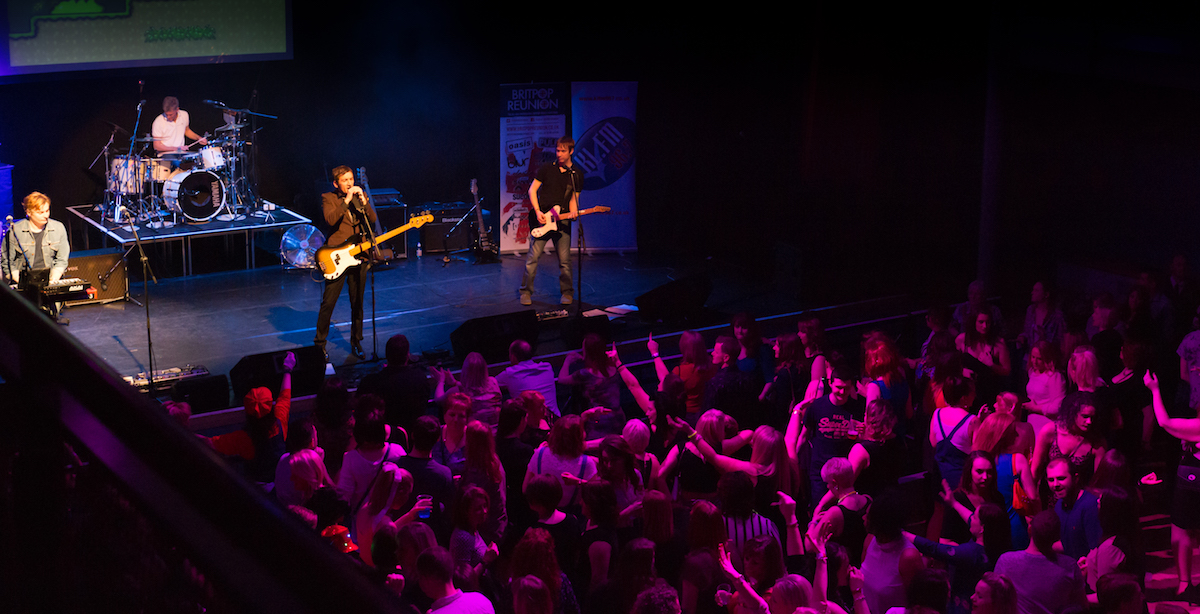 Our amazing Vlogs from the UK's best nineties tribute band.
Headline Festival Performance Vlog
Performing at G-Fest festival for St Gemmas Hospice in Garforth Leeds. It was the organiser/events manager Andys first festival. So our Andy pitched in and helped him out with his vast knowledge of live entertainment and festival appearances. There was a Beatles tribute and a Queen tribute on just before nineties tribute band Britpop Reunion. Watch as the crowd goes wild for our performances of Let Me Entertain You by Robbie Williams and Roll With It by Oasis. Then watch them go crazy for Breakfast At Tiffany's by Deep Blue Something, Ironic by Alanis Morissette. Its Richard Ashcroft swagger throughout Bitter Sweet Symphony by The Verve. Followed by dance routines for Tubthumping by Chumbawamba, Disco 2000 by Pulp. Then Parklife by Blur and Don't Look Back In Anger by Oasis. Over 3000 punters came through the gates and £37,527 was raised for the charity.
---
Nineties Tribute Band 40th Birthday Party Vlog
This is part of a much larger Vlog where Andy from the band performed four times over three days. Here we catch up with nineties tribute band 'Britpop Reunion' literally on the road northwards to Northumberland. We performed for Suzanne's 40th birthday party which was a very lavish affair. Its an amazing party held on their families private estate with tipis, food festival style eateries…The works. Suzanne wanted a mix of 90s tribute band, Britpop tribute band and our Other Decades package to keep all her guests happy.
Live songs you'll hear on this video include Ready To Go by Republica, Cigarettes & Alcohol by Oasis. Also I Bet You Look Good On The Dancefloor by Arctic Monkeys, I Predict A Riot by Kaiser Chiefs, and Disco 2000 by Pulp. Plus the massive Place Your Hands by Reef, Parklife by Blur. Afterwards Don't Look Back In Anger by Oasis. Can you imagine hiring a 90s birthday party band better than Britpop Reunion? No, exactly.
---
90s Wedding Band Vlog
It's a scorching 23 degrees and Andy's loading up the van to head over to Sketchley Grange, Hinckley, Leicestershire for Melody & Daniels 90s wedding. Emphatically we arrive early (As usual) and find that the wedding party are still eating. Table plans have been made up of previous Indie band concert tickets, which is a great touch. Britpop Reunion are delayed by two hours worth of speeches, but thats no problem for us. We find somewhere to sit down and chill out for a bit and discuss continued world domination. Eventually we are able to gain access to the room. The featured live performances on this video are Place Your Hands by Reef, Parklife by Blur. Also Don't Look Back In Anger by Oasis.
---
90's Festival Style Britpop Wedding Vlog
Claire & James decided to have their very own 90's festival for their Leicestershire wedding. Watch as we meet up with clients, guests and enjoy the entire afternoon and evening with everyone there. We get a lovely NSFW review from bride Claire at half time. Featured songs include You & Me Song by The Wannadies, Roll With It by Oasis (Bride & Groom are MASSIVE Oasis fans). Also Parklife by Blur, Wonderwall by Oasis and lastly You're Gorgeous by Babybird. Markedly as Claire said our entire performance was "Absolutely Amazing". We couldn't ask for a nicer review.
---
Not a Vlog, but a best of the Ultimate 90's Band 'Britpop Reunion'. Have you ever seen another nineties tribute band produce a live video of this calibre?
Find out more about the most recommended 90s tribute band Britpop Reunion.