Britpop Wedding Band
Established in 2014 'Britpop Reunion' are THE goto Britpop Wedding Band for brides and grooms who love the 90's. We've performed at countless Britpop weddings during our time together as a professional tribute band. Also we've helped to bring together all walks of life with our classic 90's Indie Pop tribute band. No other Britpop cover band have the credentials we have and can pull off the thrilling, high energy live shows as we do. We prove what we do week in week out with quality live video. You already know what you want at your wedding reception so get in contact. The biggest 90's hits from Oasis, Blur, Supergrass, Pulp, James, The Stone Roses, The Verve and more.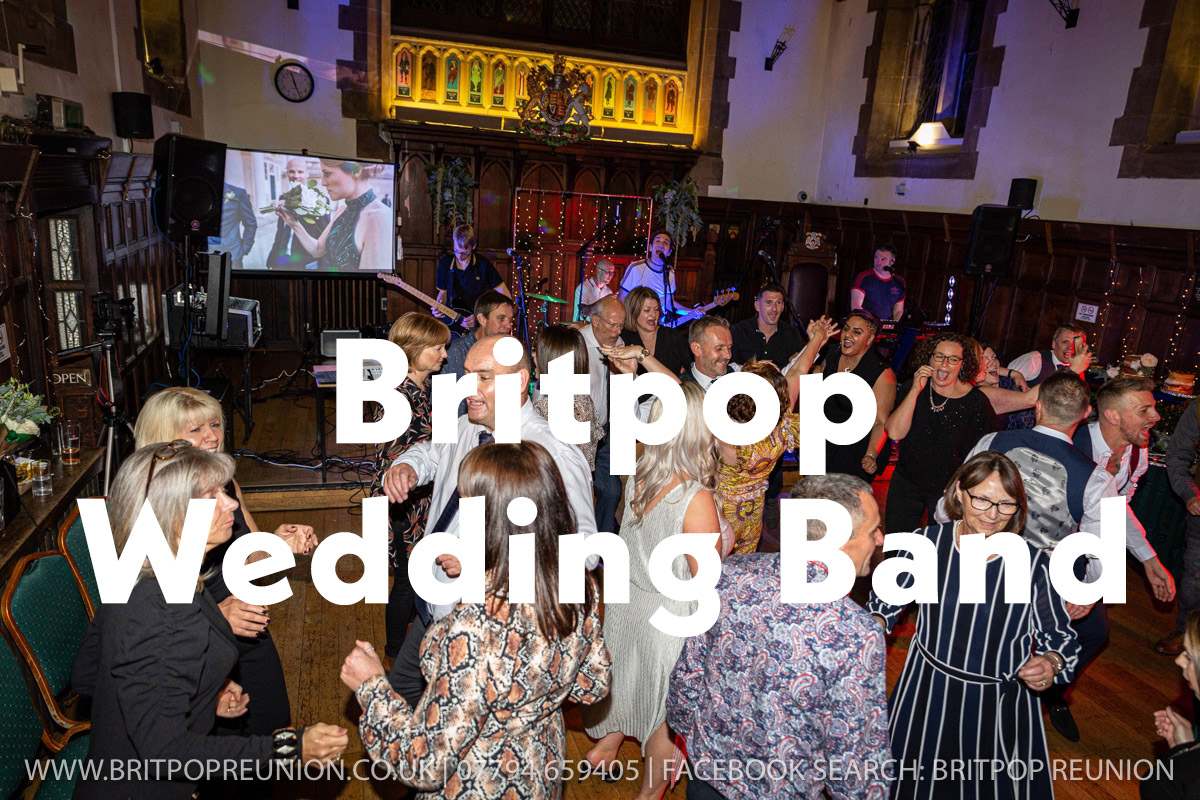 Watch one of our many Britpop wedding videos below and see why we're the only choice for your super (grass) day. Unlike most other 90's bands around WE KNOW WEDDINGS. We fully understand all of your worries and we'll help to relieve any stress and tension out of booking a wedding function band. Britpop Reunion will bring Cool Britannia and indie pop to your wedding reception no matter where you're based.
A professional Britpop Wedding Band.
We're not stuck in the old skool slacker 1990's mentality rut. We provide you with the very best self produced live videos, vlogs and blogs of our performances up and down the UK. There's no other professional Britpop wedding band out there quite like Britpop Reunion. Our British pop cover band perform at the sorts of wedding receptions that other wedding bands can only dream of. Why, because of our on stage charisma, how we always get everyone up dancing. And most importantly our ethos that it's not about us at all, it's ALL ABOUT YOU.
What you'll get from us as your Britpop Band.
'Britpop Reunion' will give you the most amazing wedding reception you'll ever experience. Your friends and family might think you're a little mad for booking a Britpop tribute band for your wedding party. In reality they will all be MAD FOR IT on the night. Imagine this….two live performances of Britpop & The 90s and a state of the art PA speaker system all included in the price. Add in lighting for the stage and dance-floor and iPad DJ services until midnight at no extra costs. You've got yourself the whole nights entertainment sorted in one fell swoop. It's what you've always dreamed of surely?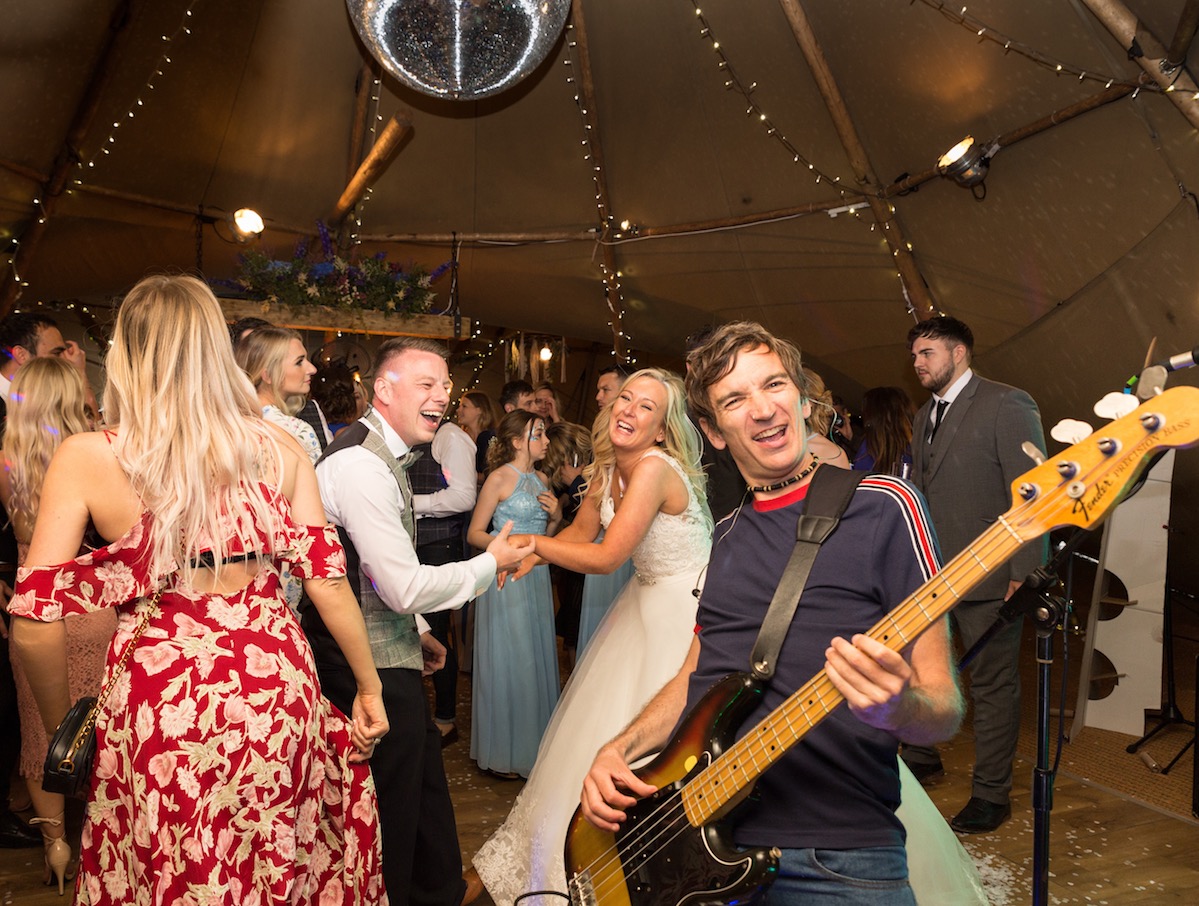 'Britpop' repertoire
Blur – Country House / Parklife / Song 2
Chumbawamba – Tubthumping
Cure – Friday I'm In Love
EMF feat. Vic & Bob – I'm A Believer
James – Laid / Sit Down
La's – There She Goes
Oasis – Cigarettes & Alcohol / Dont Look Back In Anger / Roll With it / Wonderwall
Ocean Colour Scene – The Day We Caught The Train
Primal Scream – Rocks
Pulp – Common People / Disco 2000
Reef – Place Your Hands
Stone Roses – Made Of Stone
Supergrass – Alright
Verve – Bittersweet Symphony
Wannadies – You & Me Song
and much more
'90s' repertoire
Alanis Morissette – Ironic
Britney Spears – Baby One More Time
Chesney Hawkes – The One & Only
Deep Blue Something – Breakfast At Tiffany's
Lemonheads – Mrs Robinson
Mavericks – Dance The Night Away
Rembrants – I'll Be There For You (Theme from "Friends")
Robbie Williams – Let Me Entertain You
Republica – Ready To Go
and so much more
We're more than just a brit pop tribute band
We're not just a brit pop wedding band though, we can also perform massive chart pop classics from some of the biggest selling artists in the world. We highly recommend adding in a couple of our 'Classics' repertoire so that all of your wonderful guests can enjoy the evening just as much as you.
'Classics' repertoire
Amy Winehouse – Valerie
Arctic Monkeys – I Get You Look Good On The Dancefloor
Chuck Berry – Johnny B Goode
Elvis – Hound Dog
Florence + The Machine – You've Got The Love
Kaiser Chiefs – I Predict A Riot
Stereophonics – Dakota
Van Morrison – Brown Eyed Girl
and lots more
You can view some splendid wedding band reviews below or visit our testimonials page. Then all you need to do is contact for a quote and we'll get back to you within 48 hours if not sooner.