90s Tribute Group Images
As you will see from all the many images below 'Britpop Reunion' have spent a long time recreating the look of a real life band from back in the mid 90's. All clothing and equipment is authentic vintage 1990s and many months have been spent sourcing the exact suits, coats, shirts and pieces of musical equipment. No corners have been cut and no expenses have been spared to make sure we look and sound like the best and most recommended 90s tribute group in the UK. There's no pulling on a Union Jack t-shirt and saying "That'll do" for us. You should always expect more from your professional 90's tribute. You deserve better, you deserve Britpop Reunion.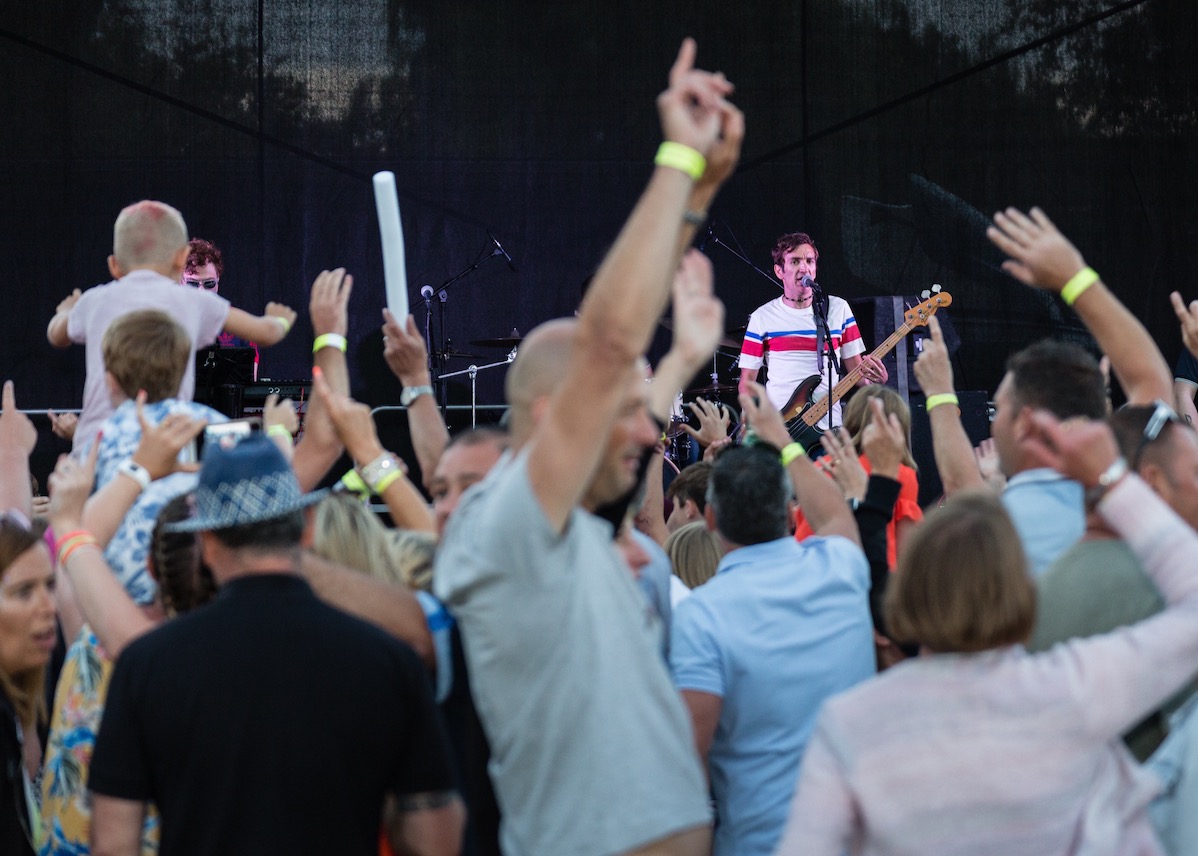 Some of our favourite 90s tribute group galleries.
It's impossible for us to document every single 90s tribute group performance we perform at. And unfortunately we don't always have a photographer on hand. Even though, here are some of our favourite 1990's performances which we believe sum the band up perfectly. All photos are from actual live event that we've performed at. So you will always see guests dancing along to us with their hands in the air throwing up shapes. The crowds go mad for Oasis, Pulp, Supergrass, Robbie Williams, Blur, Chesney Hawkes, Britney Spears and more.
40th Birthday Party Band
Oliver booked Britpop Reunion for his 40th birthday party at Nambucca, London. He and his wife enjoyed getting up on stage with us and playing along to some of their favourite songs of the 90's. All their guests were up and dancing from the offset and we all had a super time together.
Silverstone Classic Festival 2021
We were very happy to be asked to appear at the prestigious Silverstone Classic Festival in July 2021. As you can see from these superb photos all the festival goers went crazy to our 90's repertoire.
Private Party Band
Hosting a private party has never been easier and hiring a private party band who can fill the dancefloor all night is as simple as a phone call away when you book 'Britpop Reunion'.
Private Festival Band
Private festivals are all the rage right now. And hiring Britpop Reunion is very much the best thing to do for your large scale or small scale none public festival. Find out more about how to book a band for a private festival.
Daytime Wedding Reception 90's Wedding Band
Mark and Emma hired 90's wedding band Britpop Reunion to perform for them during the daytime segment of their wedding reception. What other band out there could get everyone up onto the dance-floor at two o'clock in the afternoon?
Same Sex Wedding Reception
The second time we performed at Guildhall, Lichfield, Staffordshire for these amazing gents. Also check out our Blog as their 90s Indie Wedding Band for more information.
Britpop Wedding Reception, Hull
Natalie & Jamie are huge Pulp tribute band fans, so hired us for their tipi wedding. We performed Disco 2000, Common People and lots of other fantastic 90's tunes for them as their nineteen nineties tribute group.
90s Night at Penryn University to 1500 students
Fifteen hundred students going nuts to Britney Spears, Robbie Williams, Republica, Oasis, Primal Scream and more at their university 90s night.
90s Tribute Group 40th Birthday Party, Salisbury
Charlotte loves the 90's, so hired us for her 40th birthday party to hear songs from Alanis Morissette, Blur, The La's, Ocean Colour Scene and more.
Monmouth Festival (4000+ Audience)
One of the largest festivals we've ever performed at. We performed songs by Chesney Hawkes, Chumbawamba, The Verve, The Rembrants and more.
Hospitality Industry Trust 25th Anniversary Dinner, Hilton Glasgow
A large scale corporate event in Scotland for a company celebrating 25 years in business. They requested a 90s tribute group to perform Ironic by Alanis Morissette, Country House by Blur, Don't Look Back In Anger by Oasis and more.
90s Weekender Festival – Dunoon, Scotland
We headed 7 hours up north to Scotland to perform along side 90s acts like East 17, 5ive, Cappella, Dario G, Baby D, Sonique, Rozalla and more. We had such an amazing time at this festival and the views were phenomenal.
Headlining G-Fest Festival
We love a good headline spot at a festival as we know exactly how to give the audience everything they need for a fantastic time.
Race Course Appearance
After the horses were put to sleep for the night and everyone had finished placing their bets, Britpop Reunion performed live for everyone at Fontwell Racecourse. Punters went wild for songs by The Cure, Deep Blue Something, Stone Roses, Reef and more.
Radio Stations "Nothing But The 1990s" 90s Tribute Group Event (Sold out to 750 guests)
Kings Lynn radio station KLFM hire a britpop tribute band for their yearly tribute to a decade. This year it was the 90's so we performed Let Me Entertain You, The Day We Caught The Train. As well as Roll With it, Sit Down, Dance The Night Away and more.
90s Tribute Group Wedding Liverpool
In the astonishing St Georges Hall Britpop Reunion performed for huge 90's fans Ann-Marie & Mike. Requested 90's wedding songs were Friday I'm In Love by The Cure, Common People by Pulp, Cigarettes & Alcohol by Oasis, Alright by Supergrass and more.
Britpop Festival Wedding
One of our favourite ever weddings was a self built festival style Britpop wedding. Claire & James are huge Oasis fans and were going to hire an Oasis tribute band, but chose us instead as we cover Britpop and all of the 90s. We of course performed lots of Oasis songs for them too like Wonderwall, Cigarettes & Alcohol, Roll With It, Dont Look Back In Anger and more.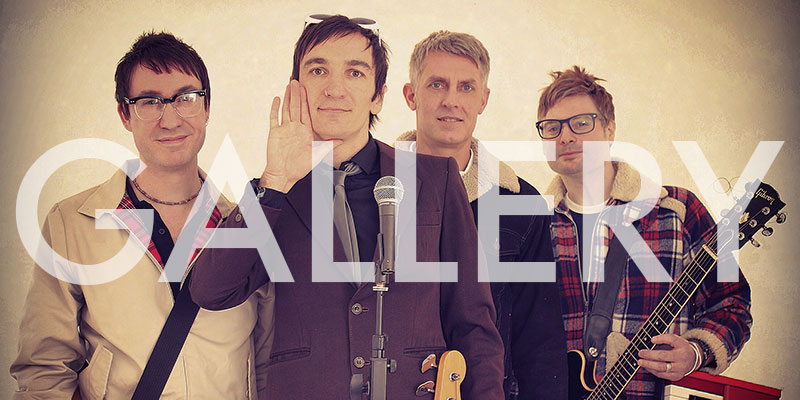 Britpop Reunion have been together for so long that we've had to split our images page over multiple pages. You can find older images below.
Latest

90s Tribute Group Images
Tribute To The 1990s Images Archive 5
Nineties Tribute Group Images Archive 4
Nineteen Nineties Tribute Group Archive Images 3
Nineties Tribute Group Images Archive 2
1990s Tribute Group Images Archive 1
Oldest