90s Wedding Band
The UK's best 90s wedding band 'Britpop Reunion' are the UK's only professional 90's & Britpop wedding cover band. "Why would someone book a 90s tribute band for their wedding reception?" you might ask? Well, as you know the nineties had some of the most catchiest singalong/dance-along songs of all time ("They all go hand in hand, hand in hand through their Parklife"…….."And after all, you're my Wonderwall"……"See our friends, see the sights feel Alright") all of which have stood the test of time so much so that EVERYONE will be up and dancing all night long with "Britpop Reunion" at your wedding reception.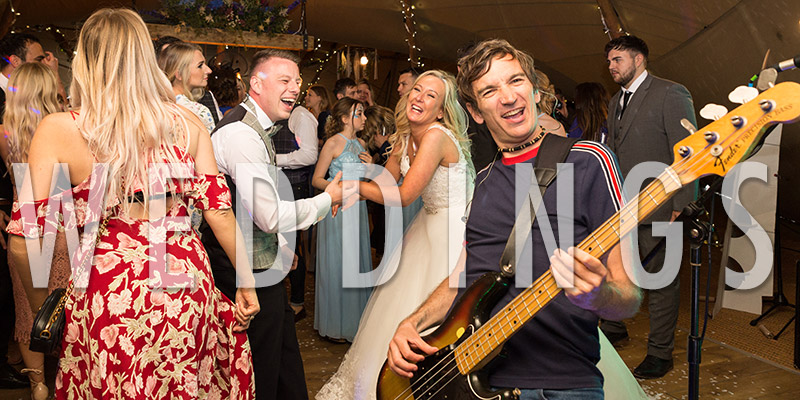 Hire a 90's themed Wedding Band
We've been handling live 90's entertainment at weddings since 2014 so you can be assured we are the best in our field. Bolstering that we've got the 90's swagger, image and sound replicated superbly. No other nineties themed wedding band work to our professional standards and have our attention to detail. From start to finish you'll quickly realise you did the right thing by taking the time and effort to find and book our professional musicians. We have amazing live video and photos to back up all of our claims that we are the best 90's wedding band around.
Other Decades with your 90s wedding band
Many clients like to book our 'Other Decades' performances for their wedding. This gives all guests the opportunity to enjoy live music on the big day as much as the bride & groom do. We can perform a combination of sets featuring amazing pop hits from modern day all the way back through to the 1950's by artists like Amy Winehouse, The Monkees, Florence + The Machine, Undertones, Stereophonics, Arctic Monkeys, Chuck Berry, Kaiser Chiefs and more. We'll also perform massive hits from the best of 90s & Britpop (Blur, Oasis, Pulp, Supergrass, James etc). That way everyone's happy with the best of both worlds. You know this is what you've always dreamed of.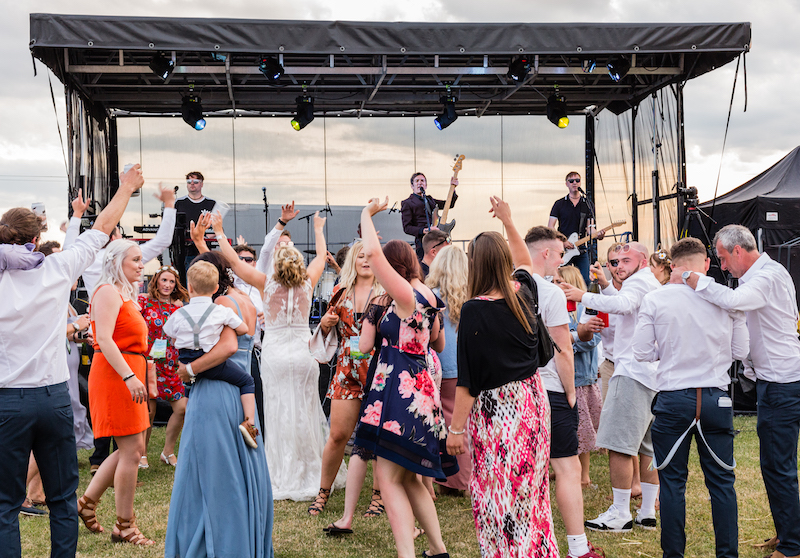 90's Wedding Band First dance
Why not choose a song from our 90's repertoire and we will perform it live for you. "You And Me Song" by The Wannadies is such an amazing song to kick off your new life together. Otherwise how about "Wonderwall" by Oasis? It has all the heartfelt warm lyrics you could possibly ask for. If there's a glaringly obvious 90's first dance song you think we've missed from our set then we may even learn it for you. If its a modern day track or something thats simply not our style then all you need to do is send us the MP3 we'll gladly play it over the PA for you then we'll kick seamlessly into our live set.
State Of The Art Sound Equipment
We come fully kitted out with state of the art PA and lighting. Even iPad DJ services are included up till midnight. We'll handle all of your DJ services from the moment we're set up too. Find out more about what you get with our wedding packages.
Contact
Contact and let us know everything you need from us at your wedding and we'll be happy to accomodate you. We'd love to play a massive or even small part during your big day and be your 90s wedding band.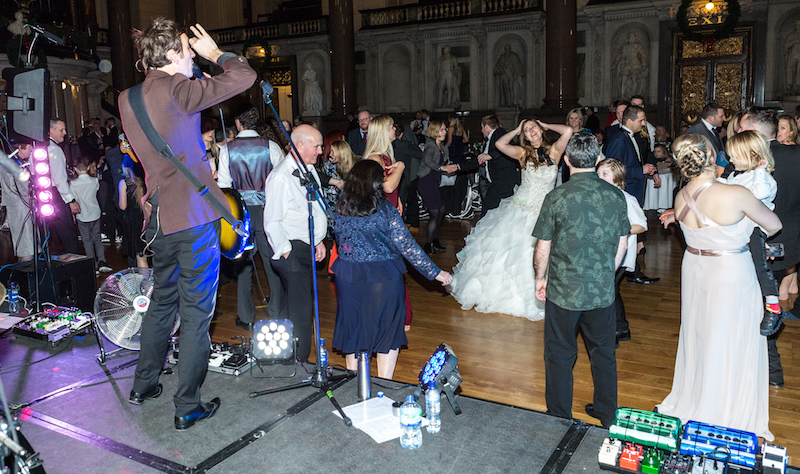 Read lots of reviews previous wedding clients testimonials.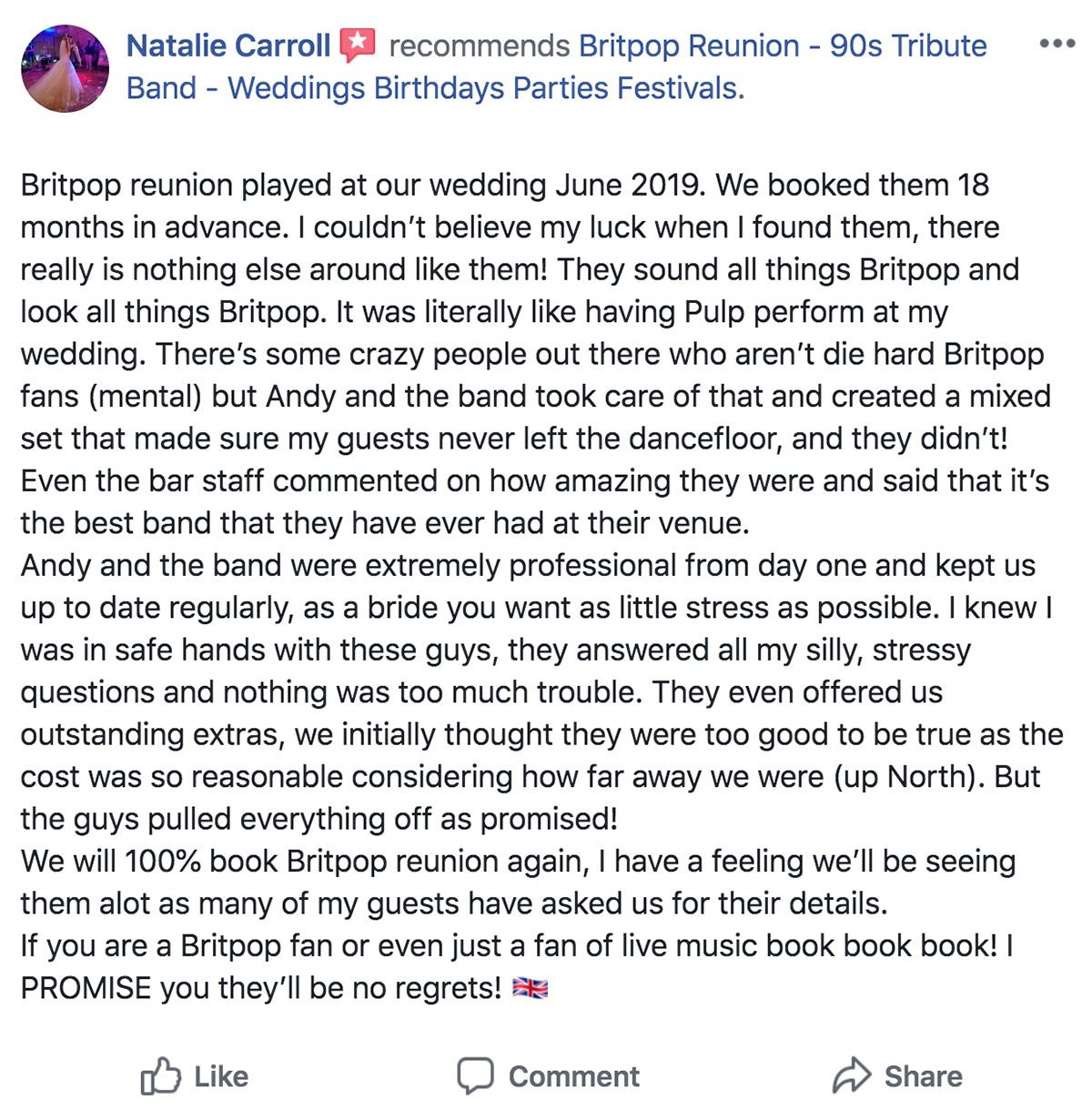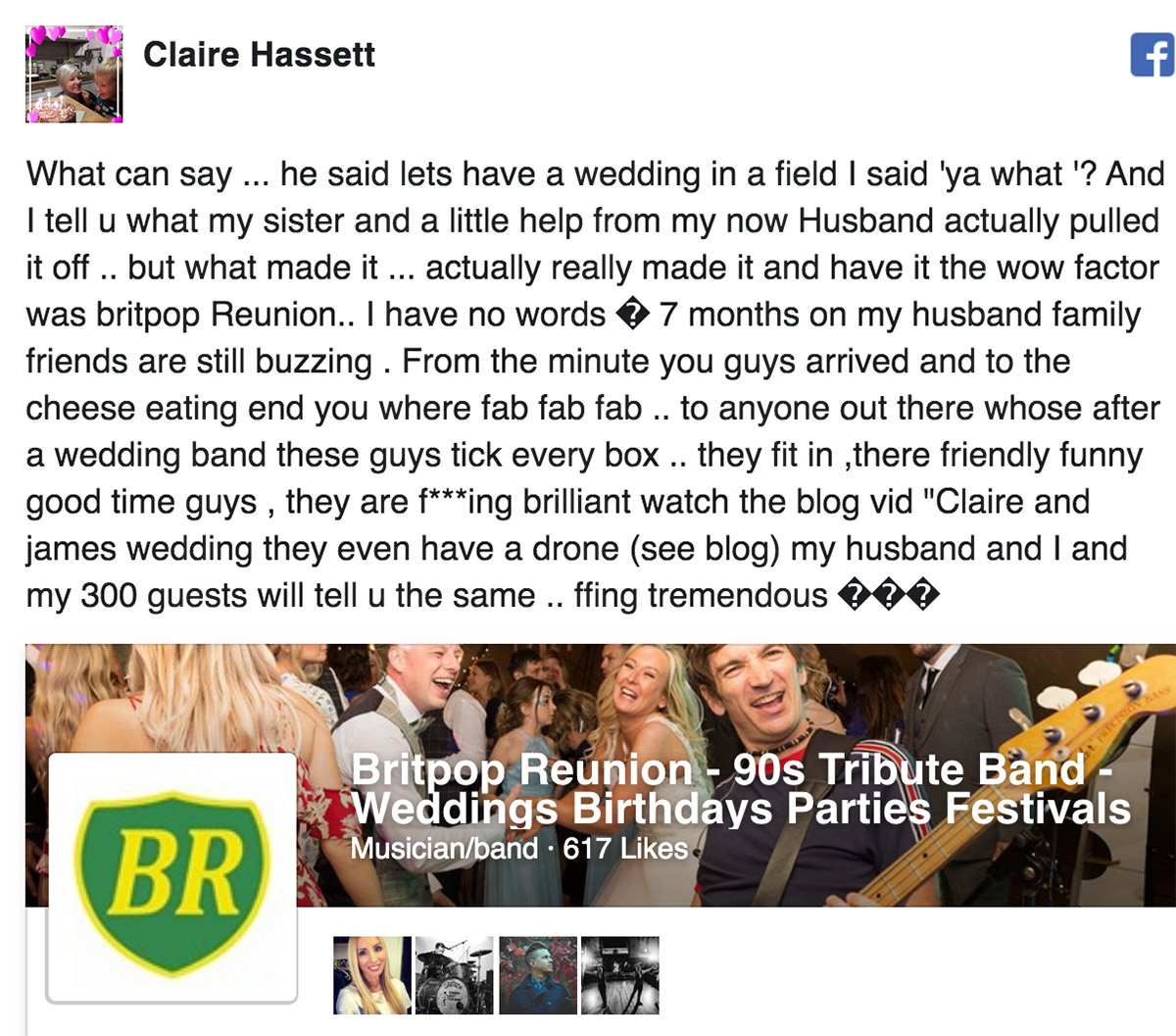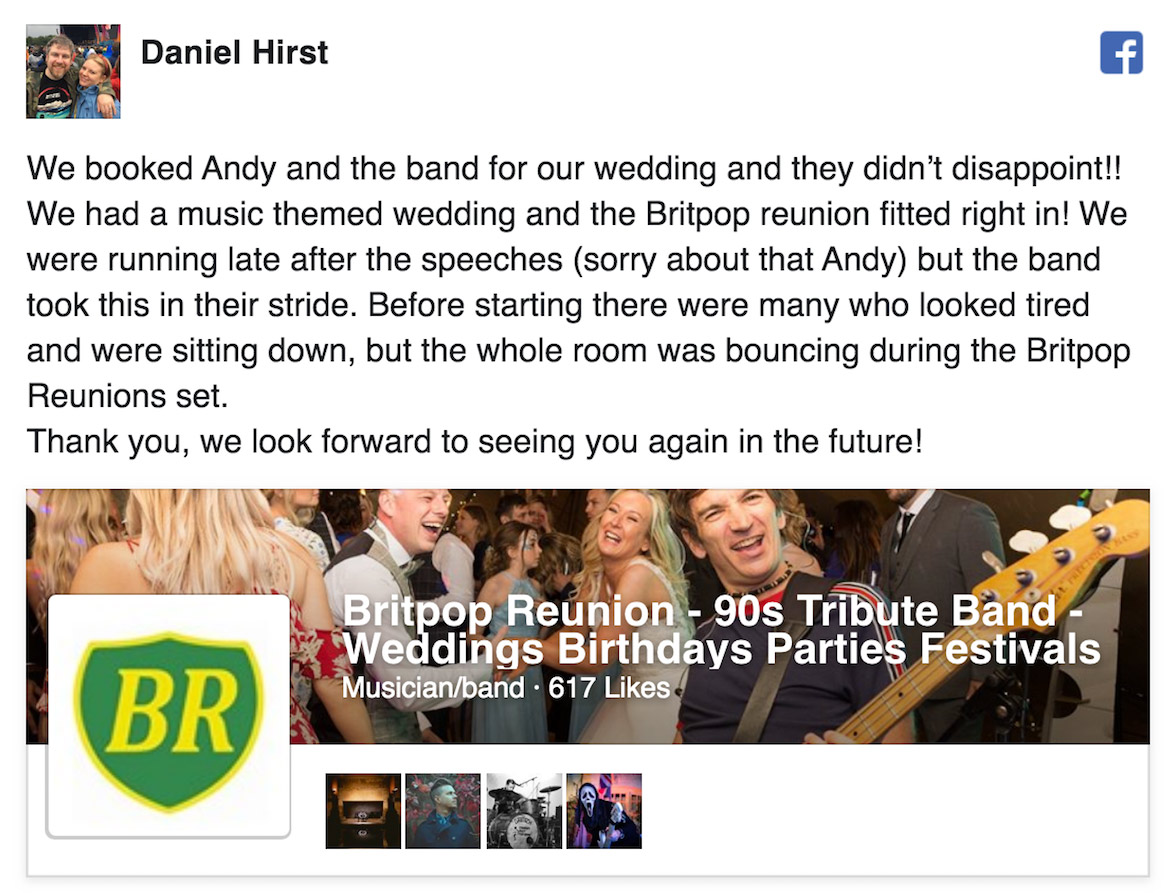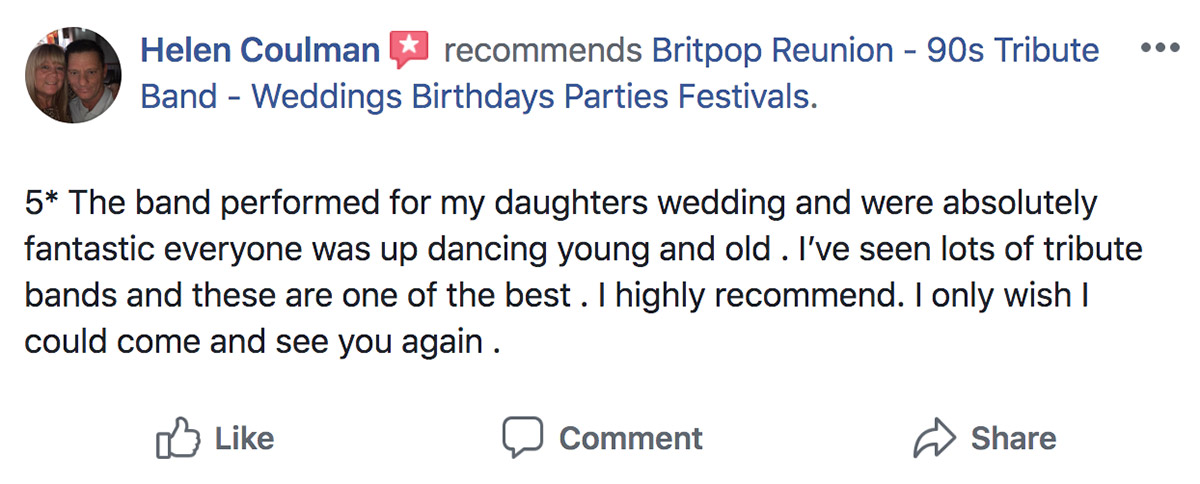 Bride Natalie doing her Disco 2000 dance routine with us live on stage
We encourage you to become a part of our 90's wedding band. Natalie is a huge Jarvis Cocker & Pulp fan so we asked her and her husband up on stage with us.
Claire & James's Festival Wedding
Watch our Vlog below of the amazing time we had at Claire & James's mini festival wedding.
90s Wedding Images
Here are some of our favourite 90s wedding band images from over the years. View many more galleries of amazing images from years gone by.
Nineties Wedding Reception Band, Hull
Nineteen Nineties Wedding Band, Liverpool
Britpop Festival Wedding Band, Leicester