About
Who - What - Where - Why?
We are 'Britpop Reunion' the UKs only 100% professional Britpop tribute covers band. You'll hear massive 90s Britpop hits from Blur, Supergrass, Pulp, Oasis, Reef, Dodgy, Primal Scream and lots more while we entertain you dressed in and performing with the swagger of our Britpop heroes.
'Britpop Reunion' are perfect if you're looking to celebrate a Big Birthday, are holding a 90s Weekender/Themed Night or for a Back To School/College/University Reunion. We're also the perfect Britpop tribute covers band for festivals with huge singalong tracks to get everyone bouncing along to. Then again maybe you want something different for your Corporate Event or Wedding, if so then we are the band for you.
Bask in the glory of the 90s once more as 'Britpop Reunion' take you back to some of the greatest moments in British musical history while you sing and dance your heart out.
FREE DJ SERVICES until midnight with all wedding and birthday bookings.
Latest update: 5th April 2019
New Corporate Promotional Video.
Next Public Performance: Acoustic Solo - 8pm Friday 10th May 2019 - Manesfield 2, Rugeley (Supporting Blur Tribute 'Blurry)
Contact Info
UK (+44) 07794 659405
Based in West Midlands/Staffordshire.
Available to perform all over the UK, Europe and the rest of the world.
Repertoire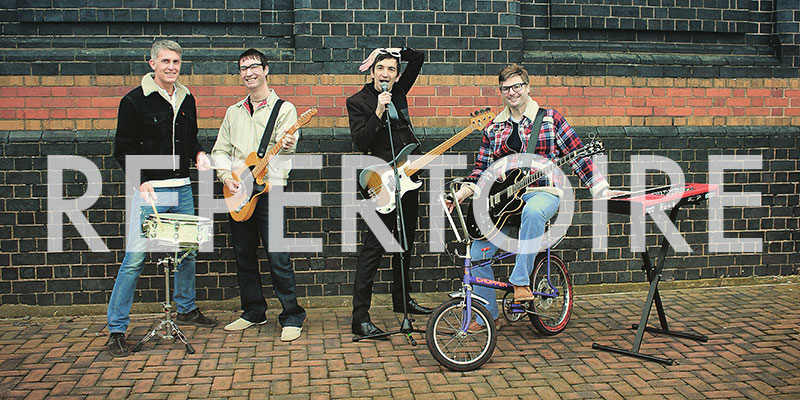 Here's a selection of some of the greatest Britpop songs you can expect to hear from the UKs best Britpop tribute covers band.
Ash - Girl From Mars
Babybird - You're Gorgeous
Bluetones - Slight Return
Blur - Country House / Girls & Boys / Parklife
Boo Radleys - Wake Up Boo
Cast - Alright
Catatonia - Mulder And Scully
Cure - Friday I'm In Love
Dodgy - Staying Out For The Summer
Echobelly - Great Things
Elastica - Connection
James - Laid / She's A Star
La's - There She Goes
Mansun - Wide Open Space
Menswear - Daydreamer
Oasis - Cigarettes & Alcohol / Wonderwall / Roll With it / Dont Look Back In Anger
Ocean Colour Scene - The Day We Caught The Train
Primal Scream - Rocks
Pulp - Common People / Disco 2000
Reef - Place Your Hands
Republica - Ready To Go
Seahorses - Love Is The Law
Shed Seven - Going For Gold
Sleeper - Inbetweener
Space - Female Of The Species
Stone Roses - Made Of Stone
Suede - Trash
Supergrass - Alright
Supernaturals - Smile
Verve - Bittersweet Symphony
Wannadies - You & Me Song
And lots more classic 90s Britpop tunes.
We can also perform more none Britpop 1990s tracks (Britney Spears, Robbie Williams, Alanis Morissette, Spice Girls, Mavericks, Chesney Hawkes etc) or excellent general singalong/dancealong party music from the 1950s through to modern day pop and rock tunes (Kings Of Leon, Beatles, Amy Winehouse, Monkees, Undertones, Stereophonics, Killers, Arctic Monkeys, Chuck Berry, Kaiser Chiefs). See the "Half & Half" and "Nineties Reunion" sections for further details.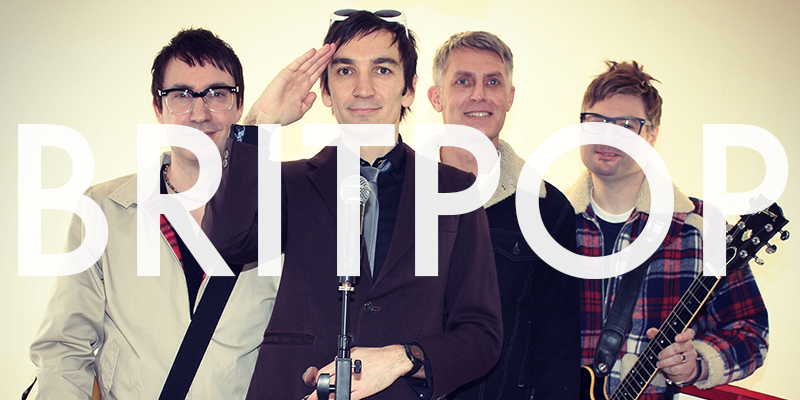 Gallery

As you can see from the below images, we've spent a long time recreating the look of a real life Britpop band from back in the mid 90s. All clothing and equipment is authentic vintage 1990s and many months have been spent sourcing the exact suits, coats, shirts and musical equipment to provide you with the best looking Britpop tribute covers band out there.
Ongoing Promo Images
Andy Starkey as 'Beetlebum' Damon Albarn - Nov 2018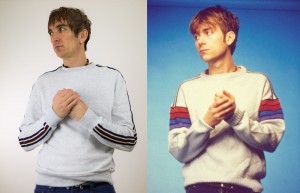 Being A Member of Elastica - August 2018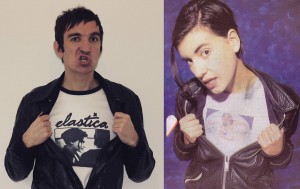 Britpop Reunion - A different class of a Britpop tribute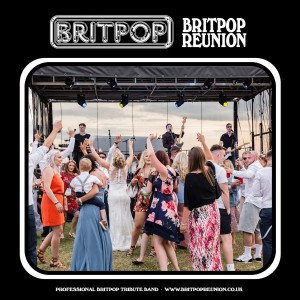 Promotion Photoshoot - June 2017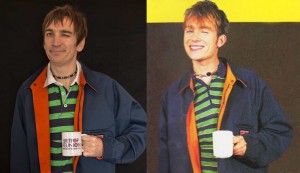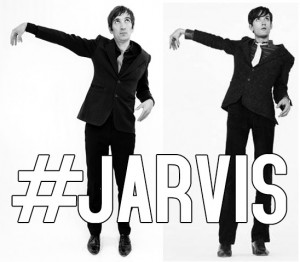 Live Images
40th Birthday Party, Salisbury - April 2019
Hospitality Industry Trust 25th Anniversary Dinner,  Hilton Glasgow - March 2019
90s Weekender - Dunoon, Scotland - Nov 2018
We headed 7 hours up north to Scotland to perform along side 90s acts like East 17, 5ive, Cappella, Dario G, Baby D, Sonique and more Rozalla. We had such an amazing time and the views were phenomenal.
Corporate Event for Excalibur Comms - Sept 2018
Performed as a three piece upon request from client.
Headlining G-Fest 2018 - July 2018
Britpop Day At The Races - June 2018
Britpop Mini Festival - June 2018
60th Britpop Birthday - May 2018
Britpop Bar Performance - April 2018
Britpop 40th Birthday Lichfield - February 2018
Britpop Wedding Liverpool - January 2018
Public Performance - December 2017
University Ball - November 2017
Britpop 40th Birthday Party - October 2017
Britpop Wedding - September 2017
Britpop Festival Wedding - July 2017
Britpop 40th Birthday Party - April 2017
90s Night at Penryn University to 1500 students - Jan 2017
VST Corporate Business 10th Anniversary Performance - February 2017
Britpop Wedding - December 2016
Britpop Tribute Act Wedding - November 2016
Festival - September 2016 (Sold out)
Monmouth Festival - July 2016 (4000+ Audience)
Britpop Tipi Wedding - July 2016
Corporate Micro Festival - June 2016
Radio Stations "Nothing But The 1990s" Event - April 2016 (Sold out to 750 guests)
Casino Appearance - February 2016
40th Birthday - January 2016
Promo Photoshoot - 2015
1990s Party - October 2015
Live in 2015
Wedding -  September 2015
Fake Festival - August 2015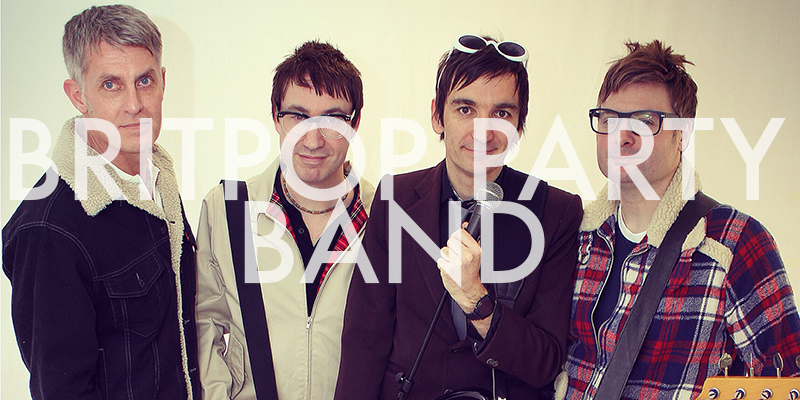 Contact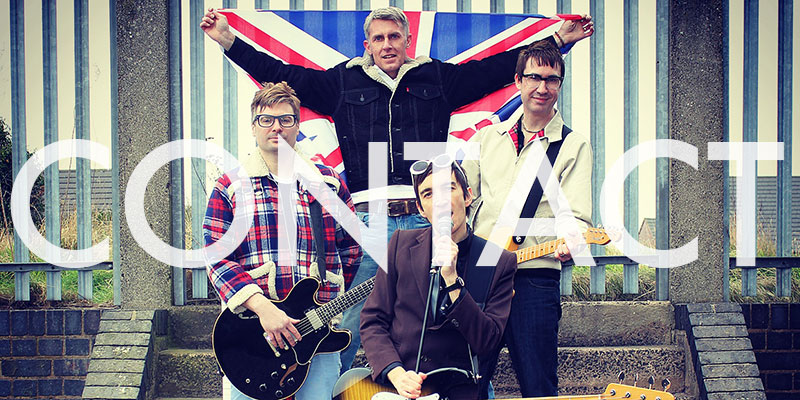 SO, YOU'RE INTERESTED IN BOOKING THE UKS BEST BRITPOP TRIBUTE COVERS BAND FOR YOUR PARTY, WEDDING, BIRTHDAY OR CORPORATE EVENT ARE YOU? Please drop us a message below with your requirements and we will get back to you as soon as possible. Please remember to include the your MOBILE PHONE NUMBER, date, venue postcode and type of event you require 'Britpop Reunion' for.
If you're having any problems with the above contact form then please contact us on UK (+44) 07794 659405 or email britpopreunion@gmail.com
Testimonials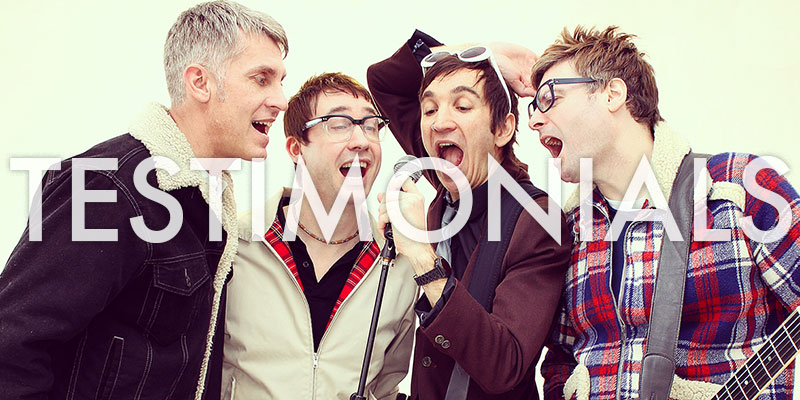 Here are some of the lovely things that recent clients and even original Britpop artists themselves have said about the best Britpop tribute covers band "Britpop Reunion".
Celebrity Endorsements:
Phil Daniels (Vocals in Parklife by Blur) (December 2015)
"Top banana, better than the real thing !"
Jon Campling (Harry Potter Death Eater) (August 2016)
"Britpop Reunion freakin owned it at the World Wizardry Ball. Serious skills. You need to book Britpop Reunion They will rock your world."
Chris Rankin (Percy Weasley - Harry Potter films) (January 2017)
"Awesome band, awesome night :)"
---
Previous Client Testimonials
View all of our most recent reviews on our Facebook page here
Matt Burnell - 40th Birthday, Lichfield (Jan 2019)
"Britpop Reunion made my 40th Birthday an evening to remember. As I was hosting a Glastonbury themed party I had an amazing venue with a festival dress code but what really made it was the band tailoring the music to suit. Everybody was on their feet and the atmosphere built by the interaction with the guests while performing was amazing. A truly great band that helped create an evening that people are still talking about. Thank you guys it was incredible!"
Andrew Daw - Festival Organiser, Leeds (July 2018)
"These guys headlined G-Fest and what an awesome choice they were. Absolutely had the place bouncing. If you ever need a band to get your party going or your festival rocking this is definitely the right choice. Thanks Andy and the boys."
Vincent Turner - Festival Goer, Reading (June 2018)
"Fantastic band and perfect to finish off a festival. Full of quality and energy. Real crowd pleasers."
Victoria Sandiford - Private Birthday Festival, Manchester (May 2018)
"What a brilliant band! Headlined at Nigefest and got the whole crowd up singing and dancing! They started with our theme tune "I predict a riot!" Fantastic to deal with from start to finish, totally professional and highly recommended. Is this the start of the annual Nigefest? Can you do next year?"
Amanda Shipside - 60th Birthday, Nottingham (May 2018)
"Amazing, fantastic, awesome, brilliant! I could got on......We had a 60th birthday party for my husband with a theme of a music festival. Britpop Reunion were fabulous. Andy and the guys were great. They were friendly, professional and sounded just like the bands who's music they were playing. As soon as they began to play our guests were up on the dance floor and didn't sit down until they had finished. Thank you so much guys you made our party a success. I want another party just to have you play again."
Claire & James Hassett - Wedding, Leicestershire (March 2018)
"From the minute you guys arrived and to the cheese eating end you where fab fab fab .. to anyone out there whose after a wedding band these guys tick every box"
Daniel & Melody Hirst - Wedding, Staffordshire (February 2018)
"We booked Andy and the band for our wedding and they didn't disappoint!! We had a music themed wedding and Britpop Reunion fitted right in. The whole room was bouncing during their sets. Thank you, we look forward to seeing you again in the future!"
Simon Smith - 40th Birthday Party, Derbyshire (January 2018)
"Britpop Reunion performed for my 40th birthday party. Wicked band with authentic 90s sound. They played all the tunes I wanted and made me feel like I was 18 years old all over again. Communication with Andrew from the initial enquiry through to the night of the party was excellent. Thanks for a great night guys!"
Conor & Jenny Murphy - Wedding, Richmond (September 2017)
"Thanks for a great night Andrew Starkey and the rest of Britpop Reunion! Had so many people say how amazing you guys were and how much fun they had! Really great tunes!'
Claire & Wayne Hammond - Wedding, Banbury (June 2017)
"Just wanted to say a massive thank you for being fantastic on Saturday! We had an amazing evening and everyone we've spoken to since has commented on the fab quality of music. Thanks again"
Sharon & Paul Clarke - Wedding, Dorking (May 2017)
"Thank you very much for performing at our wedding at Denbies Wine Estate in Dorking.I would like to thank you guys for making our wedding really special and everyone has had nothing but praise for you guys. All the little personal touches that you did to make us feel special - letting me up on stage, having photos done with us - it was really nice and very caring. It took us back to our youth.....  brilliant voices and the band are really tight.Thank you again for making our day really special and you guys were great. Take care and may you guys continue to grow"
Lisa & Reg Ayers - 40th Birthday, St Albans (April 2017)
"Thank you guys!  What a great night, you went down a storm and Reg loved it! We all did. Will be in touch again I'm sure. Thank you again, you were brilliant!"
Adrienne Turner - Corporate (Fresenius Medical Care) 21st Anniversary, Melton Mowbray (January 2017)
"Awesome show last night guys! Thanks so much (sorry about the tardiness)!"
Jade & Chris Turner - Wedding, Skipton. (December 2016)
"When we started out looking for a band to perform at our wedding, we didn't really know where to start, other than knowing the style of music we wanted. With no local Britpop bands around, we cast our net further afield and my, are we glad we did! From the very first conversation with Britpop Reunion, we knew they were the band for us. No request was too big for them – including the 300 mile round trip they completed just to get to us! Having a live band perform our first dance was a very special moment and from that song to the very end, the dancefloor was full. All of our guests loved them and we didn't want the night to end. A couple of weeks before the wedding we decided to add an acoustic set to cap off the night and we can't thank Andrew enough for learning new songs especially just for this. 'Champagne Supernova' was a magical moment that we'll remember forever. If anyone is in any doubt about booking you guys then they needn't be. 'Britpop Reunion' look and sound like the real deal and the next time we have a party we already know who we want to play. Thanks again guys, for a truly wonderful evening"
Mr & Mrs Moody - Wedding, Somerset. (September 2016)
"Anyone thinking of booking Britpop reunion for any occasion should definitely do it. They looked great, sounded amazing, and were a really nice bunch of blokes! Professional from the moment they arrived at our wedding to the moment they left, they made our night"
Alison & Martin Reid-Jamond - Wedding, Warwickshire. (July 2016)
"Dear Britpop Reunion, Just a (Slightly belated!) card to thank you for the amazing set you played for us at our wedding at The Falcon back in July. we really appreciated your patience when everything started running late and we and all of our guests really loved all of the songs you played - some of them still talk to us about you now!
Thank you for helping to make our day so perfect :)"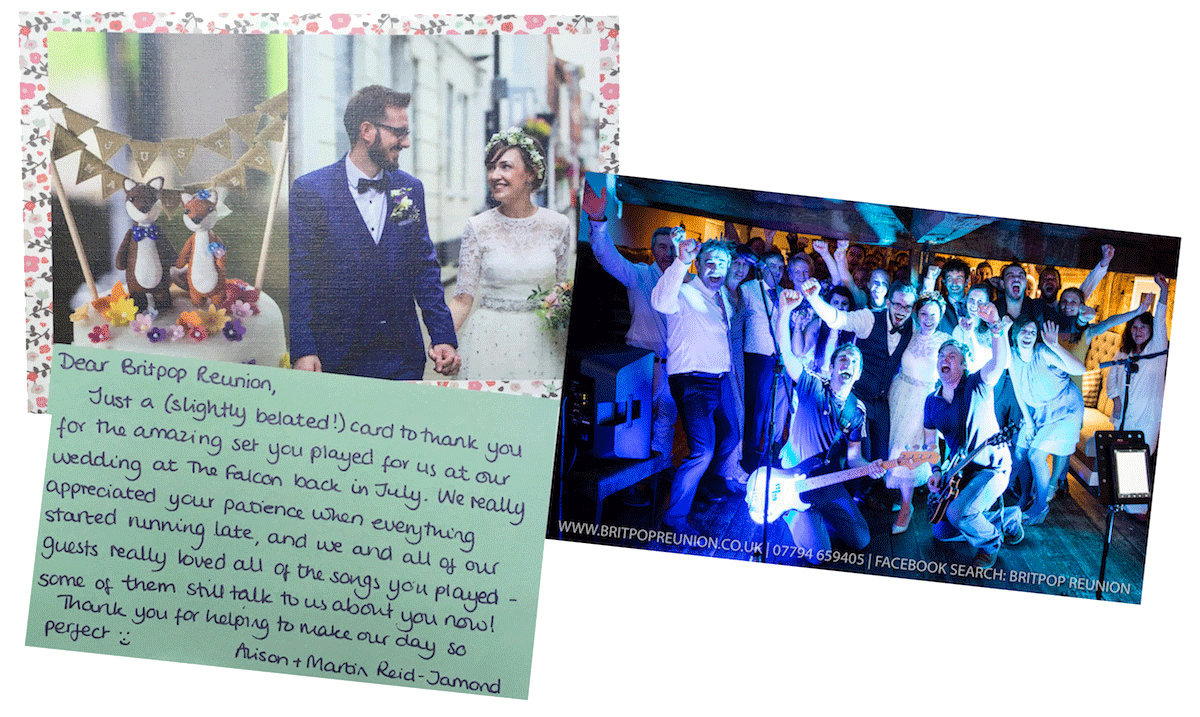 Steve - Monmouth Festival. (July 2016)
"It was great to have you guys play and we got lots of really good feedback. It would be amazing to have you back again."
Emily Clacy, 40th Birthday Party, Gloucestershire. (March 2016)
"We hired Britpop Reunion for my husband's 40th birthday party which was 90's themed. The band were excellent! Very friendly and professional and they played all the 90's classics we requested and more. They even tailored the interval music to my play list requests. Everybody commented on how good the music was and we all enjoyed the night so much, especially the nostalgia it created for us all! I wouldn't hesitate to recommend them and hope to use them again one day."
T. Reid, 40th Birthday Party, Northamptonshire. (August 2015)
"Couldn't ask for more! All my favourite 90s Britpop numbers, a great stage show, über cool looking band. The best Britpop tribute band I've ever seen...Britpop forever."
John T. Murphy, University Reunion, Leicestershire. (May 2015)
"I was looking for an alternative to the "same old" disco/soul function band for our University Reunion night and I wasn't disappointed. A really fresh and professional approach with the best 1990s Britpop tunes…….They really did take me back to the good old days. What an amazing Britpop covers band Britpop Reunion are. Thanks for a great night! Would definitely recommend to others."
Jody Thomson, Corporate Event, Warwickshire. (January 2015)
"Thanks for helping to make our 20-year anniversary a 100% success. It really was like being back in the 90s again when we first started the business"
Phillip Bennett, Wedding, Staffordshire. (September 2014)
"On stage like REAL Britpop stars, soooooo entertaining. What a change from the normal 'Stapled to the spot' bands I've seen before. It was a real breath of fresh air having you guys play all the biggest Britpop tunes at our Wedding Reception."
Previous Clients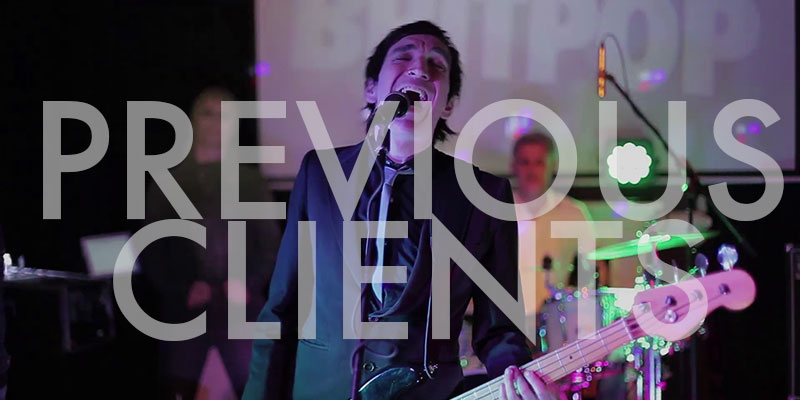 Being the UKs only professional Britpop tribute covers band we get to perform for clients celebrating birthdays, weddings and parties but we also work for a whole lot of big corporations as well at their annual events. Here are just a few examples of companies that "Britpop Reunion" have performed for.
Sharpie - BBC - Teenage Cancer Trust - Grazia Magazine - PepsiCo - Nestle - Lichfield City Council - Birmingham City Council - Solihull City Council
Audio/Visual
We've spent a lot of time replicating the sights and sounds of a proper 1990s Britpop band both in the studio and live on stage. As you watch the below videos and listen to the audio we're sure you'll find that Britpop Reunion are the UKs most professional Britpop tribute covers band around. We put on one heck of a brilliant show and we know we will be perfect for your special event.
Corporate Promotional Video for Hospitality Industry Trust at Hilton Hotel Glasgow
Britpop & The 90s - Acoustic Solo with Andy Starkey
Vlog 003 - 40th Birthday Party
Britpop & 90s Acoustic Duo Option - September 2018
Britpop 60th Birthday Party - May 2018
Britpop Vlog 002 - Melody & Daniel's Wedding - 26th August 2017
Britpop Vlog 001 - Claire & James's Festival Wedding - 8th July 2017
"Bitter Sweet Symphony" (The Verve) to 1500 students - January 2017
Live at a wedding in December 2016 - Parklife by Blur
...And a few more tracks
Live in September 2016 - Girls & Boys - Disco 2000 - Don't Look Back In Anger
Live at a wedding in September 2016 - Cigarettes & Alcohol by Oasis
Performing live to 4000+ audience at Monmouth Festival 2016
Performing with the cast from Harry Potter at a convention
Performing live to 750 guests - SOLD OUT
Promo Video
Live at a Fake Festival
Live at an Army Base for their 1990s School Reunion Party
Solo acoustic performance at The Cavern, Liverpool.
Fun Fan Footage
Britpop Wedding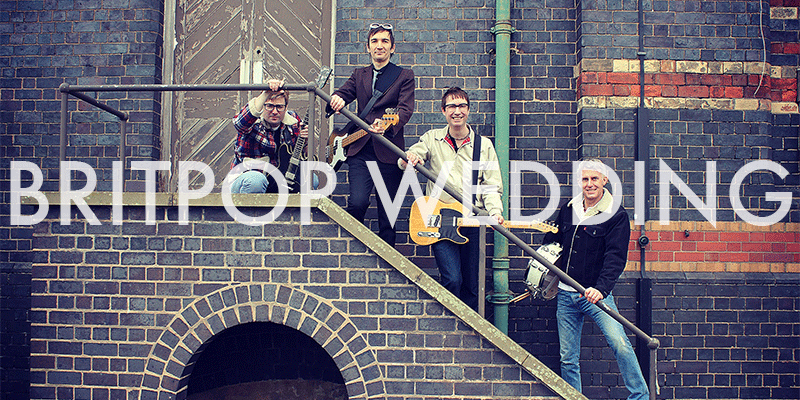 'Britpop Reunion' are the UKs only professional Britpop wedding band. "Why would someone book a Britpop tribute covers band for their special day?" you might ask? Well, as you know Britpop had some of the most catchiest singalong/dancealong songs of all time ("
They all go hand in hand, hand in hand through their PARKLIFE"........"And after all, you're my WONDERWALL"......"See our friends, see the sights feel ALRIGHT
") all of which have stood the test of time so much so that EVERYONE will be up and dancing all night long with "Britpop Reunion". First dances - Why not choose a song from our set and we will perform it live for you. "You And Me Song" by The Wannadies or "Wonderwall" by Oasis always go down incredibly well. If there's a glaringly obvious Britpop track you think we've missed from our set then we may even learn it for you. If its a modern day track or something thats simply not our style then all you need to do is send us the MP3 we'll gladly play it over the PA for you then we'll kick seamlessly into our live set. Many clients like to book our 'Half & Half' performances for their wedding. This gives all guests the opportunity to enjoy live music on the big day as much as the bride & groom do. We can perform a set of amazing pop hits from modern day all the way back through to the 1950s by artists like Kings Of Leon, Beatles, Amy Winehouse, Monkees, Florence And The Machine, Undertones, Stereophonics, Killers, Arctic Monkeys, Chuck Berry, Kaiser Chiefs. Then we'll perform a massive set of the best of Britpop (Blur, Oasis, Pulp, Supergrass, Reef etc) later on in the evening. That way everyones happy with the best of both worlds.
Britpop Vlog 002 - Melody & Daniel's Wedding - 26th August 2017
Britpop Vlog 001 - Claire & James's Festival Wedding - 8th July 2017
Here is some live video of some excellent times we've had performing for wonderful clients on their special wedding days.
Parklife Wedding in December 2016
....Here's another wedding video
Live at a wedding in September 2016 - Cigarettes & Alcohol by Oasis
Various other cool wedding videos featuring Britpop Reunion
Half & Half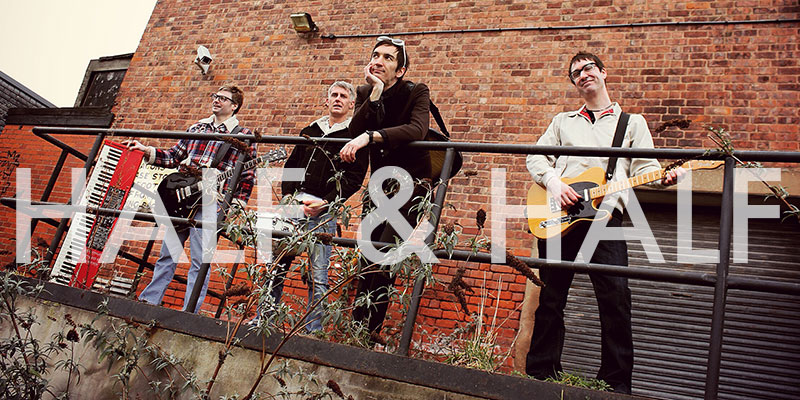 Worried about booking a band that just plays Britpop for your event?
Well, worry no more.....It might be that you're a huge Britpop fan, but for some reason you think that the rest of your guests just might not get what your going for?.....Well you're in luck as the UKs only professional Britpop tribute covers band 'Britpop Reunion' can also offer a "Half & Half" split of music for your wedding/birthday/corporate affair. We can perform a set of massive pop hits from modern day all the way back through to the 50s with music by Kings Of Leon, Beatles, Amy Winehouse, Monkees, Florence And The Machine, Undertones, Elvis, Stereophonics, Van Morrison, Killers, Buzzcocks, Arctic Monkeys, Chuck Berry, Kaiser Chiefs etc and then a set of classic massive Britpop anthems. We can even throw in a load of none Britpop 90s tunes too from our '90s Reunion' section below. Just let us know what you require while booking and we'll be happy to accommodate your requirements.
Here we are performing "I'm A Believer" to a massive crowd.
Budget
Are you on a tight budget?
Don't worry as the UK's only professional tribute covers band 'Britpop Reunion' have plenty of options for you. As well as performing as a full four piece electric band we are also able to perform as an electric three piece, acoustic solo, acoustic duo or acoustic trio. So if you're some what strapped for cash you can still have a fantastic 1990s event with us performing live for you.
We can also just supply a DJ ONLY package with massive classic 90s tracks (Or any type of music) featuring Britpop, chart, dance, R&B etc so you can relive the 1990s once more at a fraction of the cost. We're able to tailor your DJ experience as much as you like with over half a million songs to choose from so we really can make it a very personal experience for you.  We're able to take requests and make announcements on the night too. Just mention any of this when getting touch.
Corporate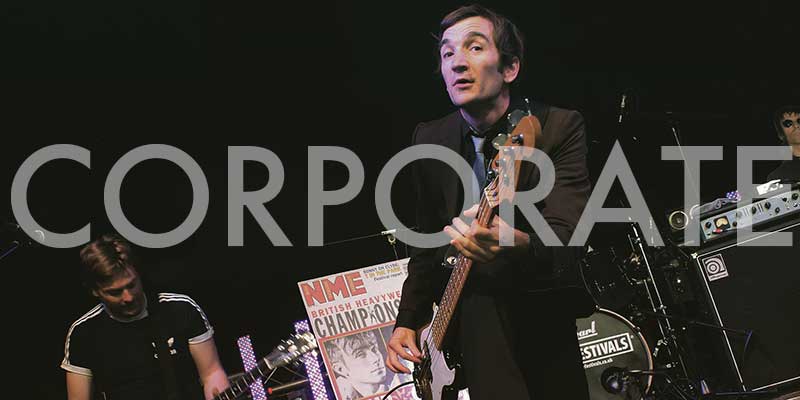 Corporate Events & Business Parties
'Britpop Reunion' have performed at many huge and small company parties over the last few years including Anniversaries, Christmas, New Years, Awards Dinners and much more. We have performed for PepsiCo, Marks & Spencer, BBC, Sharpie, Hospitality Industry Trust, Halifax, OK Magazine and lots of other large scale companies. So if you're looking for something a little different for your corporate event rather than the same-old-same-old disco band then please get in touch at UK (+44) 07794 659405 or britpopreunion@gmail.com
Festival Band
Are you looking for a Festival Band?
Performing live to 4000+ audience at Monmouth Festival 2016
Are you organising a festival or are you having a festival type wedding or show? Well you're in luck as Britpop Reunion are the band to make your occasion a roaring success. We'll keep all your guests/clients/audience happily bouncing along to the best of 1990s Indie Pop with huge hits from the likes of Blur, Oasis, Pulp, Supergrass, James, Reef, Ocean Colour Scene and many more. We know what festival crowds want to hear and we know how to engage and please them with our onstage sounds and swagger.


Britpop Birthday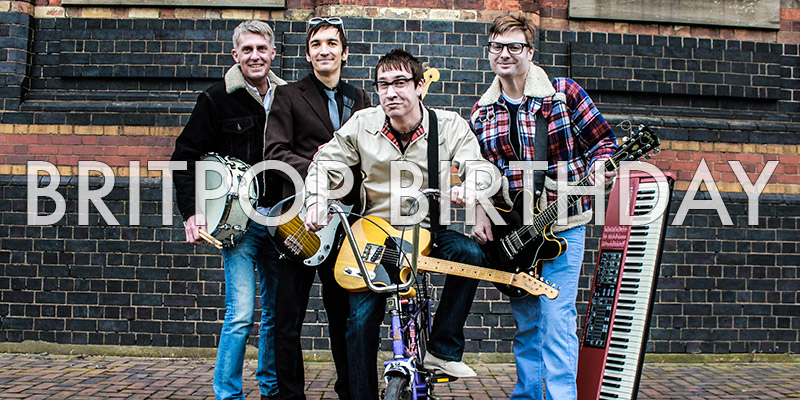 If you're celebrating a big birthday like a 30th, 40th or 50th then nothing could be better than having Britpop Reunion handle all your entertainment. You'll hear nothing but the best and most well known Britpop songs that all your guests will already know and love. There's nothing obscure in our repertoire so expect all your favourite hits from Blur, Oasis, Pulp, Supergrass and more. What else could you possibly want? Well how about DJ services included in the price keeping all your guests happily dancing the night away too.
Here's a video from a recent 60th birthday party we performed at - May 2018
Here's a video from a 40th birthday party we performed at:
Nineties DJ
Are you having a 1990s themed night but haven't quiet got the budget or space for a full band?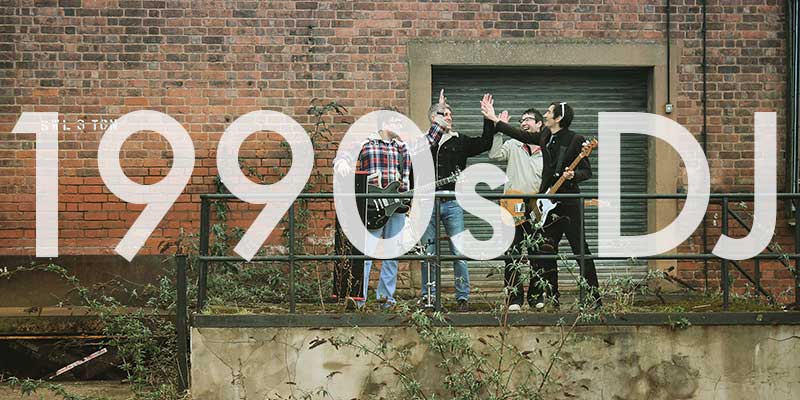 Well you're in luck as you can even hire us on a DJ only basis. We are your 1990s DJ specialists, we lived through and survived it all first time around so we have everything you could ever possibly need for your listening pleasure. There's Pop, Dance, Cheese, Rock, Chart, House, Britpop and everything in-between.
So expect Spice Girls 'Wannabe",  Baby D 'Let Me Be Your Fantasy', Shaggy 'Boombastic' Deee-Lite 'Groove Is In The Heart, Britney Spears 'Baby One More Time', Livin' Joy 'Dreamer', S Club 7 'Bring It All Back', East 17 'House Of Love', Hanson 'MmmBop' and lots of other great 1990s DJ tunes.
We can take requests, make announcements and included in the price is 1.6Kw PA system, thousands of 1990s DJ classics, public liability insurance and even lighting. So you don't need to think about booking anything else entertainment wise, we've already got it all covered for you. Please get in touch on 07794 659405 or email us at britpopreunion@gmail.com or complete the Contact Form above.
Nineties Reunion
Do you want a night of 1990s live music including the best of 90s Pop AND Britpop?
You can also book "Britpop Reunion" as "1990s Reunion" performing a brilliant show of both Britpop and the biggest hits from the 1990s by massive selling artists from around the world including: Ace Of Base, Alanis Morissette, Britney Spears, Chesney Hawkes, Chumbawamba, Deep Blue Something, Lemonheads, Mavericks, Rembrandts, Robbie Williams, Spice Girls and many more. Just let us know what 1990s experience you want when you make your enquiry and we'll be happy to accommodate you.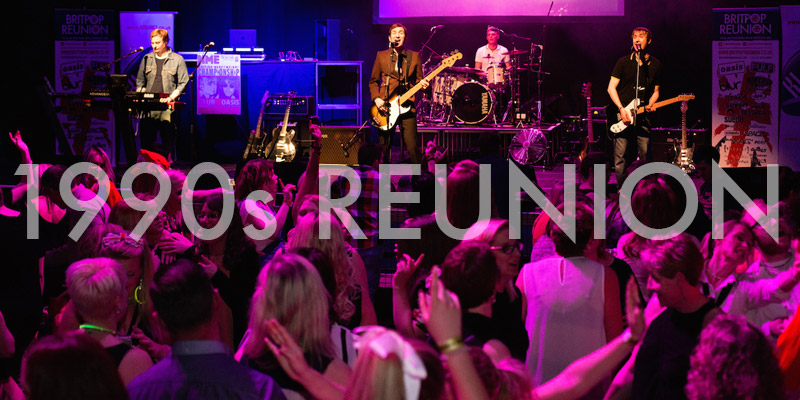 Here we having a giggle performing the 90s version of 'I'm A Believer' by Vic & Bob & EMF.
---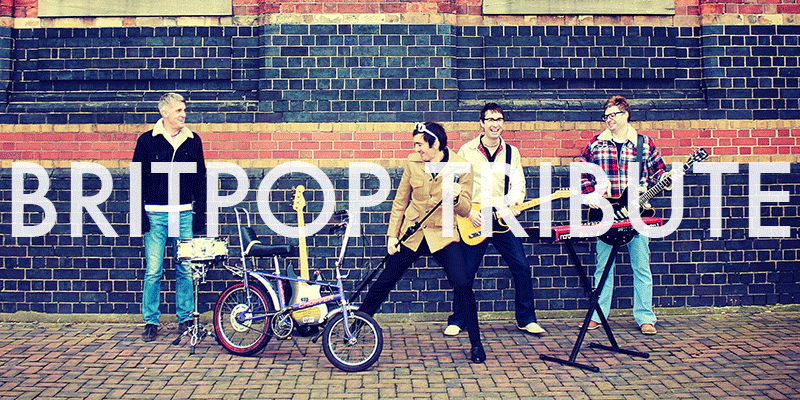 Britpop Tribute Band
Public Performances
Most of Britpop Reunions performances are private affairs such as corporate events, weddings and parties. Very occasionally though we have the opportunity to perform publicly.
Britpop Reunion - Solo acoustic performance by Andy Starkey 8pm Friday 10th May 2019 Mansefield 2, 40 Market St, Rugeley, WS15 2JL Supporting Blur tribute band 'Blurry'