Hire a private festival band and have Britpop Reunion perform Britpop and 90's for you and all your favourite guests and family. Whether it's a small private festival or large private festival Andy Starkey and his nineties cover band can whip the festival goers up into a frenzy of something the size of Glastonbury or Reading. You won't ever be looking back in anger when you hire a Brit pop tribute band for a private festival. Celebrate in style with whatever occasion you want a live band for like a private company party, private birthday party or any type of party when you book your own private music festival. You've said to yourself for some time now "I want to host my own festival". You want to create your own Rockfest or Popfest and tailor it to your exact requirements. That dream festival you've always planned on creating with your dream line-up is now possible when you book a private festival band. So contact to book now.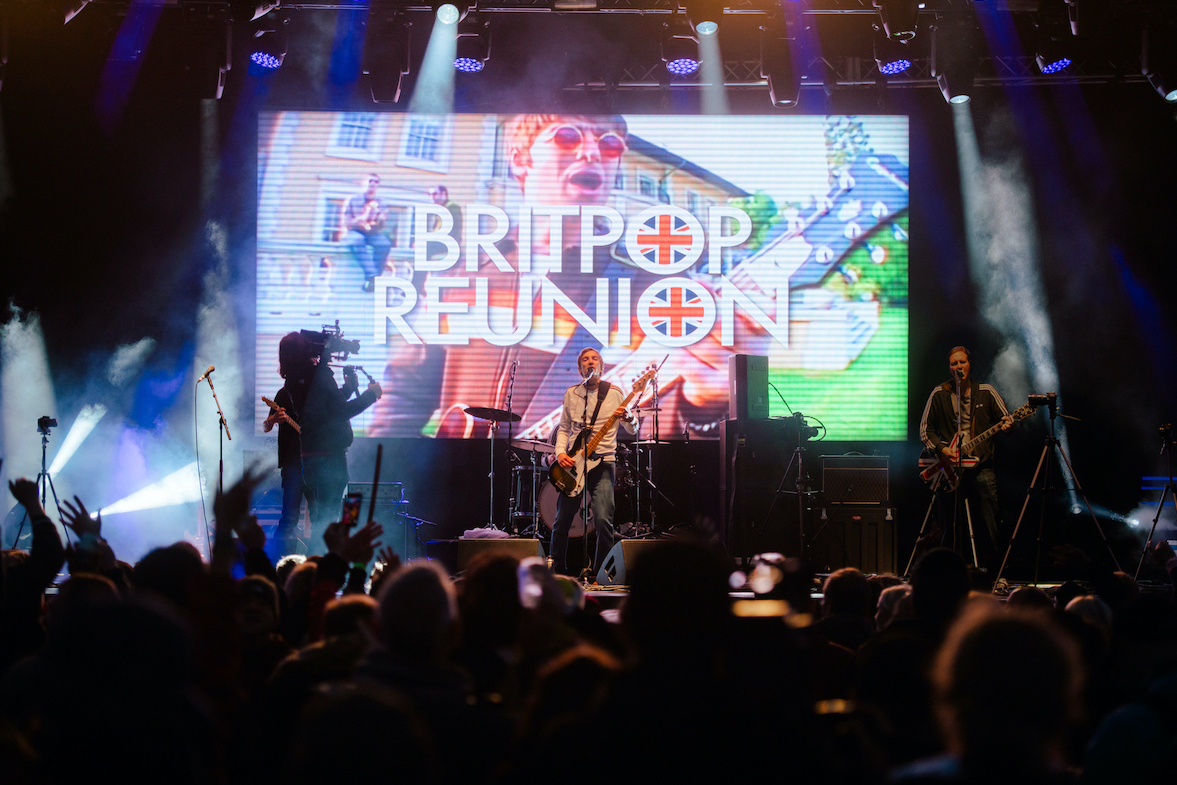 Book a Private Festival band
Britpop Reunion have performed at many private festivals and mini festivals over the years. Below you'll see us performing Common People by Pulp at Jez Fest in August of 2021. Jeremy wanted to hold his own private festival on his own massive private grounds in Sheffield. So he hired Britpop Reunion to perform festival favourites by artists like Oasis, Blur, Pulp, Supergrass, James, Ocean Colour Scene and more from our repertoire. There were about 150 VIP guests invited and every single one of them were down the front singing and dancing along to our live set.
Book a mini festival band
As you'll see Andy Starkey and his professional musicians that make up Britpop Reunion know exactly how to handle festival goers of any size and numbers. Everyone will be singing along to songs like:
Wonderwall by Oasis "I said maybe, you're gonna be the one that saves me"
Parklife by Blur "All the people, so many people. And they all go hand in hand, hand in hand through their, Parklife"
Disco 2000 by Pulp "Lets all meet up in the year 2000, won't it be strange when we're all fully grown"
Alright by Supergrass "We are young, we run green, keep our teeth, nice and clean. See our friends, see the sights, feel alright"
Mrs Robinson by The Lemonheads "And here's to you Mrs Robinson, Jesus love you more than you will know"
and lots more from our festival repertoire.
Host my own festival.
Whether you need a large festival band or a small festival band you can trust Britpop Reunion to deliver the goods. We've "Been there and done that" on many, many occasions. All of which can be proven as you look around our website. Do any other 90's tribute bands have this much quality live video footage? Absolutely not because they don't actually ever get booked to perform at the types of festivals that Britpop Reunion do.
Here is Britpop Reunion private festival band setting up at a large scale event. Don't festivals always look funny before punters enter the area? So now it's time to contact and get booking a brit pop tribute band for your private festival. Soon it'll be time get your posh wellies on and get ready to trudge around in the mud to your favourite festival songs.
Don't forget to hire your PA company, sound, lighting and stage. Then the food stalls and bar and get that full festival vibe on the go. If you need to hire a private party band then also do please get in contact.