1990s Tribute Group Images Archive 1
Heading all the way back to the start of our career as the UK's best 1990s tribute group. Featuring early images of 'Britpop Reunion'. We instantly took the tribute band circuit by storm because of our faithful recreation of what a 90's tribute group should sound and look like. This attention to detail had never been seen before in a nineties tribute band. We look and sound like the perfect cross between Oasis, Blur, Pulp and Supergrass and a couple of other Cool Britannia indie bands.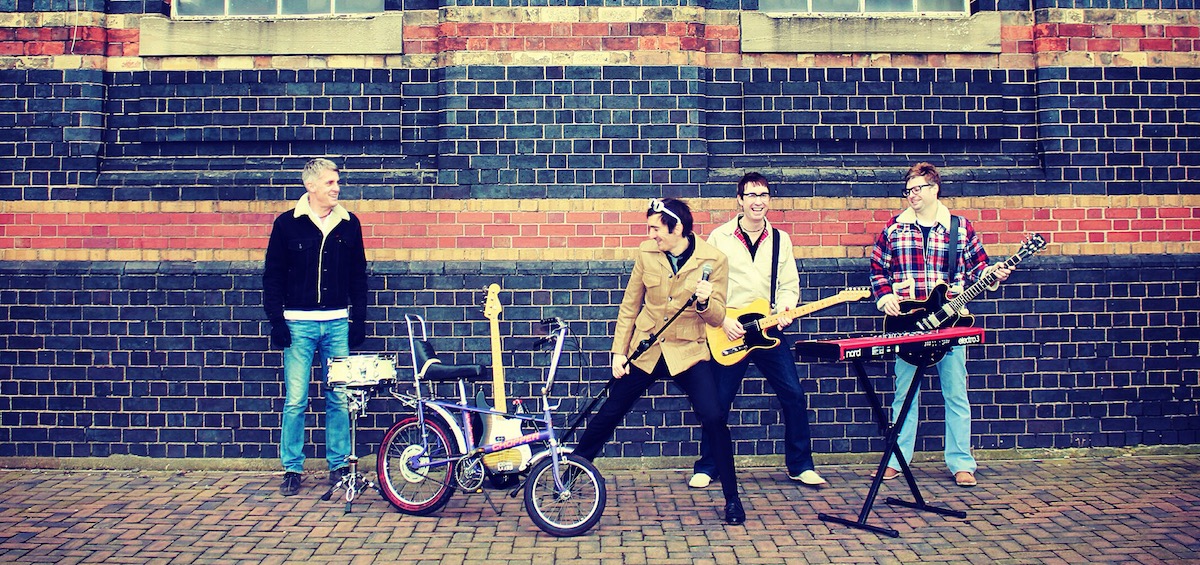 The UK's Best 1990s Tribute Group
Radio Stations Corporate Event – Kings Lynn – April 2016
Radio Station 'KLFM' hire a 1990s tribute group Britpop Reunion for their sold out to 750 ticketed paying guests. We loving performing as a corporate entertainment band and guests loved our 90's tracks. Live performances of Alanis Morissette, Blur, Britney Spears & Chesney Hawkes. Watch our highlights video of this 90's event on our YouTube channel
Grosvenor Casino 1990s A Britpop United Band Tribute Group – Reading – February 2016
We are Britpop united band together once again performing at Grosvenor Casino, Reading for their 1990s tribute group night. It was a complete sell out with 400 tickets sold. We performed nineties songs by Chumbawamba, The Cure, Deep Blue Something & EMF.
90's 40th Birthday – Gloucestershire – January 2016
Matts 40th birthday party at Royal British Legion Hall, Cheltenham, Gloucestershire with Britpop Reunion. Everyone got massively into the 90's swing of things dressing up as Axl Rose from Guns N Roses, Keith Flint from The Prodigy, Wayne & Garth from Waynes World. There was even an appearance by Boba Fett from Star Wars. Matt is a huge James fan so we performed Laid & Sit Down for him as well as The La's "There She Goes". Also Lemonheads "Mrs Robinson", Mavericks "Dance The Night Away" and more.
Charity 1990s Party – St Albans – October 2015
Hire a charity band for 90's event Britpop Reunion performed Oasis tribute band Cigarettes & Alcohol, Don't Look Back In Anger, Roll With It, Wonderwall.
Fake Festival Band – Staffordshire – August 2015
Britpop Reunion performed at Lichfield, Staffordshire Fake Festival on the exact 21 anniversary date of the famous Oasis Vs Blur 'Britpop Battle' of the charts. We performed Oasis 'Roll With It' and Blur 'Country House' live for over 4000 festival goers. Afterwards we got the audience to vote which was their favourite song these days. Oasis won.
90's Wedding Band – Devon – September 2015
Annabel and David hire a 90s wedding band for their wedding reception at The Old Pavilion, Honiton, Devon. They even both joined us on stage for renditions of many 1990's songs including Ocean Colour Scene "The Day We Caught The Train", Primal Scream "Rocks", Pulp "Common People" & "Disco 2000", Reef "Place Your Hands".
1990s Tribute Group Live in 2015
A live performance by Britpop Reunion after a video shoot. We performed Rembrants "Theme from "Friends", Robbie Williams "Let Me Entertain You, Republica "Ready To Go", Stone Roses "Made Of Stone", Supergrass "Alright", The Verve "Bitter Sweet Symphony" and The Wannadies "You & Me Song"
Promo Photoshoot – 2015
We took full advantage of the fact that a very 90's shop "Kwik Save" still existed in Lichfield, Staffordshire and had a photoshoot around the rear. It has since been completely demolished to make way for apartments.
Public Performance – Staffordshire – December 2014
Britpop Reunion's first ever public performance back in December 2014 in Lichfield, Staffordshire. Even back then we knew what an amazing show we had and how we also had the sounds and style of a proper original 90's band.
Latest

90s Tribute Group Images
Tribute To The 1990s Images Archive 5
Ninties Tribute Group Images Archive 4
Nineteen Nineties Tribute Group Images Archive 3
Nineties Tribute Group Images Archive 2
1990s Tribute Group Images Archive 1
Oldest