'Britpop Reunion' live performance of Britney Spears 'Baby One More Time" in our very own rock cover version style. This song was performed as well as another ninety minutes of nineties chart topping songs in front of two thousand plus screaming students at University of Exeter, Penryn Campus. Back in 2017 Britpop Reunion were hired by the university for their 'Back to The 90's' event. Consequently we headlined the Saturday night. As you'll see from the video below the students and faculty all massively enjoyed themselves dancing and crowd surfing along all night to songs by Oasis, Blur, Pulp, Supergrass, and more from our 90's tribute band repertoire. Contact to check on price and availability to hire a 90's cover band for a University event or ball.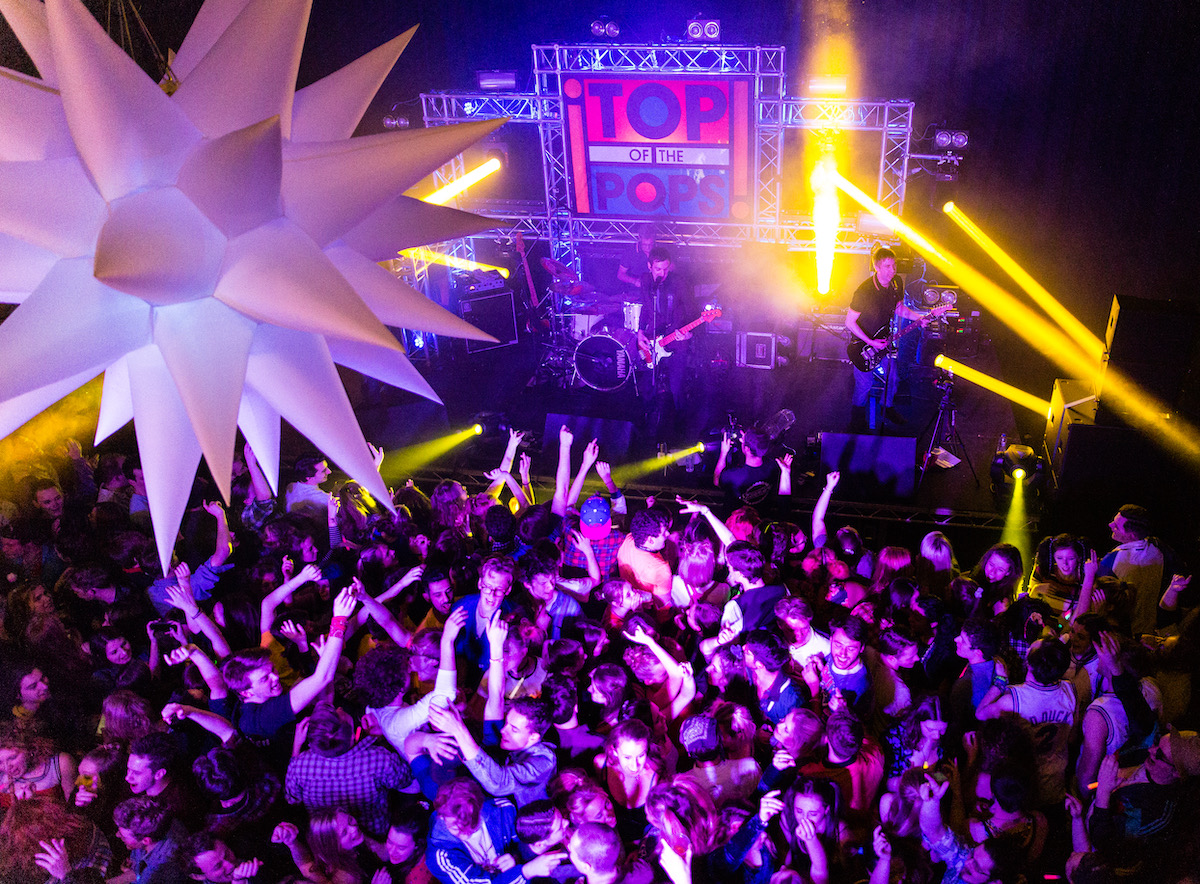 This really was an amazing gig for us with professional 90's band Britpop Reunion put on an amazing performance. The Top Of The Pops stage dressing really was the icing on the cake for pure 90's authenticity. Penryn Campus venue had hired in a huge PA system and their own dedicated sound engineer and lighting engineer. 90's cover band Britpop Reunion were then able to just purely concentrate on performing and entertaining the crowd. We soundcheck, chilled out for a bit and then got changed into our on stage clothing. Then all of a sudden we were walking onto the stage and boy oh boy did we perform well. The whole crowd instantly joined in "Oh Baby baby, how was I supposed to know…".
Baby One More Time Rock Cover Version video
'Baby One More Time' was released by Britney Spears in September 1998 and topped the charts at number one in the UK and in many other countries around the world. It was written by Max Martin also known for the Backstreet Boys' "I Want It That Way" (released in 1999). This was Britney's debut single and instantly made her a household name. Her success continued through the 90's into the Naughties and still to this very day. Most recently from 2019 onwards she was in the news disputing her conservatorship with her father Jamie Spears. And there was even a hashtag for it #FreeBritney
Check out the photos from the university event below and afterwards contact for price and availability for a 90's themed event or University ball.