In September 2020 Britpop musician Andy Starkey recorded and shot this Laid James Cover Version video for his tribute band Britpop Reunion. Contact to also book a 90's cover band for a party.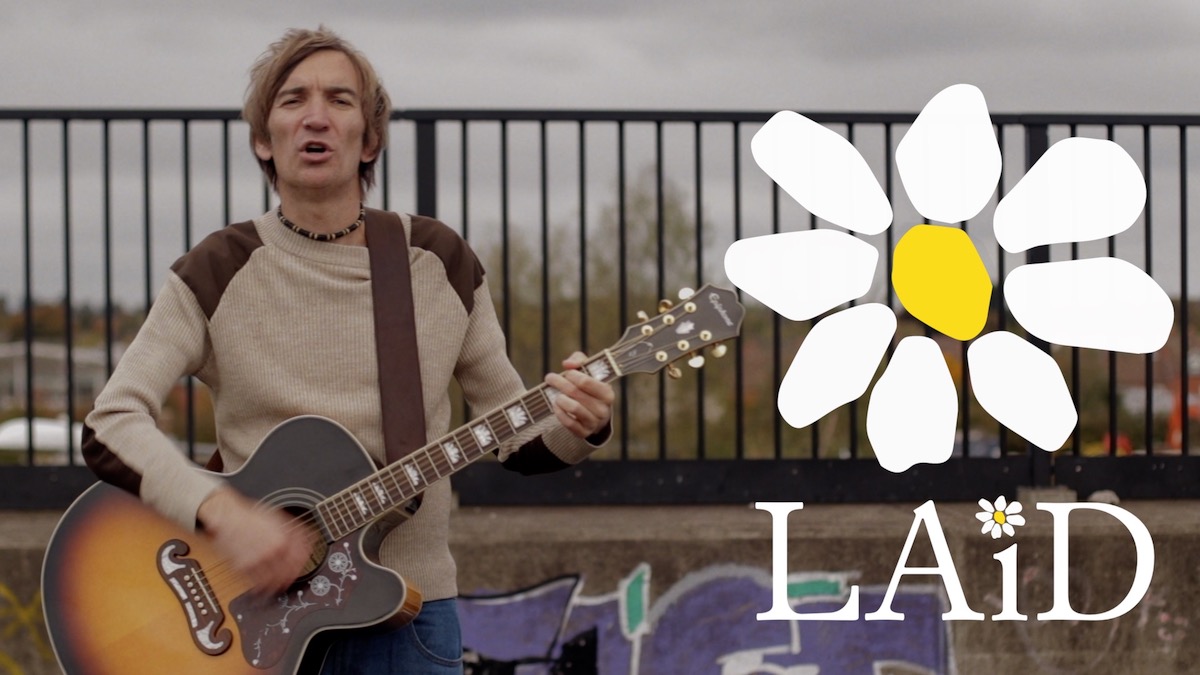 Laid James Cover Version Video
Andy worked on the idea of the band trying to keep the audio as close to the original recording as possible. They faithfully replicated every guitar lick, bass note and the exact drum pattern. Andy then also went on to produce this self filmed music video for James Laid cover version. (Video to follow – For now here is 'Sit Down' performed live)
James tribute band?
Britpop Reunion also perform a number of songs by James the band. So perhaps you could even call us a James Tribute Band of sorts. We also perform Sit Down (released numerous times by the band) and from time to time occasionally perform She's A Star from Whiplash released 1997.
Laid was released November 1993 from the album of the same name 'Laid' peaking at number 25 in the UK charts. But it gained the band huge success in the USA on college radio also being featured towards the end of the nineties in the film American Pie. Can you believe that there are three official videos by the band for this song? The song Laid by James is a very easy to master featuring only three different chords played as:
Chords for Laid by James
C – Csus4 – G – F – G
Lyrics for Laid by James.
Verse 1
This bed is on fire with passionate love,
The neighbours complain about the noises above,
But she only comes when she's on top.
Verse 2
My therapist said not to see you no more,
She said you're like a disease without any cure,
She said I'm so obsessed that I'm becoming a bore, oh no,
Ah, you think you're so pretty.
Chorus
E-e-ee
Bridge
Caught your hand inside the till, Slammed your fingers in the door,
Fought with kitchen knives and skewers,
Dressed me up in women's clothes, Messed around with gender roles,
Line my eyes and call me pretty.
Chorus
E-e-ee
Verse 3
Moved out of the house so you moved next door
I locked you out, you cut a hole in the wall
I found you sleeping next to me, I thought I was alone
You're driving me crazy, When are you coming home?
Laid, Laid
Chorus
E-e-ee
---
Laid James Cover Version – List of James musicians who recorded Laid were:
Tim Booth – Lead Vocals
Saul Davies – Violin & Guitar
Larry Gott – Guitar
Mark Hunter- Keyboards
Jim Glennie – Bass Guitar
David Baynton-Power – drums
James Mike – Drums
Laid was written by Tim Booth, Larry Gott and also Jim Glennie. As with a number of James albums it was produced by Brian Eno. Did you know there is also a "Clean radio edit" of Laid by James too? The lyrics "She only comes when she's on top" was changed to "She only SINGS when she's on top".
James also continue to tour live in 2020 and 2021 for their newer albums including "Living In Extraordinary Times".