On Friday 4th October 2019 'Britpop Reunion' returned once again to The Guildhall, Lichfield, Staffordshire. This time to perform as a 90's Indie Wedding Band for Luke & Matt. This is the second time we've performed for these awesome guys having played for them a few years ago in the exact same venue for Matt's 40th 90's birthday party band. The first time we gave them a Glastonbury 90's Festival Band themed event. We performed music from Britpop & 90's artists who have played at the Glastonbury festival over the years. If you'd like something similar at your chosen venue then contact now for a quote.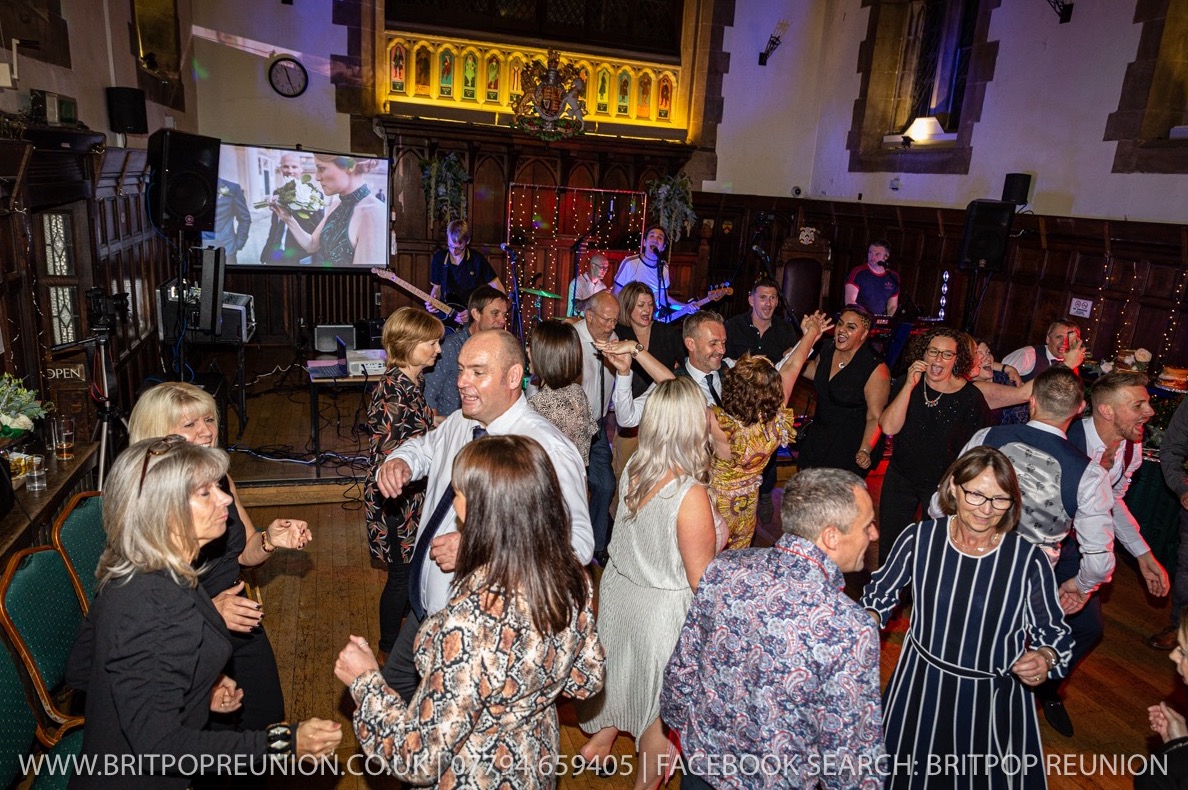 At this 90's Indie Wedding Reception
Matt & Luke (Isn't it funny how they have the same name as the main two guys from 80's band 'Bros' eh) are huge 90's fans and wanted something a little different to the normal same-old-same-old bands out there for their unique wedding reception. This time they chose our 90's indie wedding band and added in our 'Other Decades' option. Our 90's package gave Matt & Luke all of their favourite 90's cover band songs from Oasis, Blur, The Cure, James, Supergrass and more. Then our 'Other Decades' option also gave their 150 guests amazing tunes from Amy Winehouse, Stereophonics, Florence + The Machine, Van Morrison, Arctic Monkeys, Chuck Berry, Kaiser Chiefs and more. The dancefloor was full the entire night, shapes were thrown up in the air, everyone sangalong to our entire repertoire of "Don't Look Back In Anger", "Parklife", "Friday I'm In Love" and much more.
Prior to our indie band performing live Matt & Luke had worked out an entire dance routine to a mash up of the 1991 INXS track "Never Tear Us Apart" and "The World Is Not Enough" by Garbage from the 1999 James Bond film of the same name. This was a smash hit with everyone including ourselves and it started the night off brilliantly. So even they themselves covered songs from the start to the end of the nineteen nineties.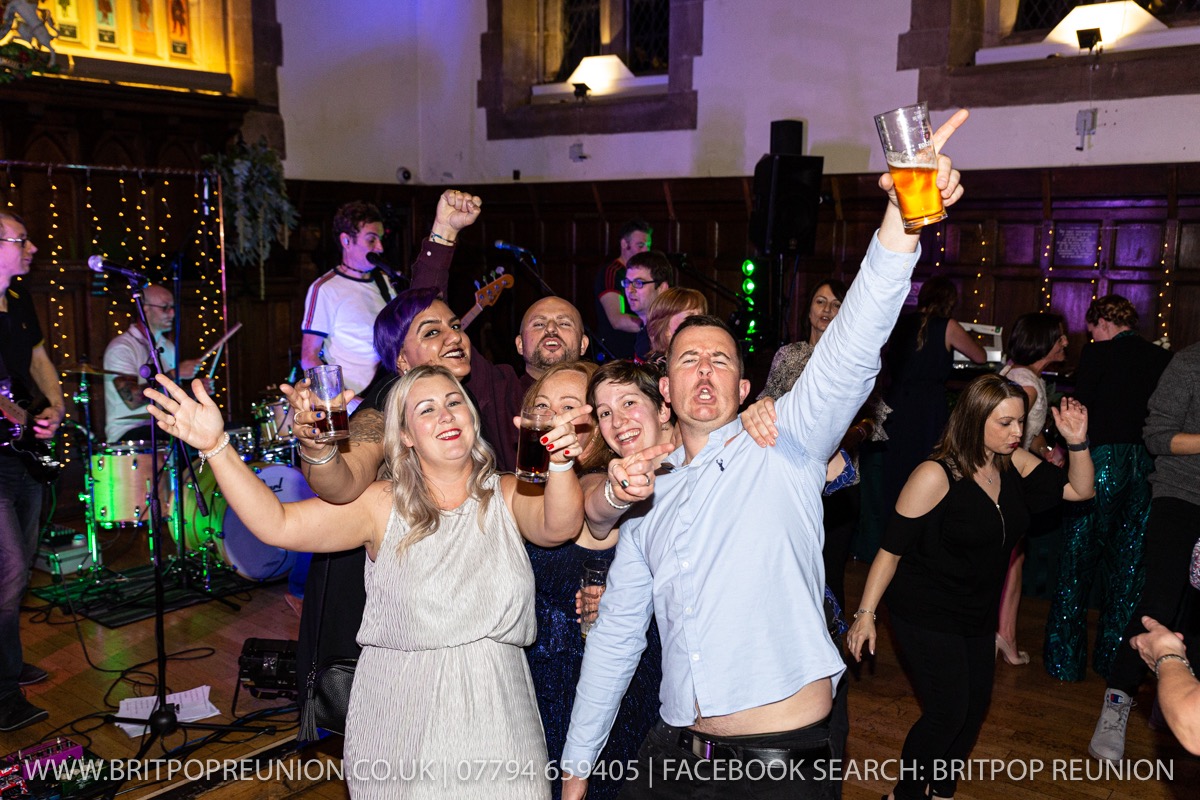 Standard 90's indie wedding band packages we provide our clients with
Two live performance sets of 90's banging tunes
PA, speakers, mixing desk, guitars, amps, drum kit and all cabling
Lighting for the dancefloor and stage area
iPad DJ services until midnight
Hard copy contract
No agencies fees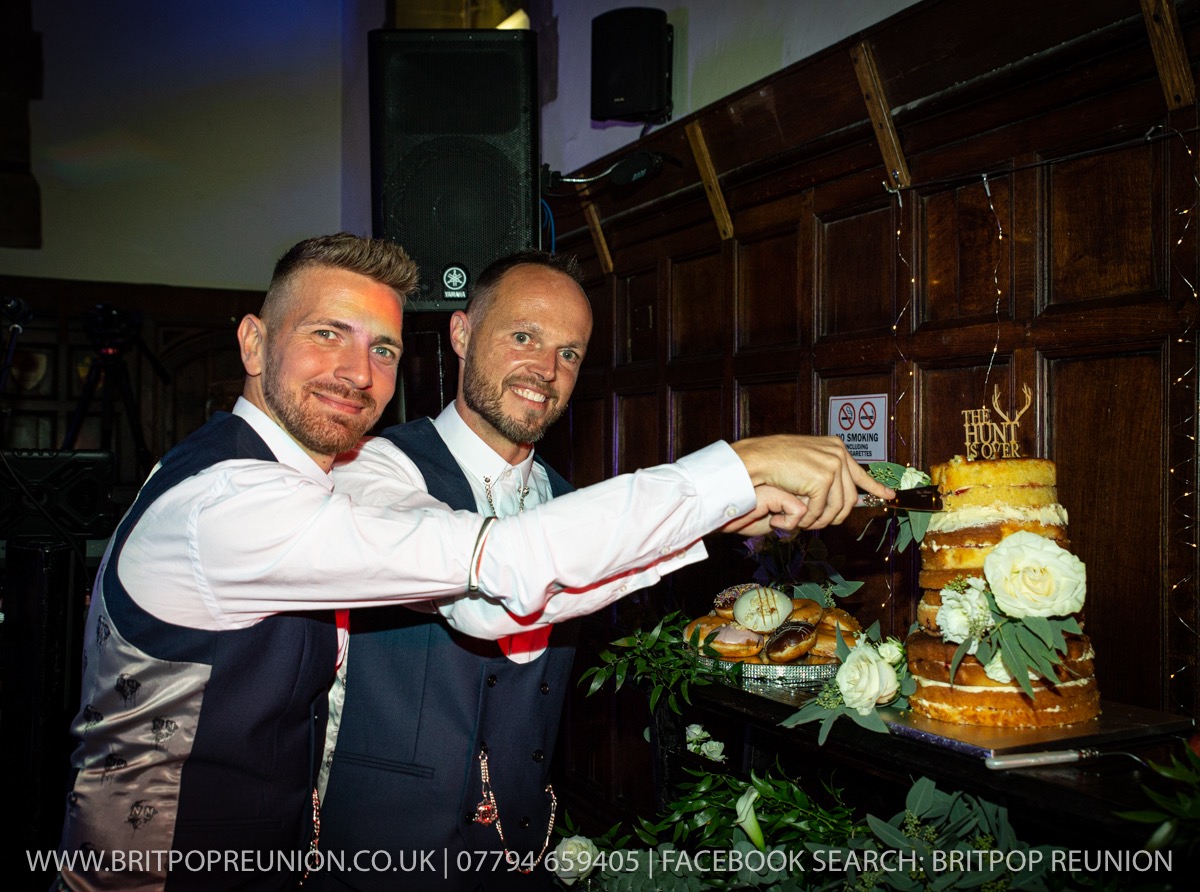 Chargeable wedding extras we can provide you with
Late night DJ services past midnight
Acoustic performances throughout the day
Fog
Customised projector lighting featuring your names, the date and a custom logo or corporate logo
Wedding projector hire
PA hire for speeches
Professional photographer for your evening event
The guys had gotten married a few weeks before in Bath and so this was their full on wedding party back in their home city of Lichfield, Staffordshire. Having received their photographers photos a few days before the event they took advantage of our wedding projector hire option. As you will see their wedding photos displayed up on stage with us looked absolutely brilliant. They also took advantage of our evening photographer services as you can see from the below images gallery.
Below you can watch a video of previous 90's Indie weddings receptions that our professional wedding band have performed at. Here is Natalie & Jamies 90's wedding in a tipi. Just look at the amazing time everyone had with 'Britpop Reunion' handling the live entertainment.
Here is Vlog style video of our experiences at Claire & James's festival style wedding that they put together entirely themselves.
To enquire on price and availability for 90's tribute band 'Britpop Reunion' to perform at your 90's Indie Wedding contact for a quote.