Brit Pop Tribute Band Testimonials
When you've been together performing as long as Brit pop tribute band 'Britpop Reunion' have (Established 2014) you amass a large amount of lovely testimonials and reviews. (Also videos and live images) We have a 100% positive feedback record of 5 out of 5 stars from all of our previous clients. Consequently you can book us safe in the knowledge that we deliver on our promise of being the best 90's cover band out there. The sights and the sounds of 90's music with a professional performance and attitude.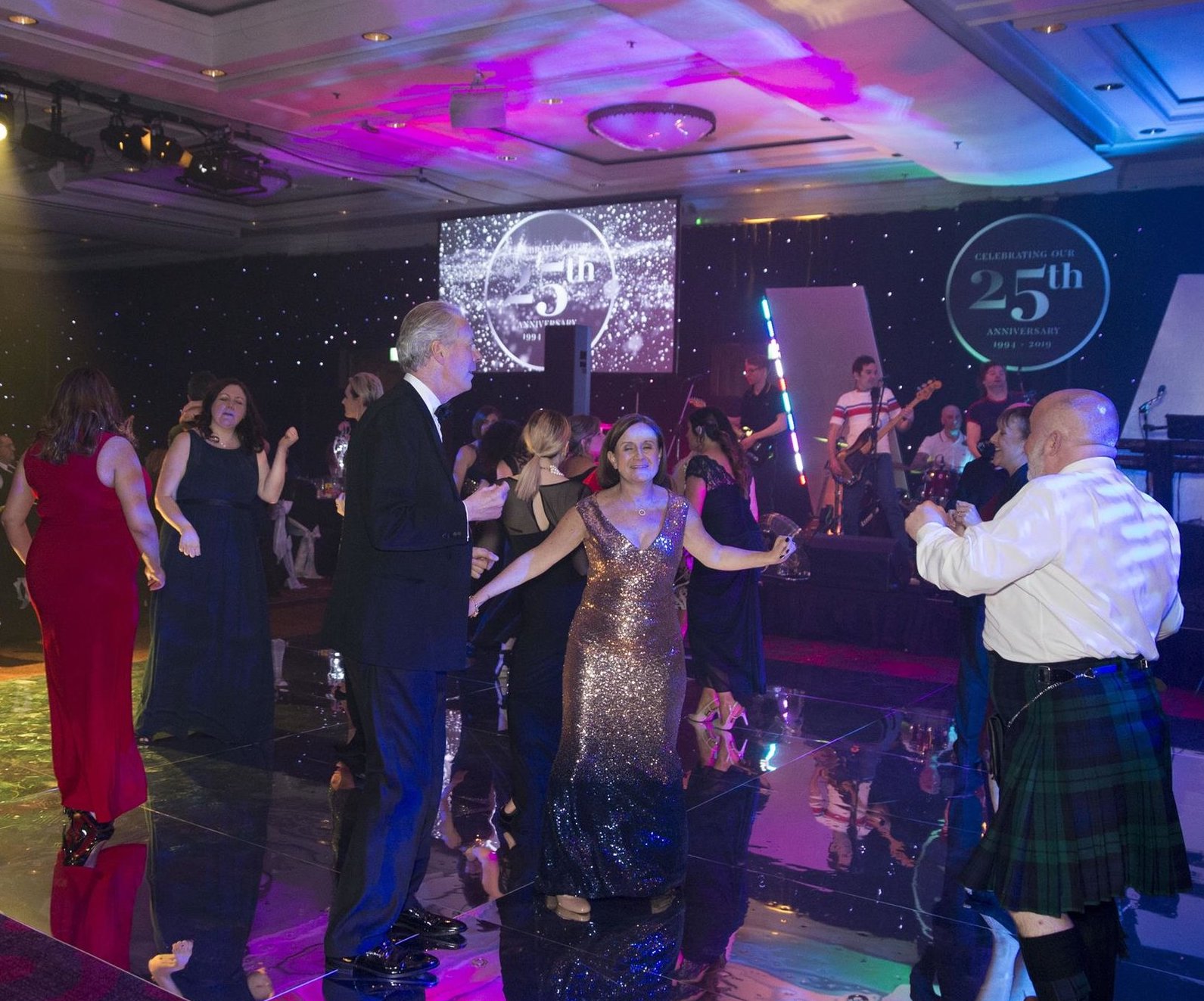 Testimonials and Reviews for the UKs best Brit Pop Tribute Band
Below are some of the amazing things that recent wedding clients, corporate clients, birthday party goers have aid about us. Even original Britpop artists themselves have said we're the best Brit pop band & 90s tribute covers band "Britpop Reunion". You can't fake these kinds of consistent quality reviews. There is no other band out there with our credentials.
Celebrity Endorsements:
Over the years we've made friends with various television and film personalities. All while performing at parties and corporate events. Certainly we know it really doesn't mean anything having a celebrity endorsement. But it still fun to read what they thought of our performances.
Phil Daniels (Vocals in Parklife by Blur) (December 2015)
@britpopreunion
Hahaha top banana better than the real thing !

— Phil Daniels (@1phildaniels) December 23, 2015
Jon Campling (Harry Potter Death Eater) (August 2016)
The @britpopreunion freakin owned it tonight at the @WorldWizardry Ball. Serious #britpop #skillz #livemusic
Xx pic.twitter.com/UOXNFoh0Nl

— Jon Campling – @KENDALCALLING Jul 25-28 (@joncampling) August 6, 2016
Chris Rankin (Percy Weasley – Harry Potter films) (January 2017)
Awesome band, awesome night 🙂 https://t.co/wJ1jOQqmDF

— Chris Rankin (@chrisrankin) August 10, 2016
---
Previous Brit Pop Tribute Band Client Testimonials
All of our reviews have clickable links. Therefore you can 100% confirm that they are authentic. Furthermore view all of our most recent reviews on Facebook. All the below reviewers really have seen us perform live or have booked us as their 90's party band.
Google Reviews
What a band!!! They sounded and looked so authentic. Have a professional and timely manner and very accommodating. From first contact with Andy to the night everything was so smooth. Our guests absolutely loved the band and the dance floor was packed all night. We would highly recommend these guys for any event if you want a good party. Thanks again lads, we loved having you at our wedding

Jamie Carroll


7/01/2019

This band are fantastic! They played a live set and DJ'd at our wedding a couple of weeks ago and we're brilliant all day. They can play a wide variety of songs and are extremely energetic and entertaining. They are extremely talented and all the songs sounded very much like the really thing! Andrew was very easy to deal with we felt he went above and beyond with our event, extremely flexible with what he can offer and was a pleasure to have around. I'd highly recommend these guys.

Mark Todd


6/15/2019

Really great tribute band, playing all the 90s hits - specialise in Britpop, but also did loads of other 90s hits because we asked for a mixed set. Great with the crowd. Really good to communicate with, very organised. Looked and sounded the part. Thanks for making my 40th party go off with a bang!

Sam Bailey


5/07/2019

Britpop Reunion made my 40th Birthday an evening to remember. As I was hosting a Glastonbury themed party I had an amazing venue with a festival dress code but what really made it was the band tailoring the music to suit. Everybody was on their feet and the atmosphere built by the interaction with the guests while performing was amazing. A truly great band that helped create an evening that people are still talking about. Thank you guys it was incredible! I would recommend Britpop Renuion 100% and can't wait to have another party myself so I can have them back again.

Matt Burnell


1/26/2019

Brilliant band who took all the hassle out of having live music at my event. Andy's help prior to booking ensured we got the package we really wanted and saved us looking elsewhere for a DJ later in the evening. The whole band had a professional attitude from start to finish and made a good night great! Very authentic Britpop sound and look, the system they bought along was tailored to the venue we had chosen and the audio was perfect. Their musicianship and showmanship is fantastic and they got the all of our guests on the dance floor. It's no wonder they're so popular, we're so pleased we chose them!

Paul Grimsley


9/17/2018
Facebook Reviews
More Brit pop tribute Facebook Reviews
Even more Brit pop tribute Facebook Reviews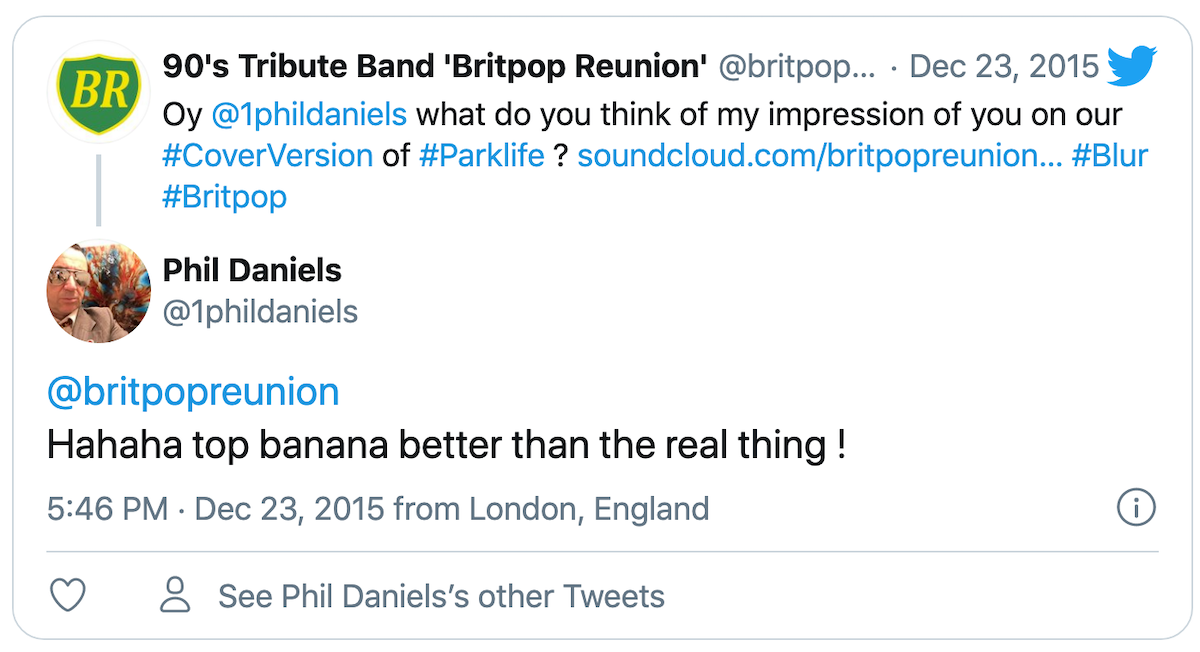 Yet more Brit pop tribute Facebook Reviews
Still More Facebook Reviews
More Testimonials for clients who book a brit pop tribute band
Alison & Martin Reid-Jamond – Wedding, Warwickshire. (July 2016)
"Dear Britpop Reunion, Just a (Slightly belated!) card to thank you for the amazing set you played for us at our wedding. At The Falcon back in July. We really appreciated your patience when everything started running late. And we and all of our guests really loved all of the songs you played. Some of them still talk to us about you now!
Thank you for helping to make our day so perfect :)"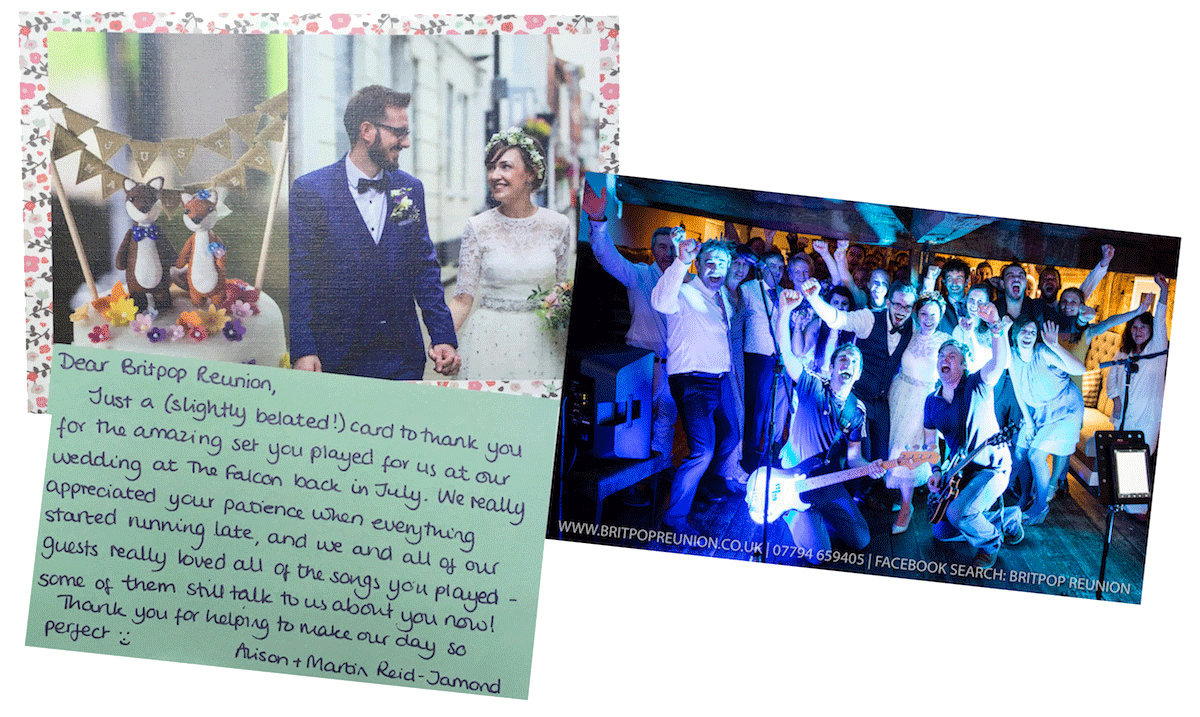 90's repertoire.