You probably didn't even know that 'Britpop Reunion' also perform as a Harry Potter band did you? We perform all three songs featured in The Goblet Of Fire film including Do The Hippogriff, Magic Works and This Is The Night as well as handling your live entertainment throughout the whole event. So thats Harry Potter music plus amazing pop tunes sorted for the whole of your Harry Potter event. We even perform live at Harry Potter themed weddings too. Contact to check on price and availability for your wizarding event.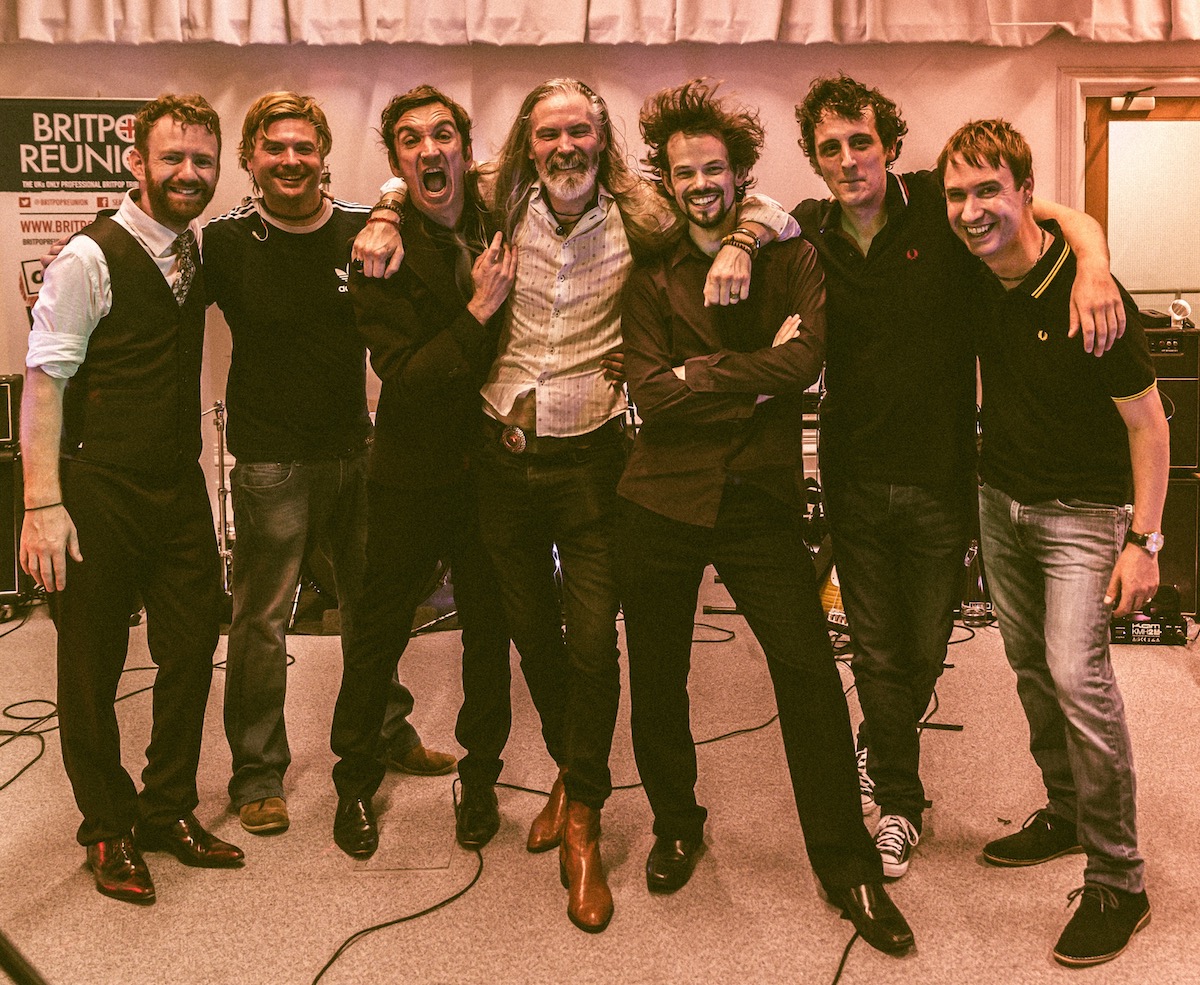 The only Harry Potter band to appear on stage with actual cast members.
Here we are with actual cast members live on stage with us performing "Do The Hippogriff" featuring Chris Rankin (Percy Weasley, brother of Ron Weasley), Jon Campling (Death Eater) & Chris Rithin (Dudley Dursley's gang member) at a Harry Potter convention. There's no other band on the planet with these kinds of Harry Potter credentials. Go on, check out the video below, it will make you smile. Just as we smiled all the way through filming it.
Re-enact the Yule Ball Dance at Hogwarts
Remember the magical Yule Ball dance from Harry Potter and The Goblet Of Fire. That scene were Harry Potter dances with Parvati Patil. Neville Longbottom is dancing with Ginny Weasley. Hermione Granger dances with Viktor Krum and Ron Weasley dances with…well no one because he doesn't like his dress robes? Imagine recreating something like that and book our Harry Potter tribute band to perform at your Harry Potter themed event. Speaking of that dance, do you know the EXACT date of the dance? Its 25th December 1994. Do you know who was at number one in the UK charts on that exact date? It was East 17 with 'Stay Another Day'. Have a look at the rest of the top 10 on that date.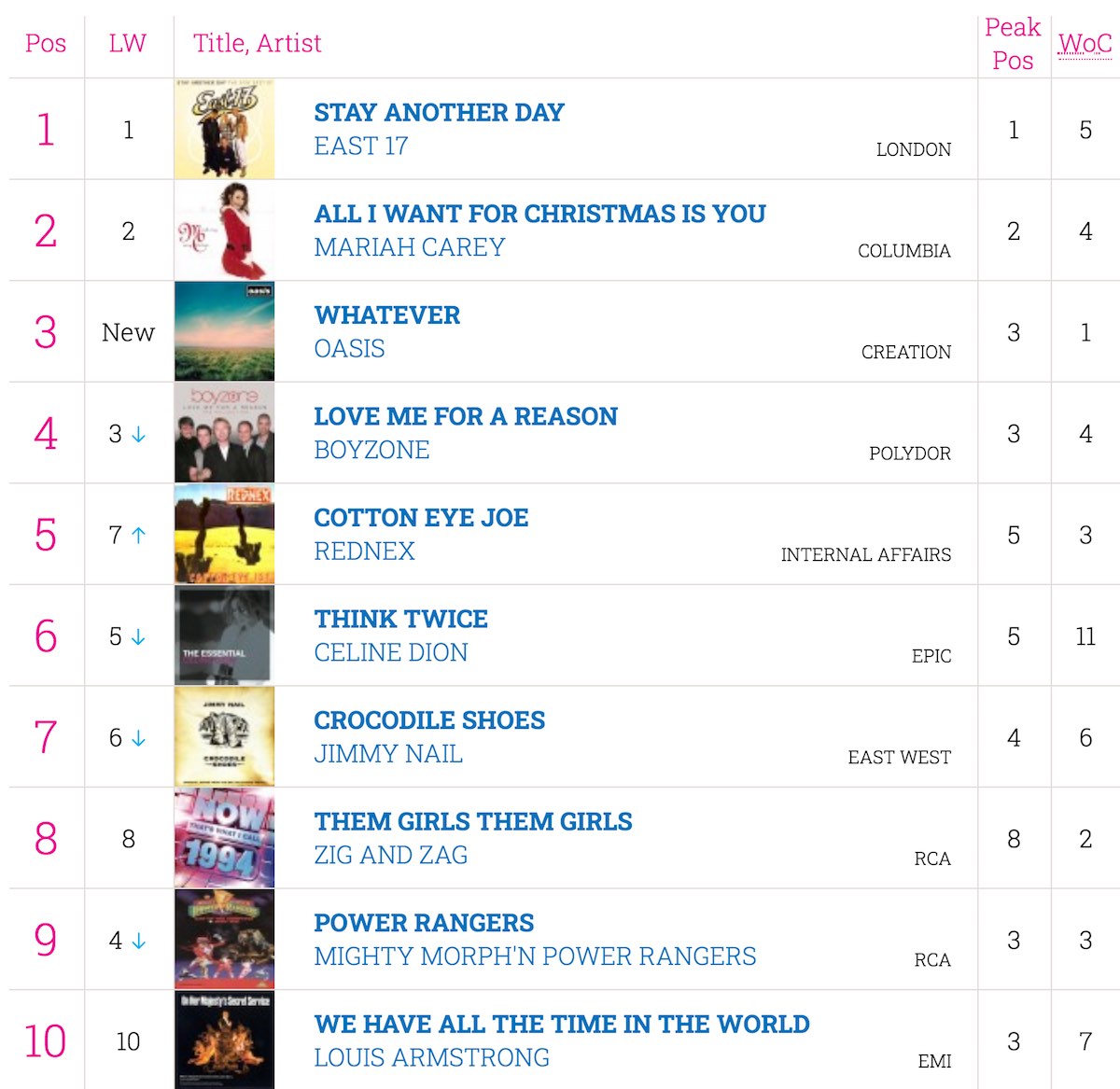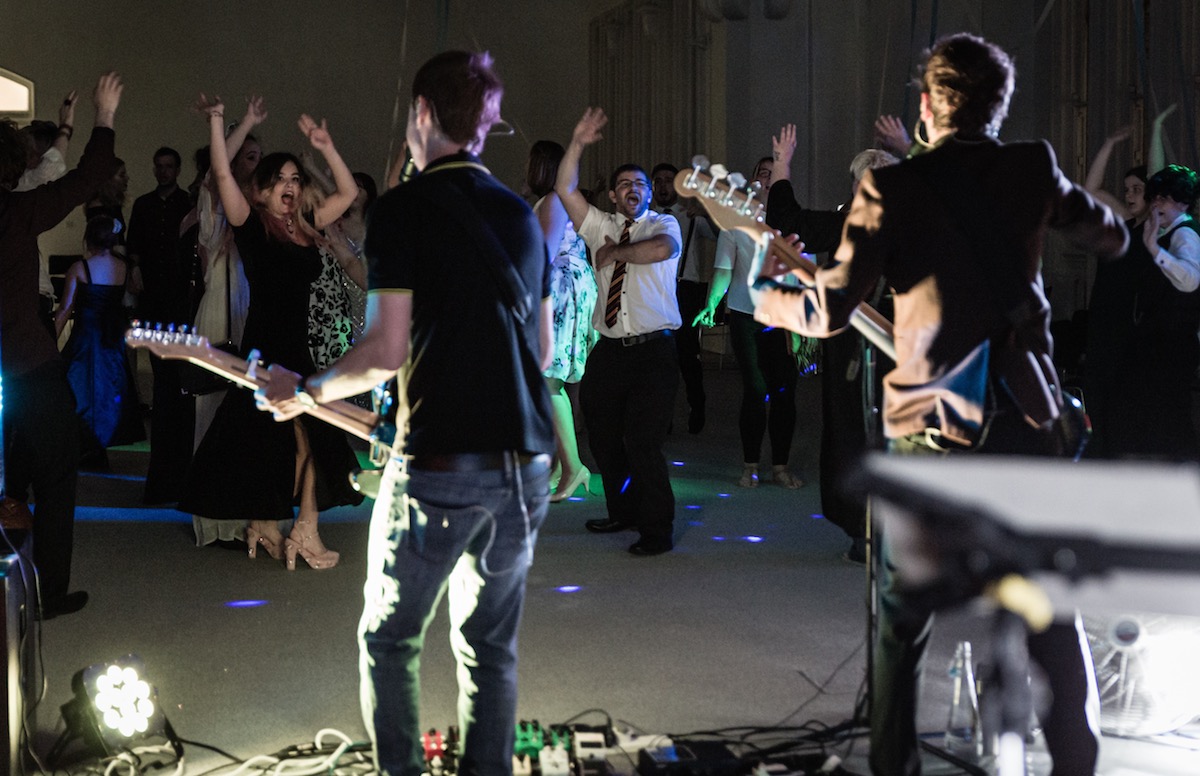 What type of Harry Potter party are you having?
Are you getting married and need a Harry Potter wedding band? Are you throwing a Harry Potter party? Do you need to book a Harry Potter band for your corporate event? Maybe it's a Harry Potter convention you're organising and need live entertainment? We're all massive Harry Potter fans which is why we set up this Harry Potter tribute experience for likeminded folks like yourself.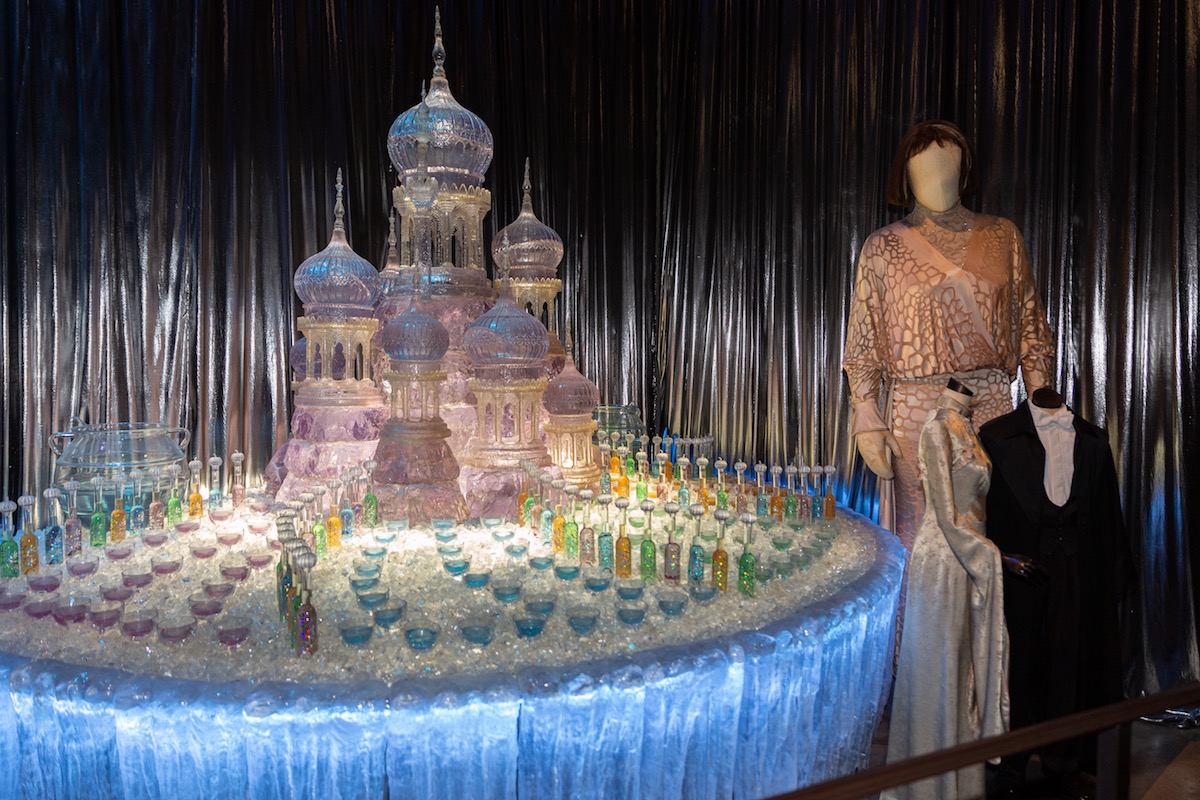 What was the name of the band in The Goblet Of Fire?
Pop Quiz hot shot, what's the name of the band from the Yule Ball scenes in Hogwarts School of Witchcraft and Wizardry? Quick…Yes, you remember don't you, its "The Weird Sisters".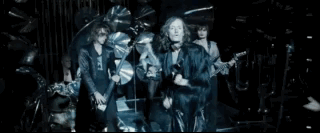 Those incredibly hairy guys that all the students and teachers dance along to midway through the Triwizard Tournament. Well you can call us The Weird Sisters tribute 'The Weirdo Sisters' while we're at your party or event.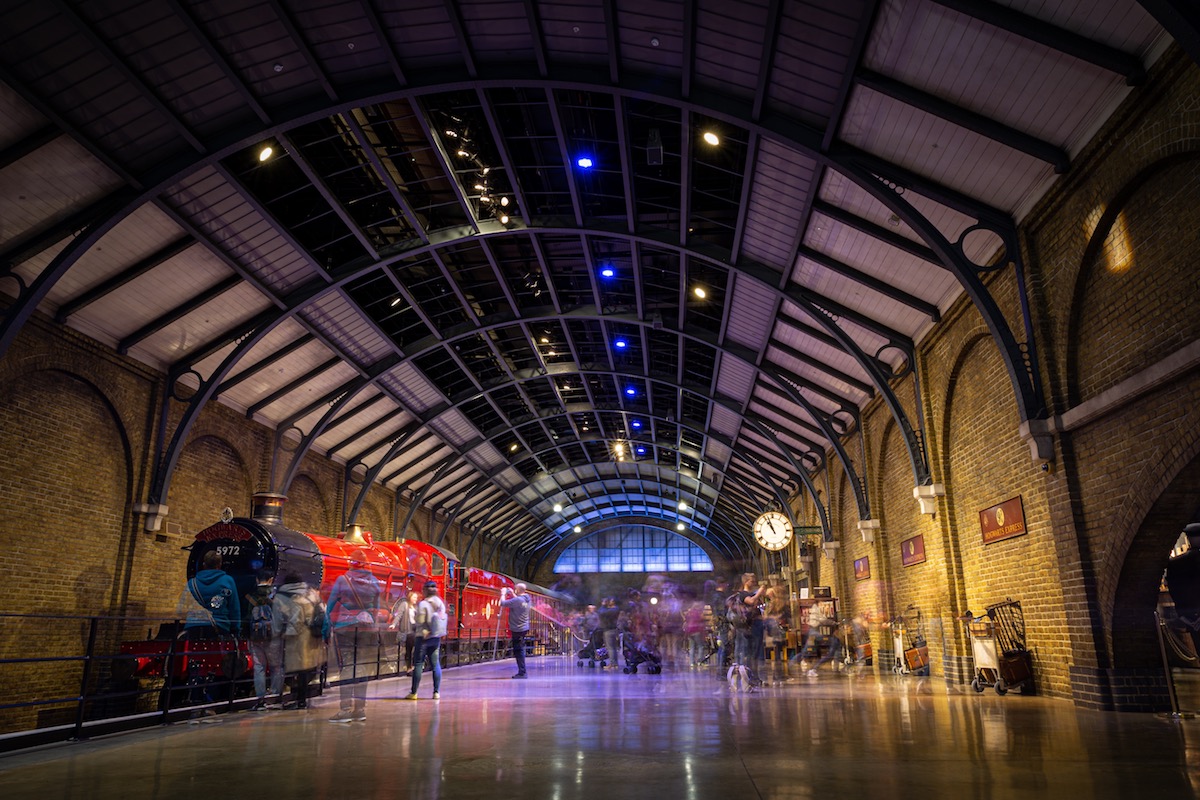 Did you know that the Harry Potter Band 'The Weird Sisters' from Harry Potter and the Goblet Of Fire are actually real life famous musicians themselves?
No, they really are, some are a little more easy to spot than others.
List of 'The Weird Sister' band members and their proper bands
Myron Wagtail (Vocals) – Jarvis Cocker from Pulp
Kirley Duke McCormack (Lead guitar) – Jonny Greenwood from Radiohead
Donaghan Tremlett (Bass guitar) – Steve Mackey from Pulp
Orsino Thruston (Drums) – Phil Selway from Radiohead
Heathcote Barbary (Rhythm guitarist) – Jason Buckle from All Seeing I
Gideon Crumb (Bagpipes) – Steven Claydon from Add N to (X)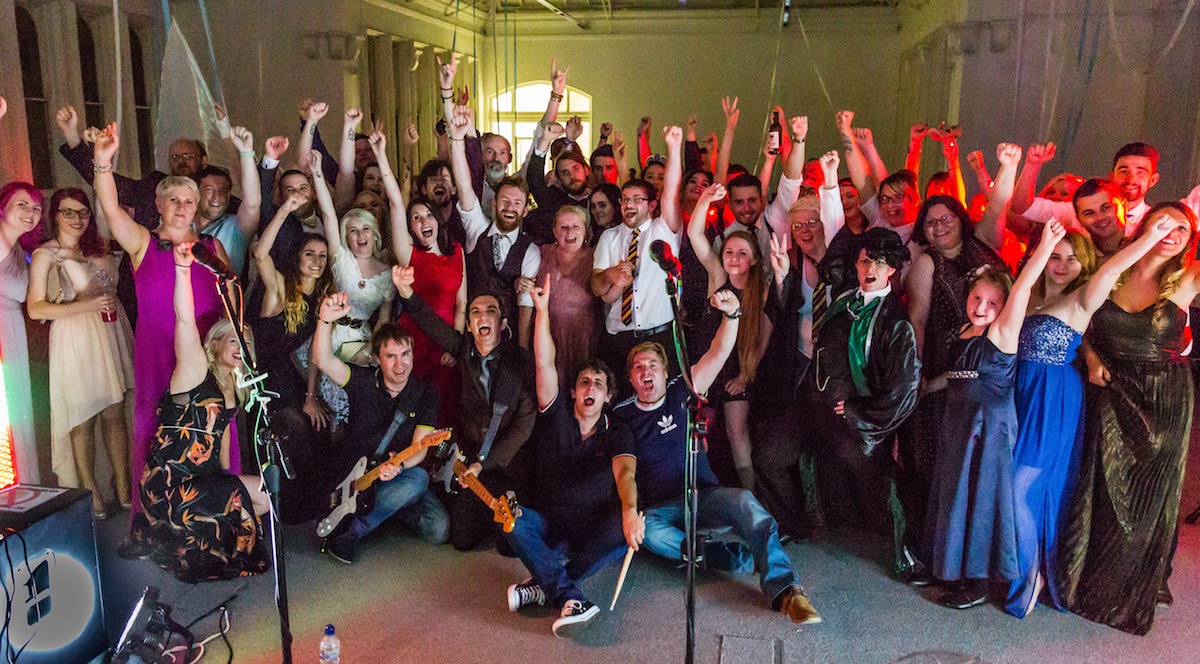 We can perform all three songs at your Harry Potter party originally performed by 'The Weird Sisters' including
Do The Hippogriff
Magic Works
This Is The Night
As The Goblet Of Fire was set in the 90's we can either perform a fantastic selection of 1990's pop hits from Robbie Williams, Oasis, Blur, Alanis Morissette, James, Pulp, Supergrass and more from our 90's tribute band repertoire. Or we can perform a splendid mix of pop hits from all decades including artists like Amy Winehouse, Stereophonics, Florence + The Machine, Chuck Berry, Kaiser Chiefs and more from our other decades repertoire. No matter what type of music you wan't for your Wizards Event, we've got you covered.
You absolutely love Harry Potter and we do too.
Trust in a band that have such a passion for faithfully recreating the music of Harry Potter that we've been to The Making of Harry Potter at Warner Bros. Studios London on many occasions and have even visited The Wizarding World of Harry Potter in Japan.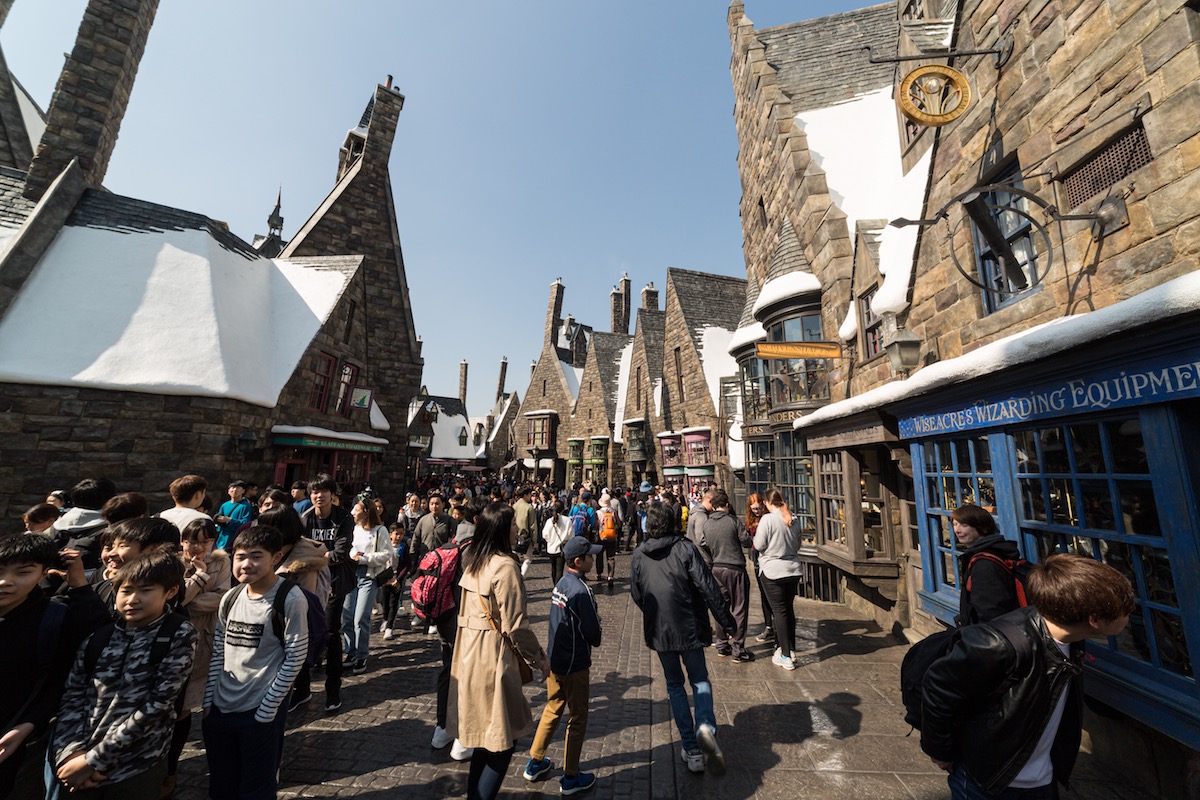 Harry Potter and The Goblet Of Fire band – Lets get dressed up
So get dressed up in your favourite house colours of Gryffindor, Ravenclaw, Slytherin, or Hufflepuff and dance like a Hippogriff. Put on your best witch and wizard costumes, grab your Nimbus 3000 broomstick and fly around the dancefloor. Go on a quest to find your goblin made sword of Gryffindor and boogie down like a unicorn. Put on your worst house elf pillow case or rags and dance by yourself. Dress up like your favourite death eaters Bellatrix Lestrange, Severus Snape or Lucius Malfoy and move your body like a hairy troll. Go full on evil as He-Who-Must-Not-Be-Named…(Oh go on then) Lord Voldemort (aka Tom Marvolo Riddle) and stamp your feet like a leprechaun. Then get ready for your Dementors kiss and shake your booty like a boggart in pain. Just don't put on the Marvolo Gaunt Horcrux ring. Are you team Hogwarts, Beauxbatons or Durmstrang?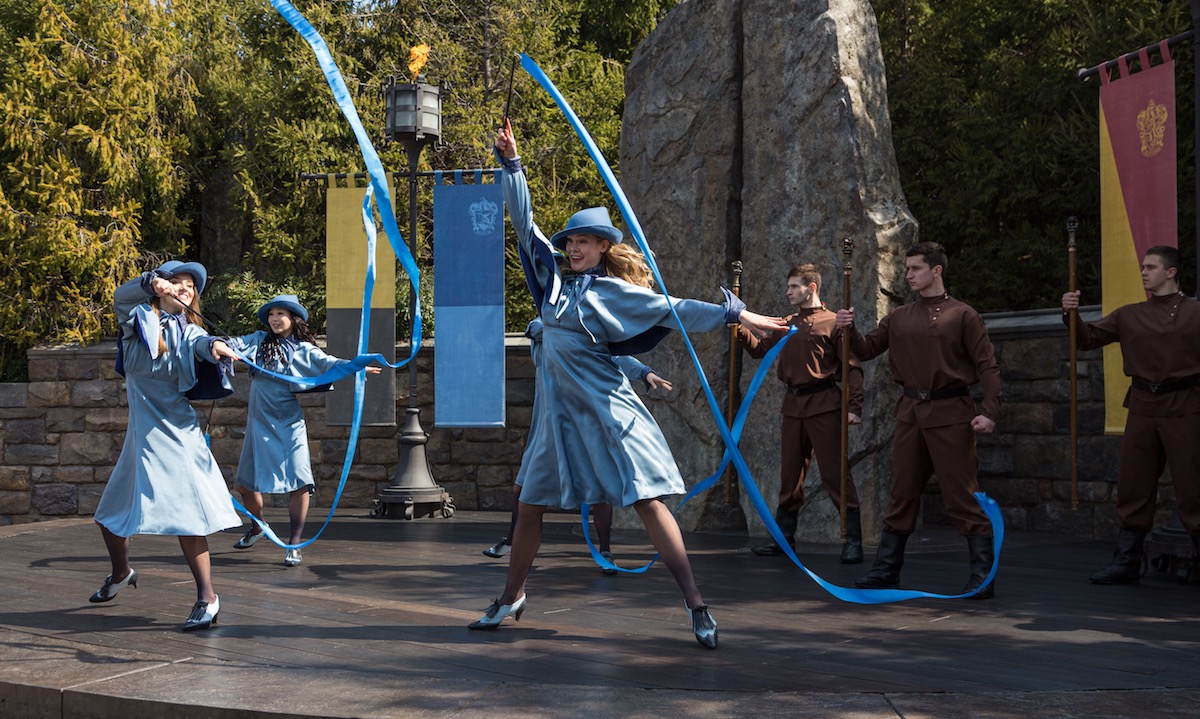 Pricing and availability
Use the contact form below to get in touch with us and advise us as much as you can about your event. We can then accurately advise you on our availability and fee. 'The Weirdo Sisters' can be booked throughout the UK, Europe and the whole of the word. If you're having a very small party or working towards a much smaller budget, you can hire lead singer Andy Starkey solo acoustic (But still amped up for a louder sound) performing the three songs from The Goblet Of Fire and other 1990's and chart pop hits from all the decades. If you're having problems with the below contact form call within UK 07794 659405, outside UK 00447794 659405. Alternatively britpopreunion@gmail.com
Images from a Harry Potter Convention.
All the fun we had with guests and cast members at a Harry Potter convention.
Stars of the film testimonials of how fantastic we are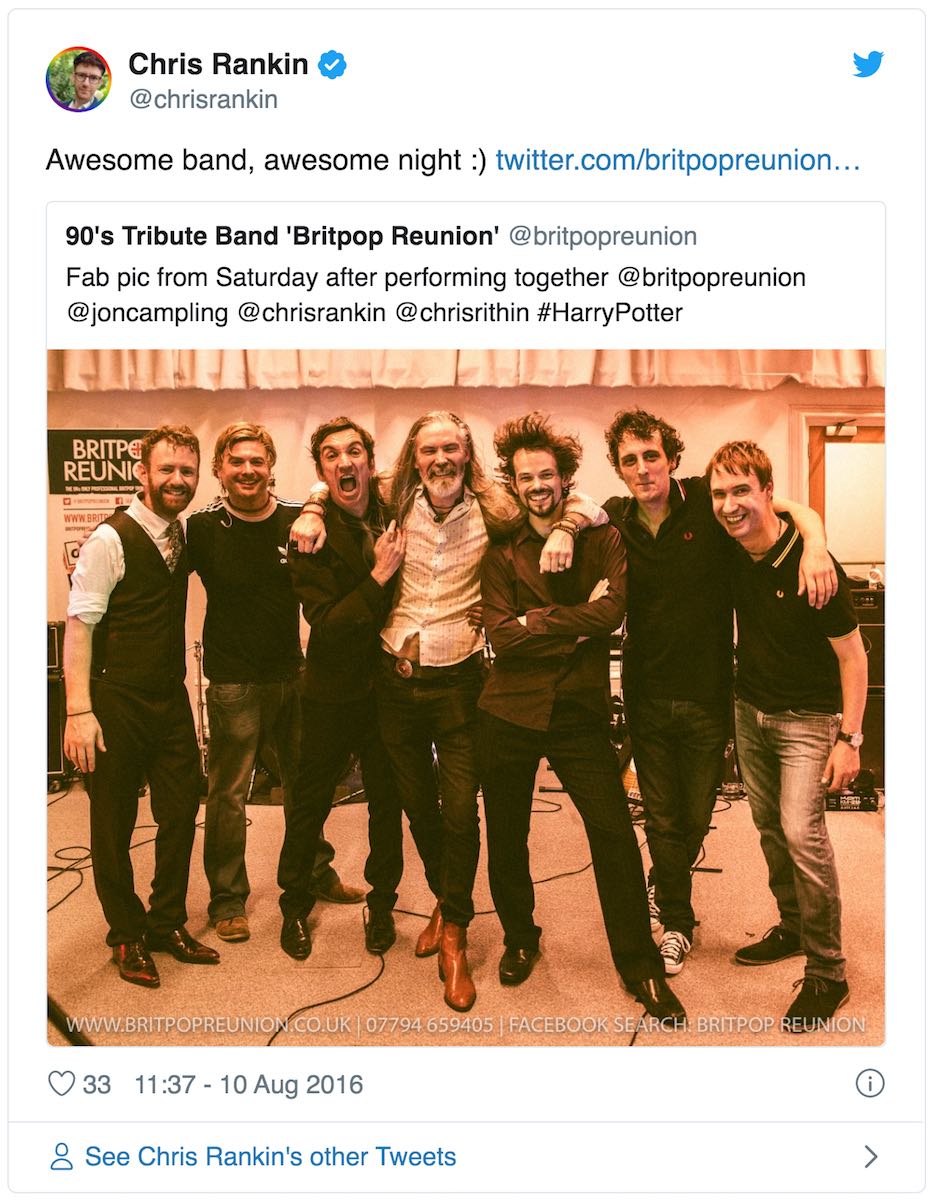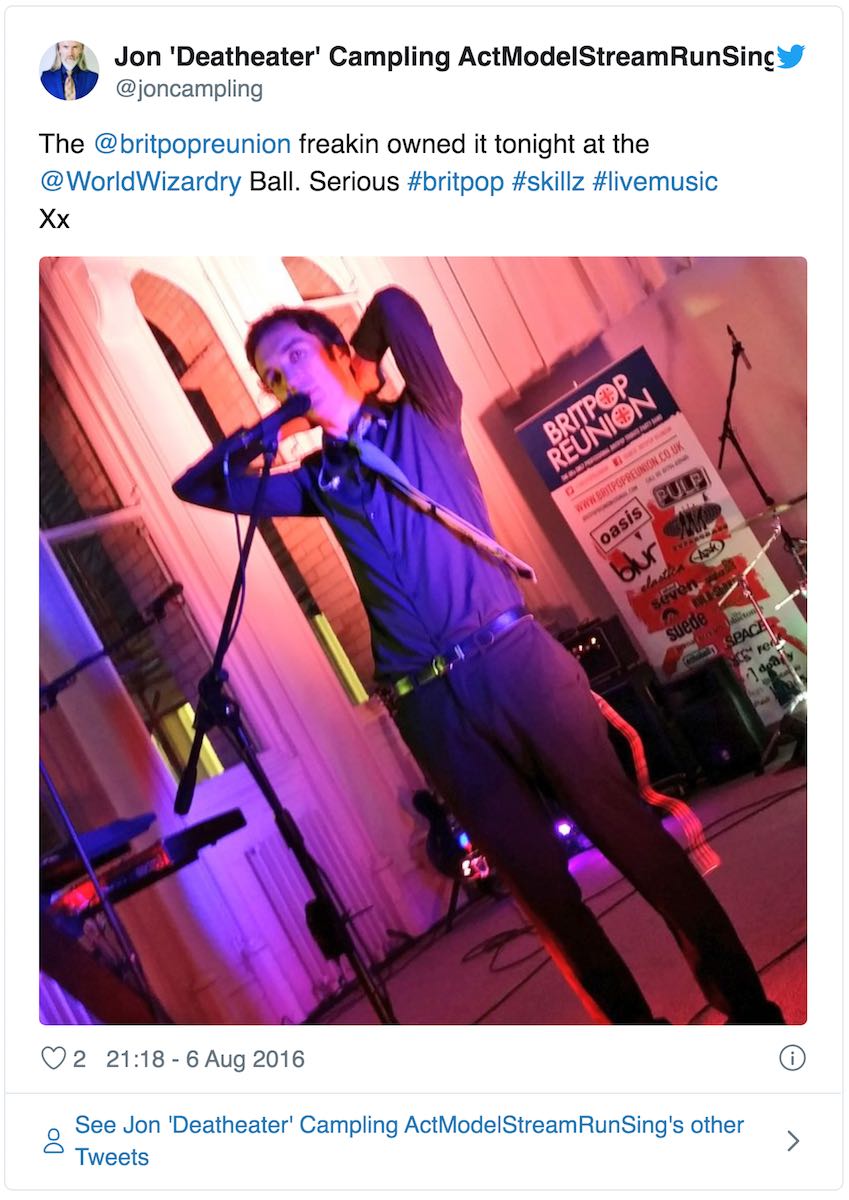 Will you be serving Butterbeer at your Wizarding event?
Andy from the band still isn't quite sure if he likes it or not. He much prefers his own home recipe (Contact Andy above for his special recipe)