Wands at the ready…..I mean rings at the ready….No actually go on, what core is your wand? Surely unicorn hair is the best and coolest right? Sorry we digress, but we just love to talk Harry Potter….You're both huge Harry Potter fans right? Both you and you're other half can't get enough of the exploits of Harry, Ron & Hermione. You watch all 8 films multiple times a year. When you've finished reading all 7 books, you just start over again. You listen to the audio books read by Stephen Fry (Or Jim Dale if you're in the USA) in the car on your way to work. Now you're getting married and you fancy doing a bit of a Harry Potter wedding music at your Harry Potter themed wedding. So you're going to need a Harry Potter wedding band. Go on, do it, you've always said you would.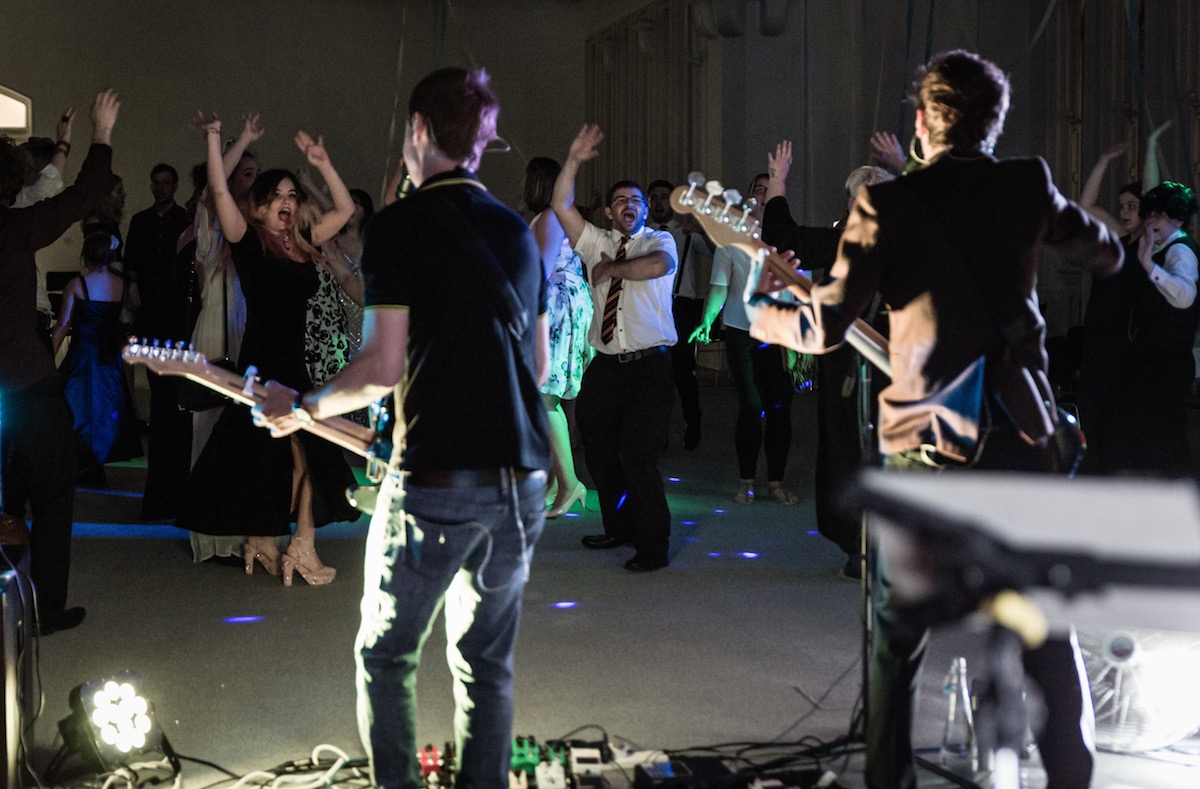 About Harry Potter Wedding Band
'Britpop Reunion' (Established 2014) perform all three songs by 'The Weird Sisters' featured in The Goblet Of Fire film including Do The Hippogriff, Magic Works and This Is The Night. Also we'll hand all your live entertainment throughout your entire wedding reception and throw in DJ services until midnight as standard too. Also we have lots of optional extras for you to choose from such as late night DJ, PA hire for speeches and more. Just let us know what wedding services you need and we'll be happy to assist you.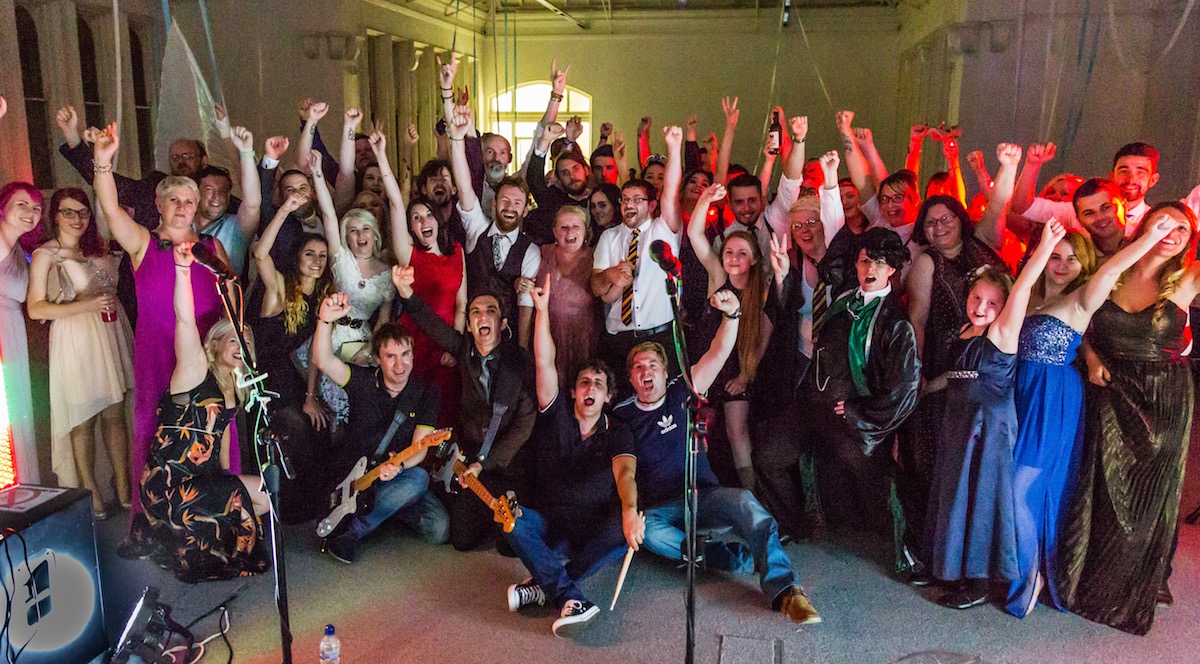 We'll either perform massive 1990's tunes (Because H.P. is set in the 90's) by Oasis, Robbie Williams, Britney Spears, Chesney Hawkes, Pulp, Supergrass and more. Or we'll play you a brilliant mix of music from all decades including Amy Winehouse, Elvis, Florence And The Machine, Stereophonics, Arctic Monkeys, Van Morrison and more. It's your wedding party so you decide. Contact as soon as possible to check on availability and price.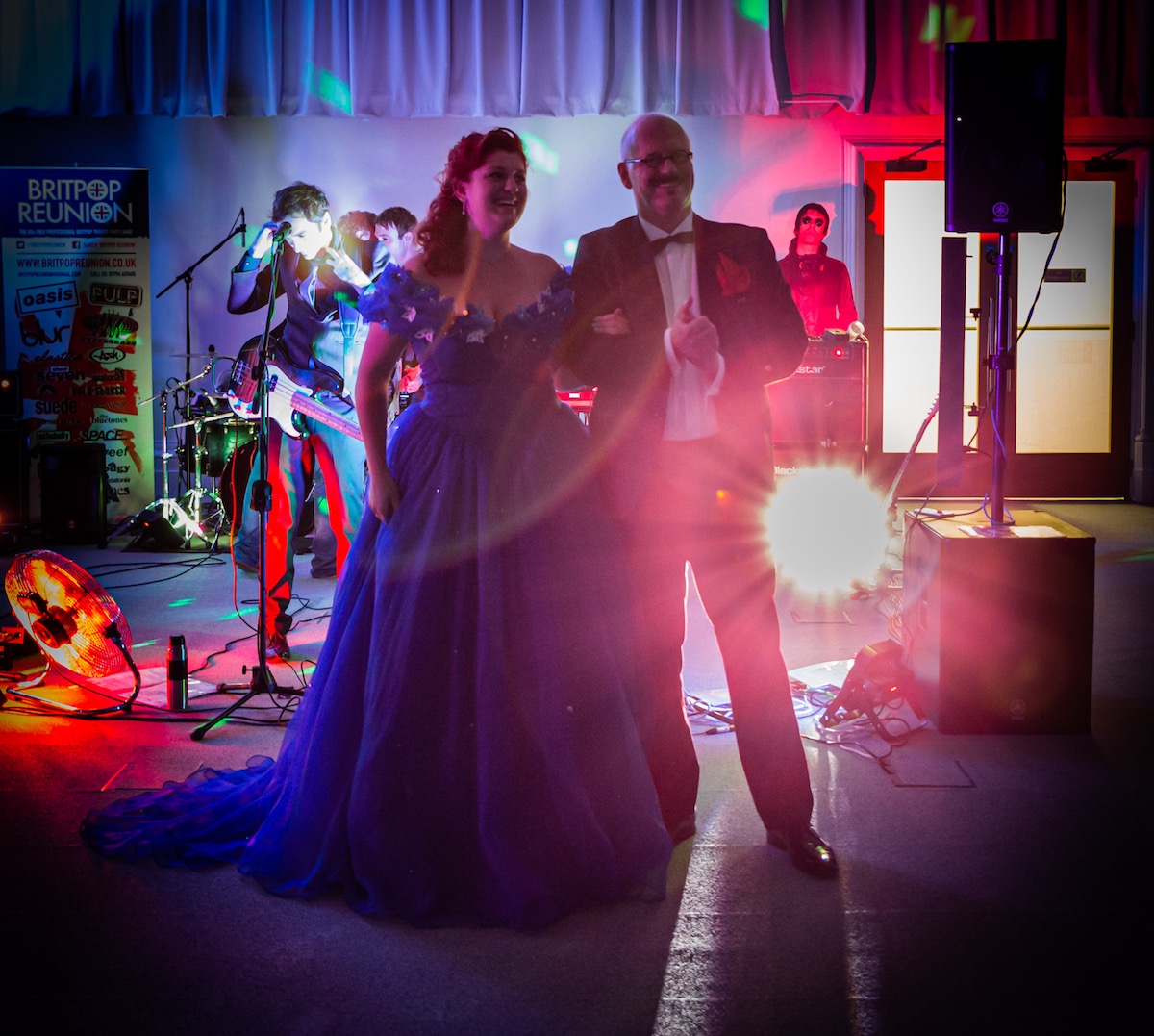 Our credentials as a Harry Potter Wedding Band
Its not absolutely impossible to meet actors from the Harry Potter films, they sometimes show up at conventions. Imagine having the guts to ask three of these actors to appear on stage with you while you perform 'Do The Hippogriff' from Harry Potter And The Goblet Of Fire though? Well that's what we did in the below live video. We were at a Harry Potter Convention performing live for the guests at their Yule Ball style event and we asked Chris Rankin (Percy Weasley, brother of Ron Weasley), Jon Campling (Death Eater) & Chris Rithin (Dudley Dursley's gang member) to join us on stage. What good sports they were, look at them jump around and rock out. What other band out there can say they've done anything like this?
These Harry Potter actors even reviewed us after the event and said these lovely things about us.
Chris Rankin / Percy Weasley "Awesome band, awesome night"
Jon Campling / Death Eater "Britpop Reunion freakin' owned it tonight at the World Of Wizardry Ball. Serious #britpop #skillz #livemusic"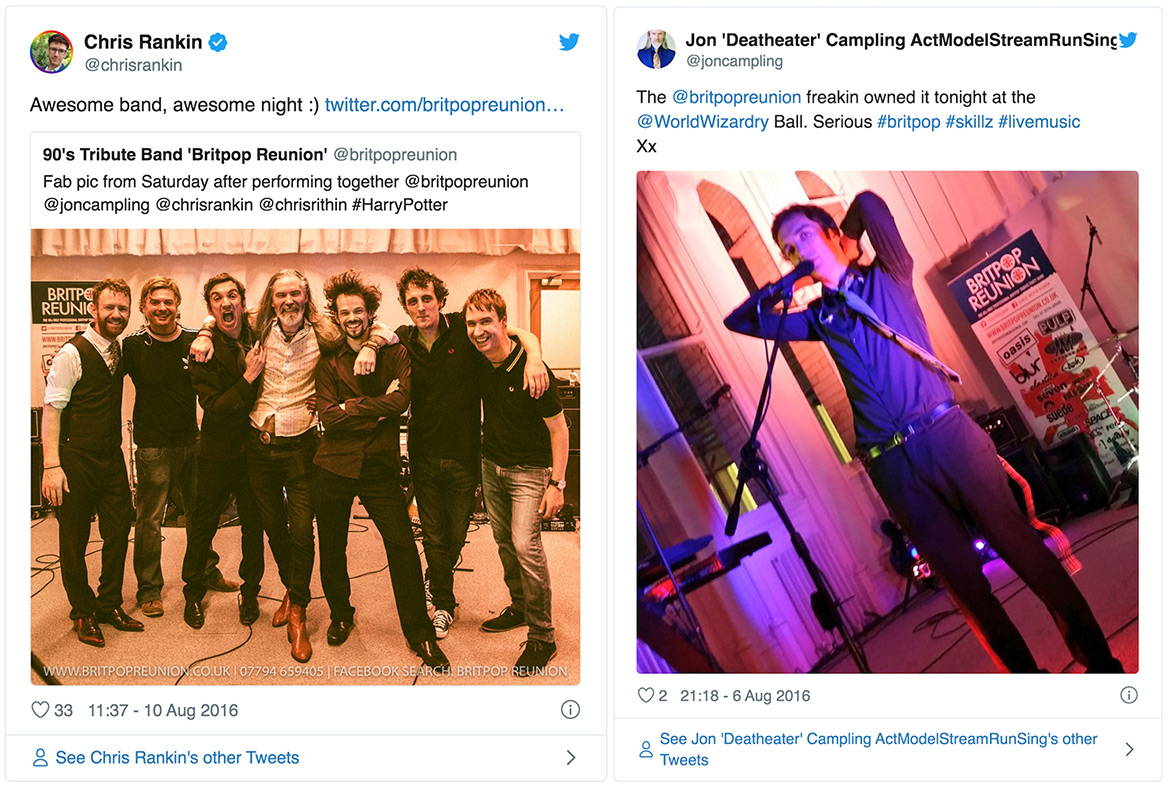 Just how authentic will you go at your Harry Potter themed wedding?
So what will it be? Are you going to dress up like Fleur Delacour in her peacock wedding dress & Bill Weasley in his velvet purple suit when they got married at The Weasleys Burrow in Devon in The Deathly Hallows? Have a right old jig with us handling all your nights entertainment.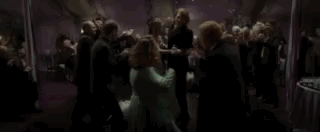 Will you go the whole Hogwarts and recreate the Yule Ball from Harry Potter And The Goblet Of Fire? Might you dress up like Hermione Granger in her pink dress and Viktor Krum in his red military jacket, fur and black boots as you walk down the aisle to Harry Potter music? What about having the Marvolo Gaunt Horcrux ring as your wedding ring? Whats the worst that could happen, a blackened hand?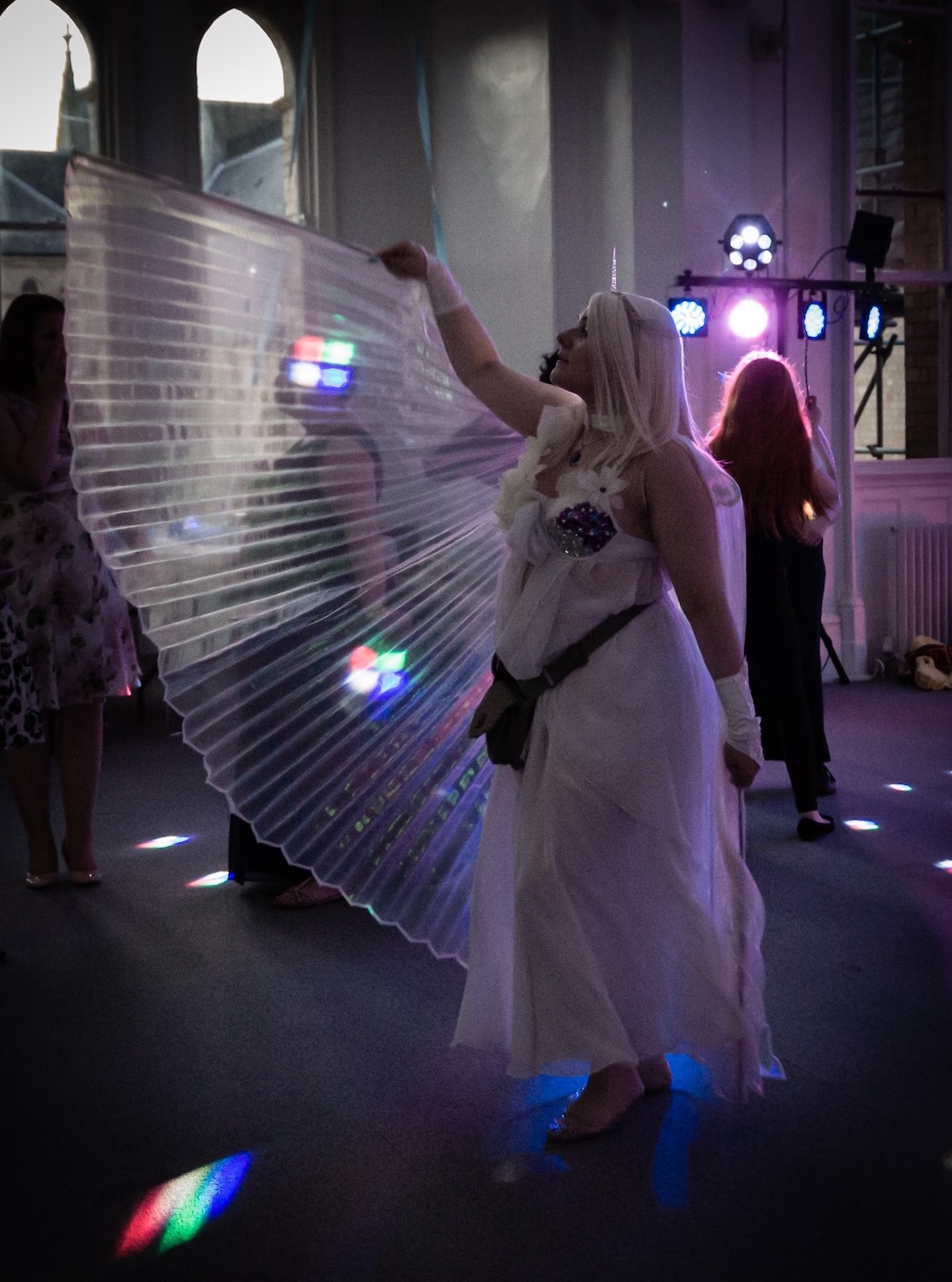 Professional wedding band 'Britpop Reunion' other videos.
'Britpop Reunion' are a professional wedding band. Watch our wedding videos below and many of our other live videos, view images from the hundreds of weddings we've performed at. Enjoy our below wedding Vlog too and watch our other Vlogs. Client satisfaction is our number one priority.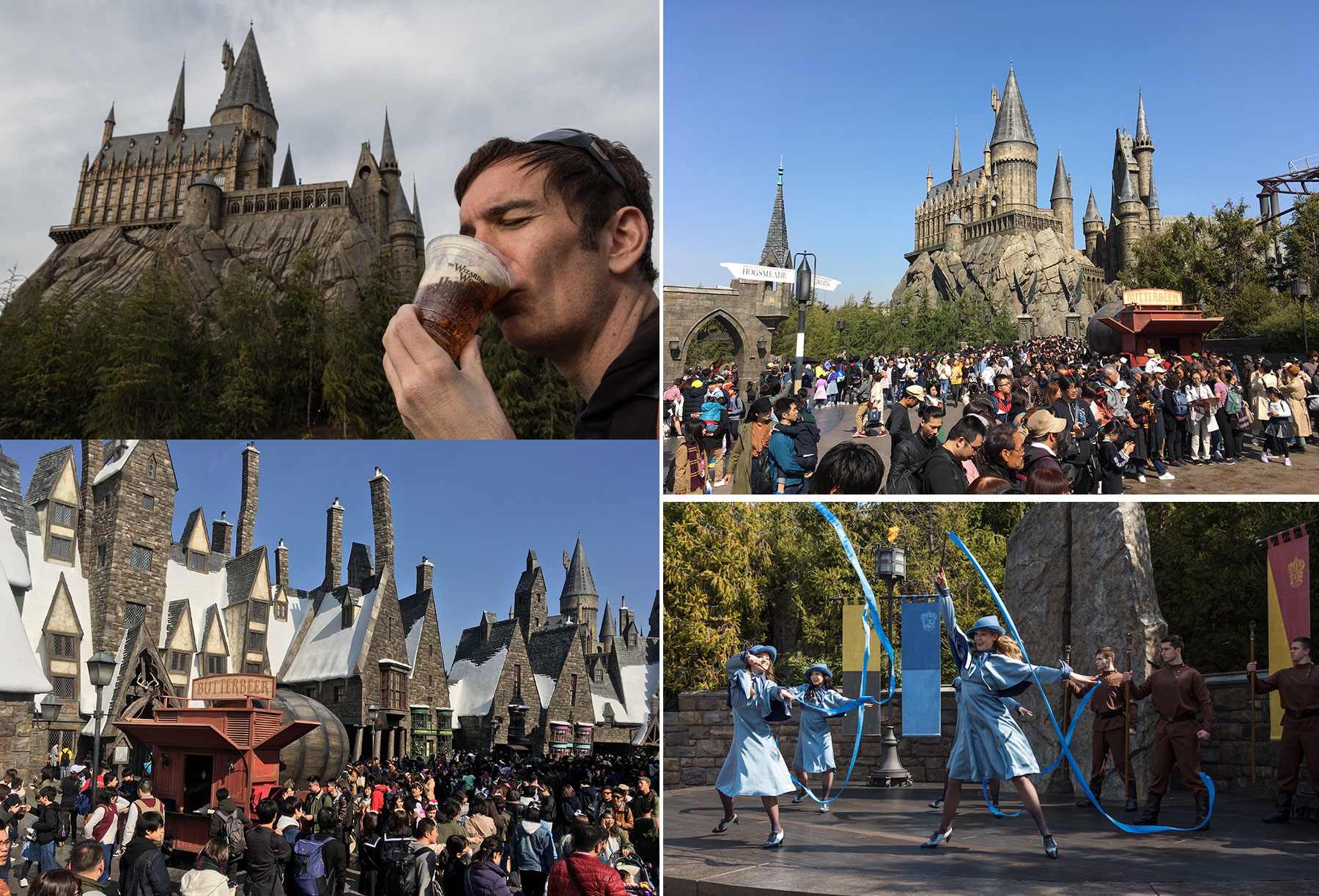 Just how big a Harry Potter fan are you?
All band members in Britpop Reunion are Potterheads, but none more so than lead singer Andy Starkey. He's been to Harry Potter Studios in London on multiple occasions and has even visited The Wizarding World of Harry Potter in Japan. He's read the books and films many, many times, he's got the t-shirt and everything. Find out more about hiring our Harry Potter Band for your Harry Potter themed event. Use the below contact form to book us for your Harry Potter Wedding Reception.
Call within UK 07794 659405, outside UK 00447794 659405. Alternatively our wedding reception band britpopreunion@gmail.com