Its great news to hear that Supergrass have reformed and touring again isn't it. Surely now its time for a Supergrass tribute band though right? Until then Britpop Reunion are available to hire for your event performing their biggest hit 'Alright' which reached number 2 in the UK singles chart back in July 1995. The Britpop band were unfortunately pipped to the top of the charts by 'Boom Boom Boom' by Eurodance band Outhere Brothers.
Supergrass Tribute live performance video of Alright
'Britpop Reunion' get to perform at huge (and small) events up and down the country. Here we are performing the Super grass song Alright at The Hilton Glasgow for the 25th annual Hospitality Industry Trust (HIT). Its all totally live in this video, we really will sound this good as a professional tribute band at your event too. Most of our videos are all completely live as we're not trying to hide anything from you.
You can hire 90's tribute band Britpop Reunion for your wedding, birthday party, festival, corporate event, university party and lots more different types of events. Find out more about 1990's professional musicians 'Britpop Reunion' and then contact for a quote. We'd love to play a part at your event.
Being a Supergrass Fan
Andy Starkey, lead singer and bass player from Britpop Reunion has been a huge fan of Supergrass his whole life. He even remembers the first time he heard 'Richard III' on the radio
"It was about February 1997 and I was driving to my rehearsal studio that I had in Wolverhampton at the time. I was driving around the Cannock McDonalds islands towards Wedges Mills. I had BBC Radio One 'The Evening Session' on (presented by Steve Lamacq and Jo Whiley) in my little Mini. The crummy Sony cassette car radio was doing its best to stay tuned into the song Richard III. I didn't even know it was a Supergrass I was listening to".
"I said to myself "Wow, this new Smashing Pumpkins song is amazing". Then Steve says after the song finishes "And that was the new single from Supergrass"…..My mind was blown. This was a huge departure in sound for Supergrass from their debut album I Should Coco. I knew 'In It For The Money' was going to be something very special and different that I just had to own."
Supergrass Memorabilia
Andy first saw Supergrass with The Bluetones supporting on Saturday 18th February 1995. As you will see below he still has the original poster that he "Borrowed" from off the wall in Rugeley Red Rose Theatre.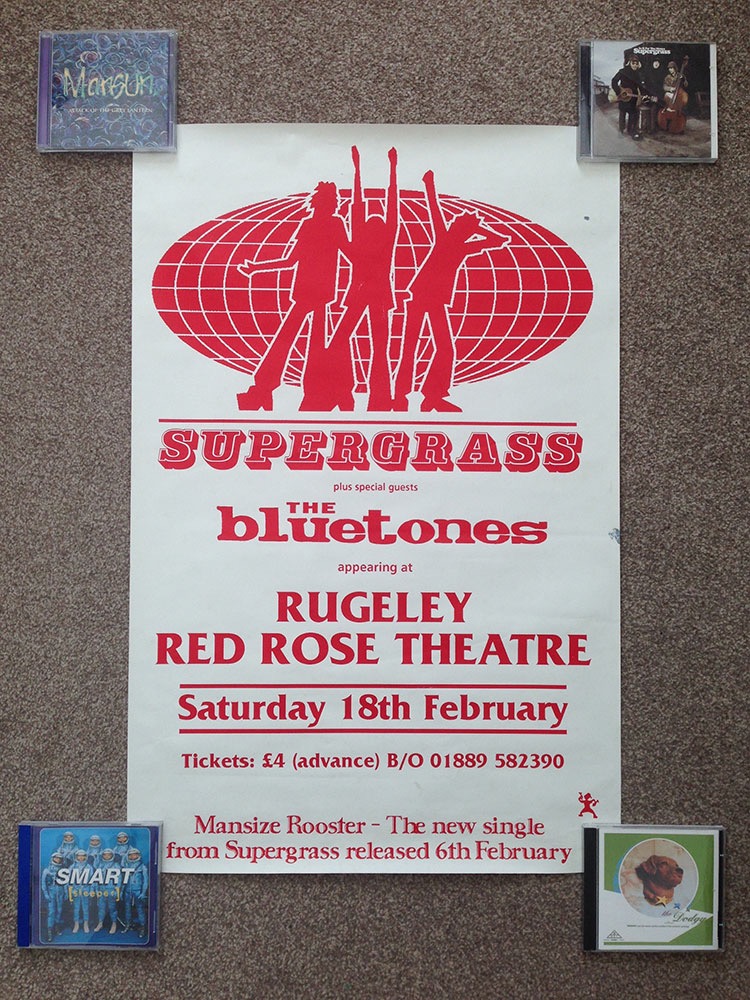 Throughout the years Andy saw Supergrass on many, many more occasions. He picked up lots of great memorabilia including this very limited edition Chinese design tea towel.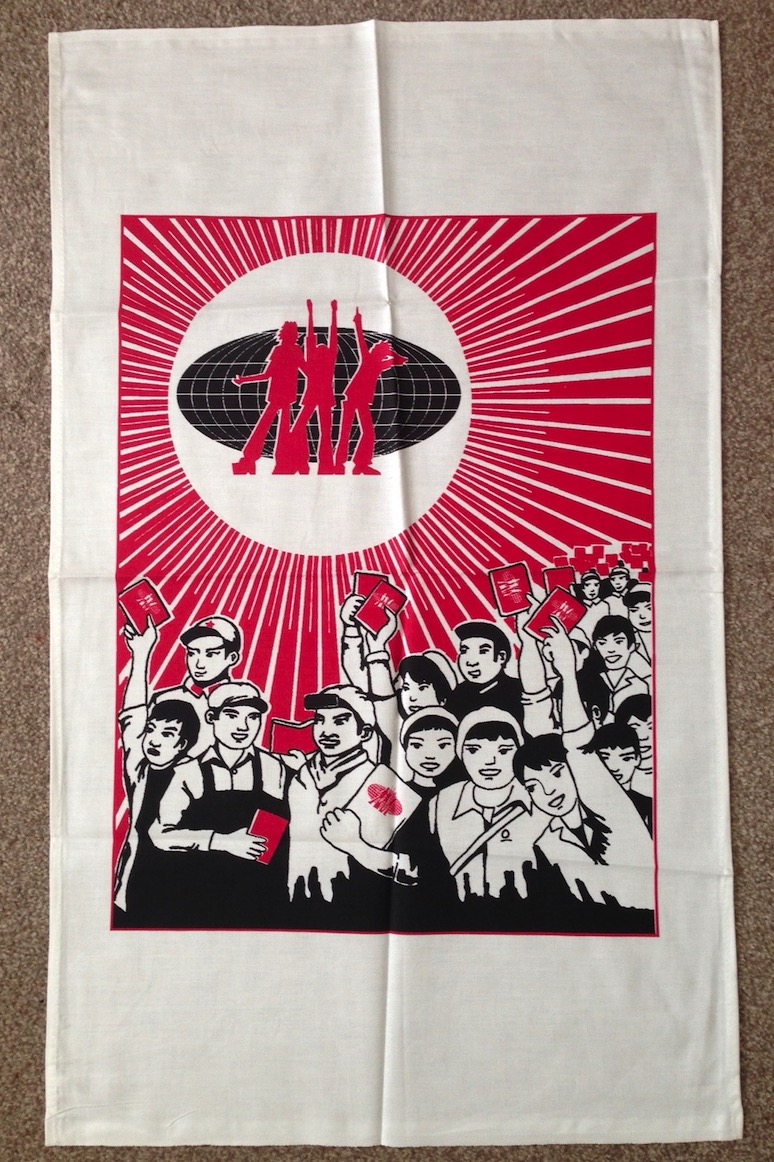 Supergrass Tribute studio recording of Alright
Have a listen to our very own studio recording of Alright by Supergrass below. You'll find its a very close match to the original performed with all the fun and charm of Gaz Coombes, Danny Goffey, Mick Quinn and Rob Coombes. We probably had as much fun recording it as Supergrass did back in the early 90's.
Maybe one day 'Britpop Reunion' might add in some of Supergrass's other greatest hit songs too like:
Richard III
Sun Hits the Sky
Pumping on Your Stereo
Caught by the Fuzz
Mansize Rooster
Moving
Going Out
'Britpop Reunion' also perform tonnes of other massive Britpop repertoire hits like Don't Look Back In Anger, Parklife, Day We Caught The Train, Rocks, Wonderwall, Country House and more. You really will be back in the 90's when you book our 90's tribute band.
To book Britpop Reunion for your 90's themed event contact for a quote