1990's Wedding Band 'Britpop Reunion' are the UK's only professional 90's wedding band. We've been nineteen nineties-ing up clients weddings since our conception in 2014. All the best tunes from The Gallagher Brothers, Damon & Graham, Jarvis, Robbie, Chesney, Britney and more. Dont Look Back In Anger at your Parklife, just dance like your at the indie Disco 2000. This will be The One And Only time you get married and maybe its in a big old Country House. I'm A Believer that everyone at your wedding will not Sit Down, they will most definitely Dance The Night Away to 'Britpop Reunion'. Contact 1990's tribute band now to check on price and availability for your wedding reception.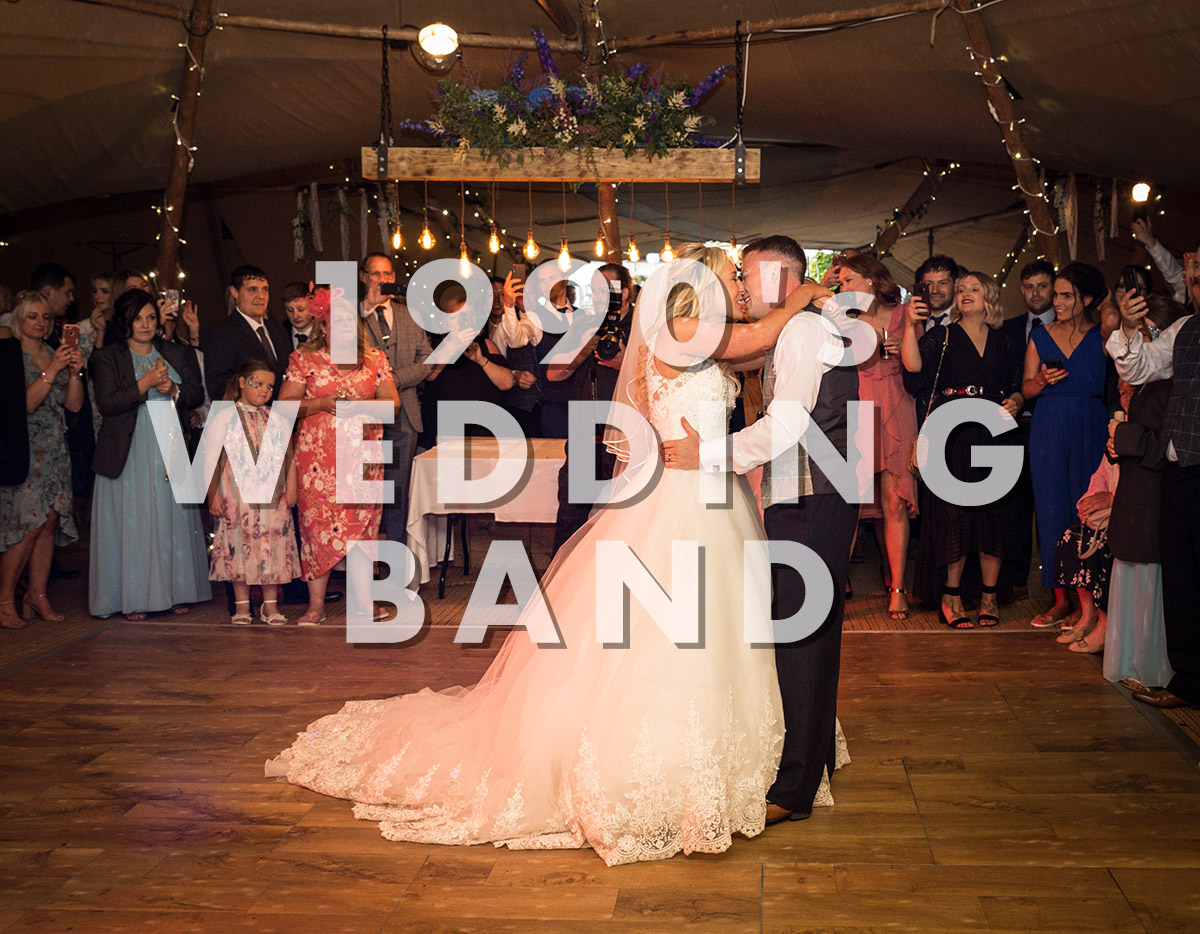 The UK's only professional 1990's wedding band
We've been performing as a professional 90's wedding band for so long that we've amassed a great many videos of us performing live at wedding receptions. A few of our wedding videos are featured below and more are on our videos page. In every single video you'll see how much brides and grooms like yourself love our live performances. Within these videos you'll also see guests honest and open reactions too. Proving further that we are the 90's party band for your very special day. Brides, grooms, guests and the band all smiling at each other, thats what you want at a wedding party. We're not a moody 90's band like Nirvana, we're a fun nineties kind of band like Blur.
90's Wedding Band photo video montage
Britpop Wedding Vlog
Britpop & 90s Wedding Band
Parklife Wedding Band
What we'll bring along to your Nineties Themed Wedding.
We are a completely self contained wedding band (For up to approx 150 guests but we can handle any size party). For your wedding we'll bring along everything thats needed to make your wedding party go off without a hitch. We'll bring our state of the art PA speaker and lighting. All the bands instruments, backline, microphones, stands and cabling. You won't need to order in anything else extra when you hire our 90's function band. Also, we'll provide you with iPad DJ services throughout your wedding until midnight (Extendable out past midnight for an additional fee).
All these amazing 90's songs from our repertoire by Oasis, Blur, Pulp, Robbie Williams, James and more plus chart classics from other decades if you like as well. You know you're onto a winner for all your guests when you book our 1990's wedding band for your reception. There's no other nineties tribute band out there like us.
Reviews of 'Britpop Reunion' nineteen nineties wedding band.
We've never had one dissatisfied client ever, read our reviews they don't lie. Every single bride & groom have absolutely loved our professional attitudes and blinding live 1990's performances. View all of our many reviews & testimonials.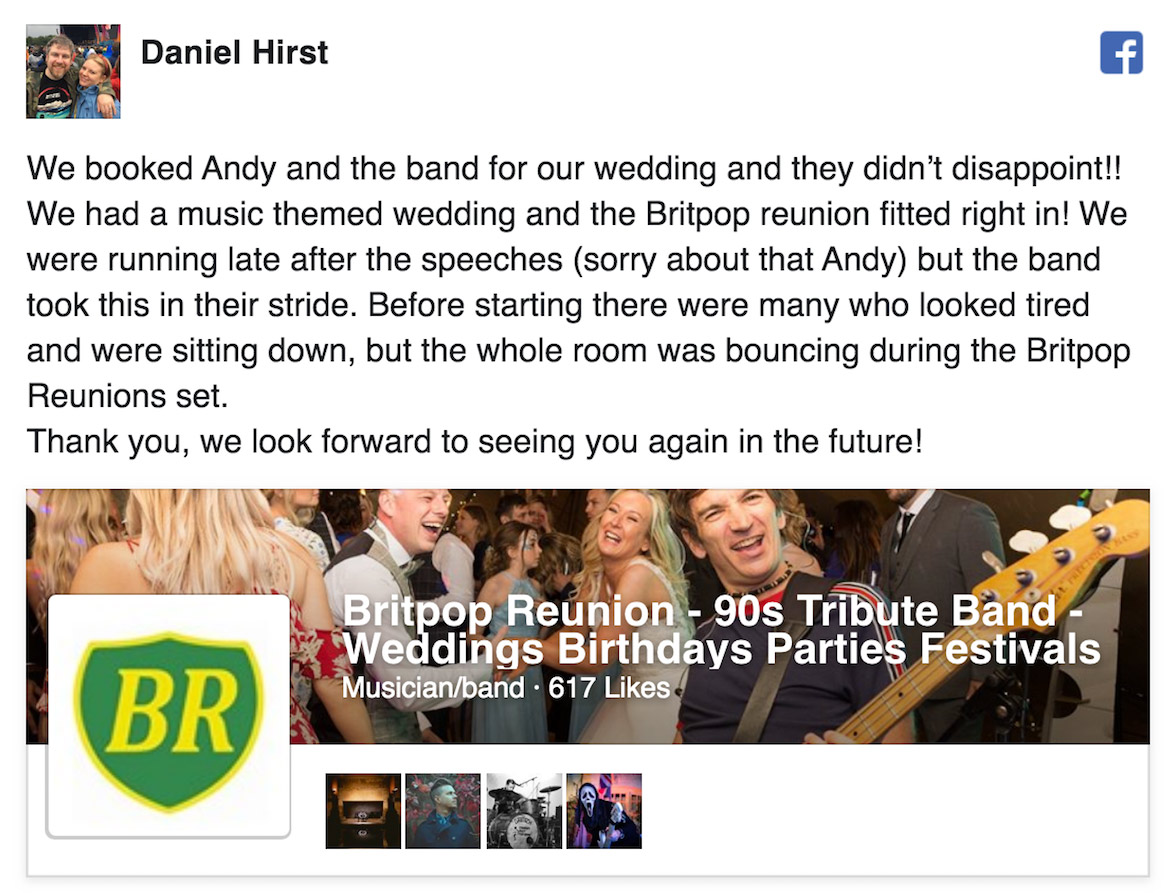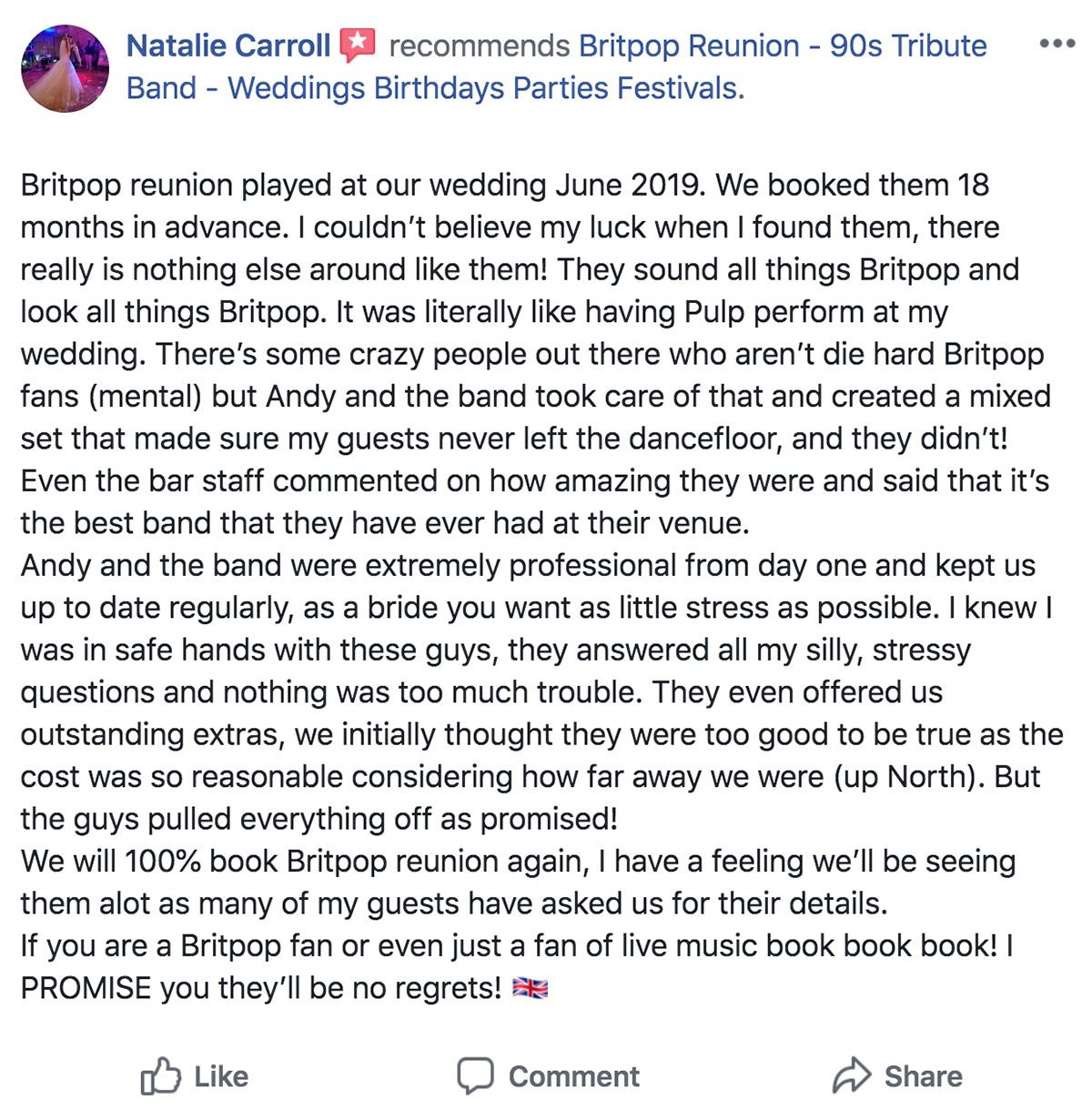 90's Wedding Photos
We've performed at so many amazing 90's themed weddings over the years. Here are just a few of the many fantastic wedding receptions 'Britpop Reunion' have performed live at.
St Georges Hall, Liverpool
90's Festival Themed Wedding
Where Britpop Reunion' can be hired.
'Britpop Reunion' 90's wedding band are available to book across the UK and beyond. You can hire a Staffordshire 90's wedding band or book a Derbyshire 1990's wedding band. Or hire a Leicestershire nineties wedding band, book live music for a Nottinghamshire nineteen nineties wedding and more. Contact to check on price and availability.