In "Friends" the 90's TV show Phoebe Buffay's (Portrayed by Lisa Kudrow) most well known song was "Smelly Cat". Below you will learn Smelly Cat and how to play it on acoustic guitar. A somewhat hippy style character, masseuse and self-taught "Amateur Musician" (With heavily inverted commas) Phoebe Buffay performs her eccentric self written songs about random everyday things at 'Central Perk' coffee shop in New York. She performed the classic song Smelly Cat on multiple occasions live throughout the 10 seasons and 236 episodes. To hire Britpop Reunion 90's tribute band who perform the theme tune from Friends "I'll Be There For You" by The Rembrandts contact for more information.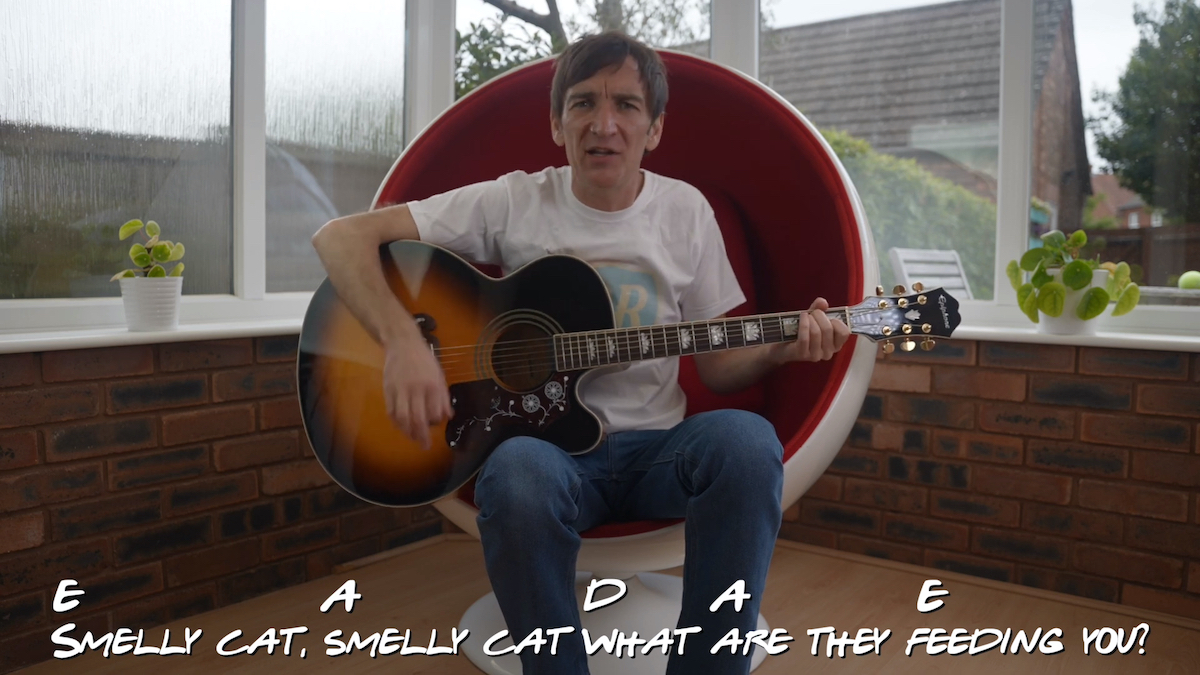 How to play Smelly Cat on acoustic guitar by Phoebe Buffay
Smelly Cat is a quite simple song to play even for beginners learning how to play acoustic guitar. There are only three chords throughout the entire song, with a chorus, single verse and repeat chorus (With the same lyrics as the first chorus).
Video tutorial of how to play Smelly Cat on acoustic guitar (Chords and lyrics)
Band leader Andy Starkey from professional 90's party band 'Britpop Reunion' took time out of his busy schedule to put together this tutorial video of how to play Smelly Cat on acoustic guitar. He shows you the chords and lyrics and breaks down when to play each chord at what moment in the song.
Watch how to play Smelly Cat directly on our YouTube channel if the above video does not load correctly.
Chords for Smelly Cat:
The strumming pattern is also very simple with just two downstrokes per chord for the first E and A, one down stroke for the D, then one downstroke back to the A. Then back to the E and just repeat. Smelly Cat chords are the same for the verse as for the chorus. All chords are major chords and the finger positioning is shown on the below image.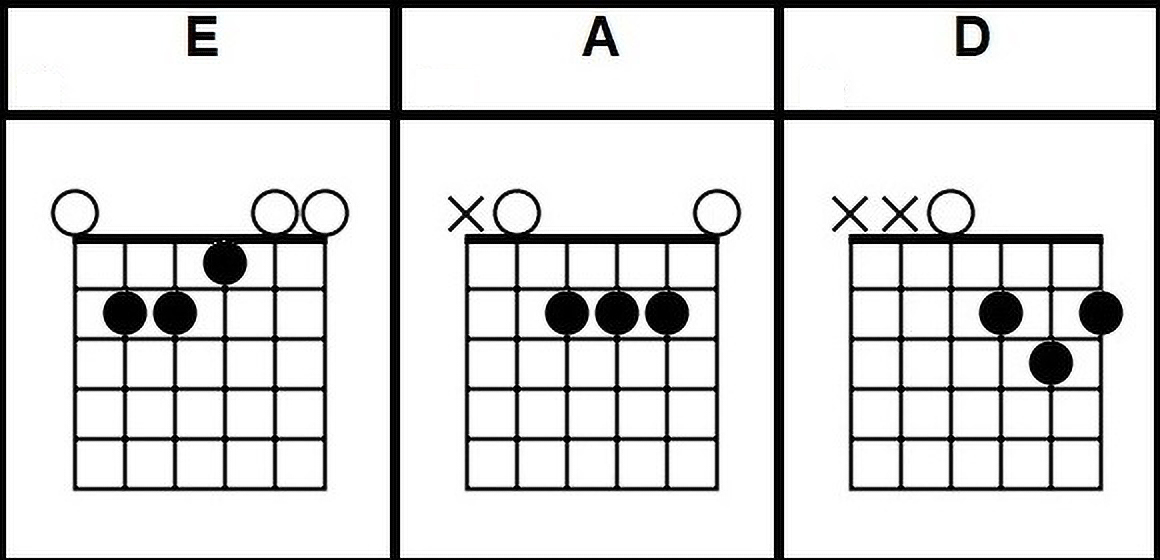 Lyrics for Smelly Cat
Smelly Cat, Smelly Cat,
What are they feeding you?
Smelly Cat, Smelly Cat,
It's not your fault
They won't take you to the vet
You're obviously not their favourite pet
You may not be a bed of roses
And you're no friend to those with noses
Smelly Cat, Smelly Cat,
What are they feeding you?
Smelly Cat, Smelly Cat,
It's not your fault
Other songs performed by Phoebe Buffay on Friends include:
The Cow in the Meadow Goes Moo
Sticky Shoes
Sixty-Six Colours of My Bedroom
Emma
and more.
About the song Smelly Cat.
Smelly Cat written by Friends writers Adam Chase and Betsy Borns first appeared in season two, episode six entitled "The One with the Baby on the Bus" and can be found on the soundtrack album "Friends Again" released 1999. The song is about a poor feline who has been mistreated by its owners and has ended up with a pungent odour possibly due to the type of nourishment it's been receiving.
Throughout the 1990's TV show various stars have covered the song Smelly Cat including Chrissie Hynde from The Pretenders who was actually featured in the show itself. Noted cover versions of Smelly Cat have been by famous artists Taylor Swift and Chris Isaak. Most recently during "Friends: The Reunion" aka "The One Where They Get Back Together" Lady Gaga performed Smelly Cat on guitar with Phoebe Buffay.
In the Friends episode entitled "The One Where Eddie Moves In" (Season 2 – Episode 17) a record company asks Phoebe to make a Smelly Cat music video but it ends up rerecording another womans voice singing the song instead of Phoebe's. At the end of the episode as the credits role the main characters of friends, Rachel Greene, Ross Geller, Joey Tribbiani, Monica Geller and Chandler Bing all perform the song live with her at Central Perk.