Here's our round up of the Top Ten Songs Of The 90s By Year. We're only allowing one song per year from 1990 to 1999 and it can be from any genre. Be that Britpop, pop, rock….whatever, as long as it's a great party tune. The nineties were such an amazing time for new and older artists to make their mark in this incredible decade. Bands like Nirvana, Suede, Smashing Pumpkins, Radiohead, Blur, Oasis, No Doubt and more. Many of these songs are performed live by 90s tribute band Britpop Reunion and are the main reasons we formed our professional group. There have been some tough decisions that you might not agree with but here's what we think anyway.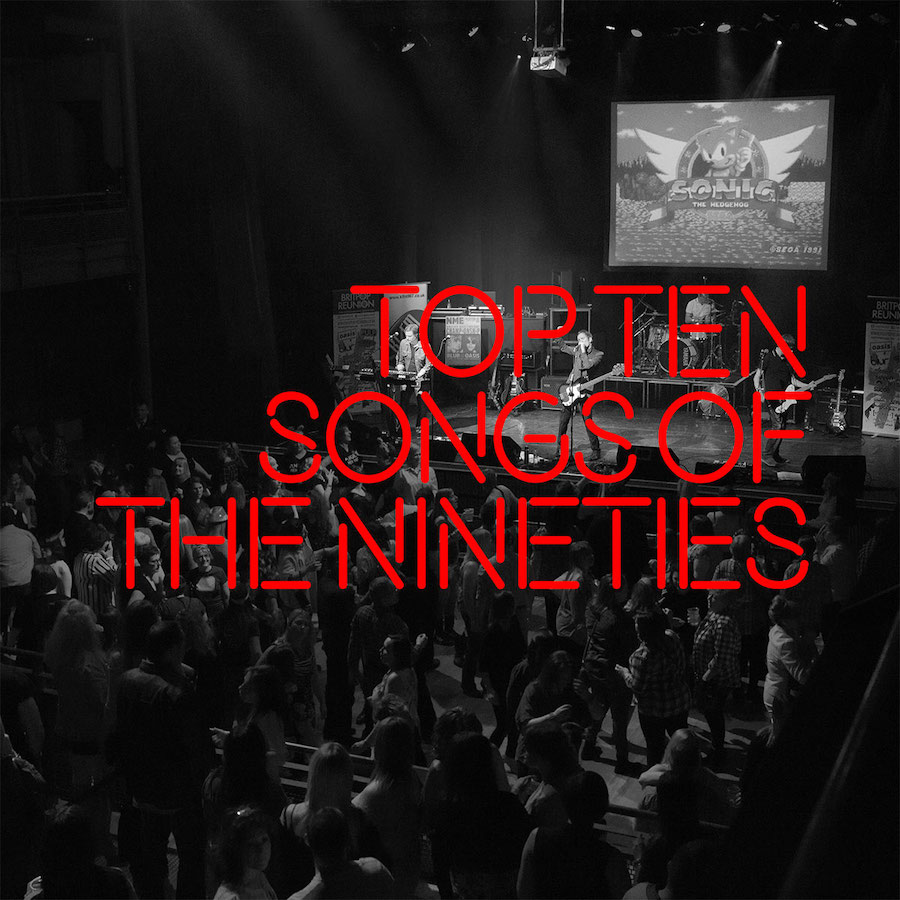 Top Ten Songs Of The 90s – Nineteen Ninety to Nineteen Ninety Four
1990
The perfect pop song from Liverpool based band THE LA'S originally released in 1988 from their self titled debut (and only real release) album. Subsequently re-released in October 1990 so we can thankfully play it ourselves. Note: This pop song has no real chorus much like 'Losing My Religion' by REM doesn't have one either. A staple in our live set list and adored by all ages.
'There She Goes' – The La's from the album 'The La's'
---
1991
Manchester based band James with their most well known song is our choice for 1991 (Although 'The One & Only' by Chesney Hawkes was nearly our choice). James singer Tim Booth belts out this anthemic chorus in a way that always gets everyone singing along when we perform it live at weddings, birthdays, festivals and corporate events. This song was recorded and released multiple times (The original clocks in at 8m 31s on the 12 inch record) before it eventually gained the chart respect it deserved. Fun fact: Tim Booth appeared as a baddie in Batman Begins as Victor Zsasz.
'Sit Down' by James from the album 'Gold Mother'
---
1992
Continuing with our top 10 songs of the nineties during the year that Black Wednesday occurred Blur released 'Popscene' and Suede released 'The Drowners'. This (arguably) was pretty much the start of Britpop as we know/knew it. Yet one band who had existed since the the late 70's / 80's had one of their biggest chart successes to date during this year. 'Friday I'm In Love' written by Robert Smith was released May 1992 and reached number 6 in the charts.
An uplifting song and with much happier tones than what you'd come to expect from a "Goth" band. The Cure still perform this live to this very day and so do Britpop Reunion. Another notable tune from 1992 was Mrs Robinson' by The Lemonheads from the album 'It's a Shame About Ray'. This was many peoples introduction to a 'Grunge' type sound later mass marketed by Kurt Cobain and Dave Grohl from Nirvana & Foo Fighters.
'Friday I'm In Love' by The Cure from the album 'Wish'
---
1993
Carrying on with our top 10 songs of the 90's but where to start? There was 4 Non Blondes with 'What's Up?', Lenny Kravitz with 'Are You Gonna Go My Way' and REM with 'Everybody Hurts'. Plus Whitney Houston with 'I'm Every Woman' and Arrested Development with 'Mr Wendal'. But then you had the amazing come back of Duran Duran with their hit superb worldwide hit single 'Ordinary World' (Where they looked more like a Britpop band than an 80's pop band).
Then also Irish-American rappers House Of Pain hit the charts with incredible 'Jump Around'. All that said, for us, we have to move across the pond back home to Manchester. Our Top Ten Songs Of The 90s for 1993 is 'James' again with 'Laid'. Very much a pure Britpop song about what you hear your neighbours getting up to.
'Laid' by James from the album 'Laid'
---
Top Ten Songs Of The 90s – 1994
Argh, it's pretty much impossible to choose 'The best song" from 1994 as this really was the year that Britpop bands went mainstream and so many other fantastic 90's acts broke through. Where to even start when you've got such poptastic hits like 'Breakfast At Tiffany's' by Deep Blue Something from 'Home', 'Cigarettes & Alcohol' by Oasis from 'Definitely Maybe' & 'The Day We Caught The Train' by Ocean Colour Scene from 'Moseley Shoals'. Also 'Rocks' by Primal Scream from 'Give Out But Don't Give Up' & 'You & Me Song' by The Wannadies from 'Be a Girl'.
Winning by default in our opinion though in our top 10 songs of the 90s for 1993 is 'Parklife' by Blur featuring Quadrophenia star (And Eastenders star) Phil Daniels. This song really is exactly what Britpop was about, telling tales about the every day lives of normal, common people. A highly Ray Davies/The Kinks inspired indie pop tune that caught the ears of many none indie folk, turning them on to Blur forever. Yet strangely topping out at only number 10 in the UK charts. At every single performance 'Britpop Reunion' have done since we formed in 2014 we have performed 'Parklife' live and it continues to be enjoyed by crowds many decades later.
'Parklife' by Blur from the album 'Parklife'
---
Top Ten Songs Of The 90s – Nineteen Ninety Five to Nineteen Ninety Nine
1995
During the year of nineteen ninety five we were solidly into the era of Britpop bands dominating the UK charts. By this point in the 90's it was VERY COOL to be in an indie pop guitar based band. Every late teen/early 20 something was in a Britpop wannabe band. You had 'Country House' by Blur, battling it out with 'Roll With It' by Oasis for number 1 in the charts. Also 'Alright' by Supergrass and another Oasis firmfavourite 'Wonderwall' (And the list goes on). But how do you choose just one song to sum up this amazing year of music?
Well, we're going to give it a go. For us it has to be the Laura Branigan inspired corker 'Disco 2000' by Pulp. Again this is the epitome of what we consider to be Britpop. Songs about every day folk like you and me. Agreeing to meet up with an old pal years later if things haven't quite gone to plan throughout the rest of their life.
'Disco 2000' by Pulp from the album 'Different Class'
---
Top Ten Songs Of The Nineties – 1996
We're still in the era of full on Britpop bands mode in the mid nineties with huge crowd favourites to chose from by Reef, Cast, Radiohead and The Bluetones. But also the 90's were a huge mixed bag of genres too from artists like Republica, Spice Girls, Mark Morrison, Gina G, Coolio and more. But Britpop artist Andy Starkey says there is only one song from 1996 that sums up this year, if not the whole 90s decade and Britpop movement. And thats 'Don't Look Back In Anger' by Oasis.
The song starts off with a piano tribute/rip off to 'Imagine' by John Lennon (Surely they had to pay some royalties along the way due to similarities?). Then goes full on Noel-Rock. Liam Gallagher takes a backseat and lets his brother sing this one. (As Liam, given the chance to choose one song had chosen Wonderwall instead). Probably the biggest song in our live performances enjoyed by every single person on and off stage.
'Don't Look Back In Anger' by Oasis from the album '(What's the Story) Morning Glory?'
---
1997
Heading out of Britpop era now but still firmly in the realms of 90's pop music. We had Blur with a totally new American sounding style with 'Song 2' (Inspired by bands like Pavement). Also 'Karma Police' by Radiohead and the fantastic 'Torn' by Neighbours star Natalie Imbruglia (Did you know this is a cover version?). Britpop Reunion perform the 1997 hit 'Ironic' by Alanis Morissette which always goes does incredibly well at weddings. Also 'Tubthumping' by Chumbawamba is an insane live song with people literally loosing their minds and going full on mosh-pit.
But for us the winner of 1997 has to be 'Bitter Sweet Symphony' by The Verve. Using a sample by the Andrew Loog Oldham orchestral cover of the Rolling Stones' song "The Last Time" Richard Ashcroft and his fellow band mates created this new 8/4 looped time signature track. An absolute classic banger of a 90's song about how life treats you.
'Bitter Sweet Symphony' by The Verve from the album 'Urban Hymns'
---
Up next 1998 in our Top Ten Songs Of The 90s
By 1998 what we classed as 'Britpop' was pretty much completely totally over. An indie band that remained though still releasing Brit pop esque songs were the likes of Catatonia (feat Cerys Matthews from BBC Radio 6 Music) with 'Road Rage'. But even Shed Seven had moved on to become more like Happy Mondays/Black Grape with the lad chanty 'She Left Me On Friday'. Ex Suede guitarist Bernard Butler re-emerged with his debut solo album 'People Move On' album. Featuring the dreamy esque single 'Stay' which is a little to derivative of late period Beatles (even though it had that amazing Bernard Butler guitar tone solo). Still, there were massive chart pop hits emerging from B*Witched with 'C'est La Vie', Massive Attack with 'Teardrop' and Aerosmith 'I Don't Want to Miss a Thing'.
'Dance The Night Away' by The Mavericks and 'Let Me Entertain You' by Robbie Williams are unstoppable to this day and still on heavy rotation on daytime radio. But for Britpop Reunion, the crazily big chart hit from Britney Spears 'Baby One More Time' is where its at. We've changed the key of this tune every so slightly and rocked it up a little bit. Feel the power of this 90's pop tune below in our live video at a 90's Night at a University in Cornwall.
'Baby One More Time'' by Britney Spears from the album 'Baby One More Time'
---
Finally we're at the end of the decade with 1999
1999 was a funny old year for music. Britpop had completely disappeared (Quite rightfully) and much of the charts were filled with R&B. Eminem broke though with The Slim Shady LP featuring 'My Name Is', Christina Aguilera had 'Genie In A Bottle' (Theres a great mash up of this with The Strokes' track "Hard To Explain"). Mr Oizo 'Flat Beat' hit number one from Levis commercial and still sounds great to this very day. A little more guitar based The Offspring 'Pretty Fly (For A White Guy)' is a superb track. But pop wise for us it has to be 'Livin' la Vida Loca' by Ricky Martin. This has to be one of the catchiest songs ever. Latino style melody, beats and horns combined with cool surf guitars. It almost has a Dick Dale feel to it.
'Livin' la Vida Loca'' by Ricky Martin from the album 'Ricky Martin'
---
Summing up Music In The Nineties.
Every decade of music has huge differences in genres dominating at certain points but the nineties for us is where it was all at. Pop, rock, indie, grunge, goth and dance all produced great high chart scoring songs. Indie became Britpop which then just became 'Pop' music for a few years. Record labels scrambled to sign ANYTHING that looked remotely like a Britpop band even into the mid nineties. But by then though Britpop had come and gone which lead to record companies folding due to huge loses and debt from lack of sales. Big lessons all to be learned from to this very day.